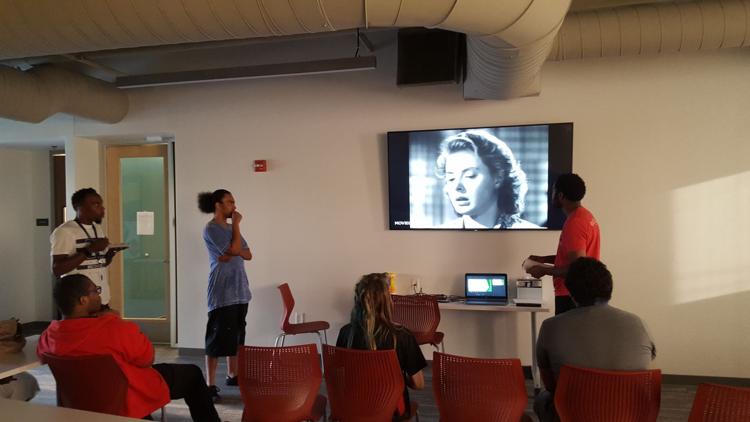 The great filmmakers of the future will come from somewhere.  And the Wonderland Film Festival is highlighting it's particular somewhere – Indy's Near Eastside – while promoting film makers and filmmakers in that neighborhood.
Wonderland, this Saturday Sept. 30 from 6:30 p.m. - 9:00 p.m. at the Commonwealth Gym on 23 N Rural St., is a free festival. The Indianapolis Museum of Contemporary Art (iMOCA), Englewood Community Development Corporation, and Local Initiatives Support Corporation are all partners in this endeavor.
"This is the 2nd year that we're doing it," says organizer Jennifer Delgadillo, who is also a Marketing and Communications Associate at the Indianapolis Art Center.  "This year we worked with a local organization called Outreach Inc. and we did workshops there to teach some of the neighbors how to make films and we got two films out of those workshops."
Ten other films come from an open call for locally-produced films.
"During the workshop we had more than the two people who completed their films work on their films," says. Delgadillo.  "Or some kind of script or idea.  So it's kind of like growing and planting the seeds for future, for the festival next year too." 
The venue is the Commonwealth Building in Englewood.  "It was a building that used to be a school," she says.  "Now it was restored and turned into mixed income apartments.  I have a strong connection to that building because I'm a neighbor and because I know so many people who live there."
There are a wide variety of short films to be seen at the festival.
Reel-al-ty is a four-minute-long film made by Near Eastside resident Austin Tibbetts-Priestly, who attended the film-making workshops.
"Austin…. decided to make his film about what it is like to be homeless in Indianapolis. Austin has struggled with homelessness himself and felt he was in a unique position to speak on this topic," said Delgadillo.  "He made his film on his cellphone."
PUKAHONTUS is another four-minute-film by Stuart Snoddy – four minutes and 45 seconds to be exact.
"Stuart named his film after the wining short film depicted in The Simpsons episode A Star is Burns, which inspired Wonderland Film Festival," says Delgadillo. "This film is beautifully shot and depicts our city through a romantic lens."
No matter what the subject, Delgadillo wants the filmmakers involved in Wonderland Film Fest to be able to tell their own stories.
"There's a lot of talk about neighborhoods and the changes that are happening around us," she says. "And I think that what this festival tries to do is to have people be in control of their own narratives and their own stories so that the people are the ones telling their own stories and not other people telling them for them."