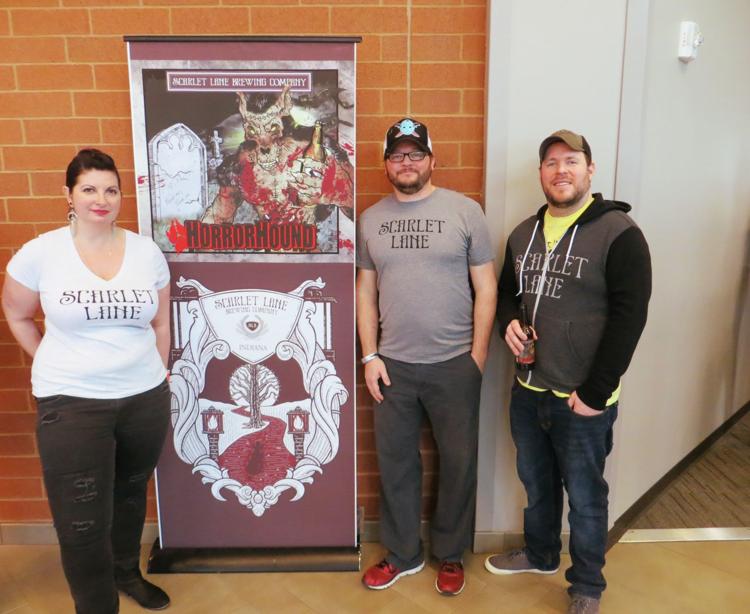 Scarlet Lane Brewing Company is geek heaven. When you hike up the gravel entrance and go into the cavernous tap house, you're greeted by skeletons hanging from the ceiling and grunge music lingering in the air. The people who run the place are constantly buzzing with childlike exuberance, chatting and giggling about film ideas and their favorite horror flicks.
This week, they returned from the HorrorHound Weekend convention in Cincinnati, where they served as the official beer sponsors — and felt right at home as horror buffs. As CEO and Head Brewer Eilise Lane says, "It's like a safe zone for people because everybody likes the same weird stuff there." Scarlet Lane operates in that same vein, serving not only as a brewery but a place where employees can let their imaginations run wild.
Every morning when she comes into work, Lane finds post fermentation manager and horror liaison Joshua Hull hunched over his laptop, cranking out screenplays and outlines for future film projects.
"Josh takes a lot of vacation days around here," jokes Nick Servies, Lane's husband and the brewery's head of marketing and branding.
This Saturday, March 25, Scarlet Lane is hosting a screening of Hull's superhero comedy, The Impersonators. And this summer, the back room of the brewery will serve as the shooting location for Hull's next film, Old Glory, which stars Nicholas Tucci (You're Next) as an unlucky guy who "stumbles into a desolate highway rest stop and discovers a talking, Lovecraftian glory hole." Yes, the Scarlet Lane folks like some mighty weird stuff.
Old Glory is the first production in Scarlet Lane's "indie film support project," which it's launching this month. Hoosier filmmakers will be able to go online and submit requests for the brewery to back their films, either through raising funds, providing shooting locations, stocking film crews up with beer, you name it.
Hull believes this kind of local support is crucial. He's been rising through the ranks of the Indy film scene since his first film in 2010. His directorial debut — a zombie comedy called Beverly Lane— premiered to a packed house at Noblesville's Hamilton 16 theater and received a positive review from the famed film website, Ain't It Cool News. But as he kept writing and making more movies, Hull kept juggling restaurant day jobs. His identity as a filmmaker felt like a secret alter ego, something he always had to set aside. Scarlet Lane lets him be who he really wants to be.
"I've been able to take real time and see what happens instead of constantly trying to figure this all out. Now I can focus on a movie I really want to make that's completely different from anything I've ever done. I have the freedom to do it and most importantly, the support," Hull says, gesturing toward Lane and Servies, who both beam with pride whenever he talks about his film dreams.
Lane can relate to Hull. She knows what it's like to put passions on the backburner and then realize that chasing dreams is better than drowning in the midst of a more practical career path. Before she opened Scarlet Lane — Indiana's first female-owned brewery — Lane served as a program manager for a major insurance company, where her work basically consisted of implementing technology to replace jobs. "It was soul-sucking. I was pretty miserable," Lane says.
While living in Oregon, she developed a taste for stouts and an intense interest in brewing. "I went into a brewery, ordered a stout, and it blew my mind. For the first time, I asked if I could speak with the brewer, and they said, 'She's not here today,' and then I got really excited because I was like, 'She? Huh.'"
Servies bought her a home brewing kit, and the rest is history. He pushed Lane to go back to school for fermentation sciences, and she felt like she found her calling. Now, the couple wants to help others who are striving for the same kind of happiness. Their indie film project is the first step in that mission.
"People had to give us a chance to start a brewery, and that was a passion project for us," Lane says. "We had to find some people who would really believe in us and support us. So, now we want to be those people for others to support their passions. It's all about community. Beer is about community, film is about community, so it just makes sense for it all to go together."