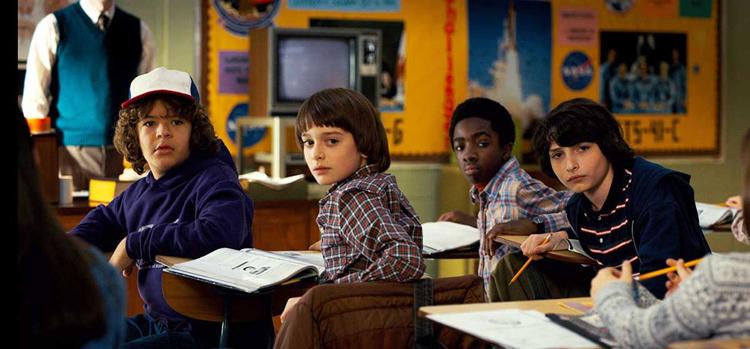 The spookiness
If you ask anybody in my house, I lost nine hours of my weekend watching Strangers Things 2. If you ask me though, it was well worth the binge 
No, it doesn't quite beat the first season — no season can or will. In this season though, we were introduced to amazing new characters like ultimate gamer Mad Max (Sadie Sink) and Radio Shack employee Bob (Sean Astin). You'll fall in love with new character dynamics like babysitter/single-dad Steve (Joe Keery, the once-douchey boyfriend of Nancy) with plucky Dustin, my favorite character. The only part I took major issue with was a entire side trip in episode seven that seemed out of place and just to fill time, but it was probably setting up the next season. 
So, spooky-scale: There were also some moments that frightened me. Let me preface this statement by saying I'm a wuss when it comes to spooky things. (A younger me considered Pirates of the Caribbean a horror movie.) This season's beasty Demodogs and their teethy, plant faces scare the shit out of me. I screamed during episode eight and would not suggest watching that particular episode at midnight if you're anything like me. But if you or your little one can handle any movie with a ghost, a skeleton or a spider, you'll be fine. 
— Haley Ward 
The relationships

 
Stranger Things 2 takes us on a similar nostalgic ride to season one, but, as my girlfriend put it "Season one felt like it was an '80s show; this feels like people trying to make an '80s show." Despite the over-cinematized look and the godawful seventh episode (seriously, it's the worst) ST2 brings us back to Hawkins in a great way and all of our fave characters are back — except Barb. We miss Barb. 
This season's strongest aspect is the relationships that are built: Hopper and Eleven (#fave), Steve and Dustin, Joyce and Bob (Sean Astin joins as this wonderful, loveable character), Lucas and Max (a new member of the gang), Jonathan and Nancy, and last, but not least Will and Mike. 
Sure, it's nostalgic. Sure, it's scary (the big bad this season is much more terrifying than the Demogorgon). Sure, it's mind-bending. But, in the end, it's all about people coming together and loving one another in different ways. 
While the world is crumbling around them — by the final episode I still had no idea how they would get out of this alive — they come together and show us some different, enjoyable sides of the characters we already started to love in season one and use those new bonds to tackle a new beast.
— Cavan McGinsie 
The soundtrack
I had one thing on my to-do list this past weekend: binge watch Stranger Things 2. Given the overall awesomeness of the first season, my expectations were high. It was all I talked about last week. (Editor's note: It was.) And by early Saturday morning I had breezed through all nine episodes. 
While everyone is talking about Eleven, Hopper, Demogorgons and the Upside-Down, I want to bring up how badass the Stranger Things soundtrack is. Kyle Dixon and Michael Stein, back from season one, provide perfect spooky ambient tracks that match the overall tone of the show. I admit I listened to the soundtrack beforehand — thanks Spotify — but I found myself pleasantly surprised by the timing of tracks in each episode. They don't distract you from what's taking place, but add just enough substance to satisfy your ears.
As for the season itself, I think the producers threw a filler episode in to set up another season, and a few of the subplots were unnecessary, but I'd definitely recommend carving out some time to watch this, even if your sole reason is to not get mad at coworkers for unintentionally spoiling it. 
— Brian Weiss