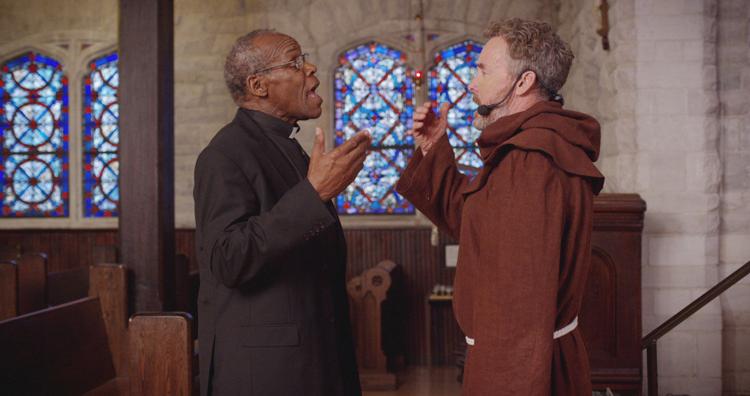 Sure, The Good Catholic, filmed in Bloomington, Ind., has Hoosier roots, just like director Paul Shoulberg's 2015 film Walter, which was shot in Indy. But you don't just go to a film for its local ties, do you?  That is, you don't want to just be soaking up university town ambience and hilly terrain on the silver screen. So thankfully there's a somewhat compelling story here for you. 
The plot centers around Father Daniel (Greencastle, Ind. native Zachary Spicer), a young priest who has recently lost his father. While he's experiencing a crisis of faith, he encounters a mystery woman in the confessional (played by Wrenn Schmidt, who we later find out is a barista and musician named Jane), who shares her concerns about arrangements for her own funeral. It's unclear if she's actually dying or just dying in the sense that we're all going to go some day.
As someone who frequents the YouTube channel, "The Order of the Good Death," which features a mortician in Los Angeles, and as someone who has also lost a parent to cancer, I felt that the conversations about death and dying were the most authentic parts of the film. (Shoulberg's father also died of cancer a couple years before the film and the movie is a tribute to him.)
It seems like a bit of a stretch, however, that Daniel was so willing to open about his own existential crisis with a woman who happened to walk in off the street because the light was on for Friday night confessions. Perhaps, as someone who was deep in grief, Jane was in the right place at the right time. Daniel may have also felt that he couldn't share this with his fellow priests, parishioners or his own family.
And this openness early on makes you wonder whether Daniel will wind up taking off his cleric's collar for Jane, as it were.
Daniel tells Father Victor, expertly played by Danny Glover, that there is a new woman in his life without giving too many specifics. While Victor doesn't pull any punches in his response, he ultimately wants to help Daniel decide whether he wants to remain committed to the priesthood. His frankness made me wonder if Victor had experienced something similar when he was younger — perhaps a childhood sweetheart or platonic friend that made him think, "What if?"
Then there's Father Ollie, played by John C. McGinley, best known as Dr. Perry Cox on Scrubs. The character is basically Dr. Cox, which I mean in the best possible way. That is to say, he's basically Cox if Cox had retired to become a priest wearing basketball shoes under his brown robe. Now imagine also if Cox had a bobblehead of Pope Francis in his car, smoked and led the church choir (played by IU's a cappella choir Another Round).
Do you get the idea?
Although Victor warns Daniel he could end up like Father Cox, er, Ollie, if he gives up his morning jogs, Ollie is just living his best life.
I wouldn't recommend this film on the romantic comedy aspect alone. This lapsed Catholic remains unsure how likely it is for a priest to contemplate leaving the life of faith for a woman he has only known for a few months. I've heard of widows who become nuns, and widowers who become priests or deacons. And after viewing the film, I learned that Shoulberg's parents met when his father was a priest and his mom was a nun.
So it is, of course, possible.
However, I did think Daniel and Jane were likeable and real in their… courtship? Friendship? It's unclear whether they are on the same page early on (also relatable). I would recommend this movie because the film gives humanity to the priests in their day-to-day lives. You get a sense of them giving baptisms, administering last rites, watching ball games, eating breakfast, and giving each other honest feedback on their homilies. It wasn't overly emphasized or dramatized, just natural. And, of course, even if you didn't go to IU, you can't beat Bloomington as the backdrop.