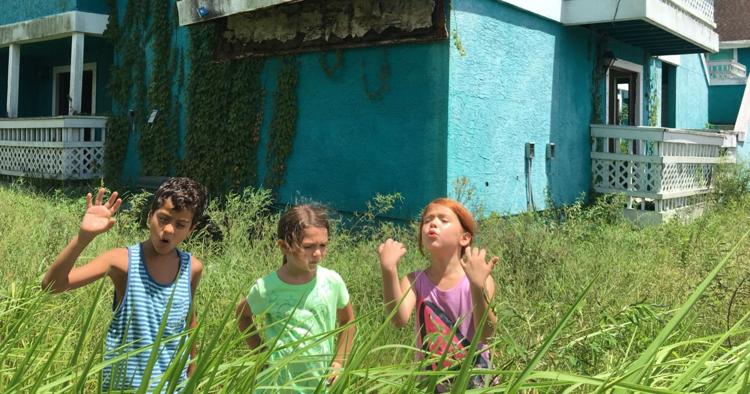 Dan says: five stars//currently playing at Keystone Art Cinema
Two budget motels on an Orlando, FL. commercial strip, not far from Disney World, are the primary settings for The Florida Project directed by Sean Baker. Futureland and The Magic Castle no longer cater to middle class travelers as they did in the boom years after WWII. The guests are hanging on, but barely.
And yet the motels are freshly painted, colorful in the way rotting citrus are colorful.   
The film, a special presentation at Heartland Film Festival —  the Indianapolis-based festival now in its 26th year —  doesn't quite make a good fit for Heartland's favorite brand adjective heartwarming.
The first scene introduces you to foul-mouthed six-year-old Moonee (Brooklyn Prince) and her friends as they spit on motel guests from a balcony. It's only the opening salvo in a spiral of mischievous destruction that these kids — with a lot of time on their hands during summer vacation —  leave in their wake.
It's not like Moonee's mom can afford summer camp. The Magic Castle costs $35 a night and her mom Halley (Bria Vinaite) can barely pay it. And hustling is the way she pays for it — by selling wholesale perfume on the street, by fencing stolen goods, and by prostituting herself.  
Keeping a wary eye on Halley and Moonee is Bobby, the motel manager played by Willem Dafoe. Dafoe's played a wide variety of characters over his 35-year-long movie career — Jesus in Martin Scorsese's The Last Temptation of Christ, the counterfeiter Rick Masters in To Live and Die in L.A among them —  but never before have I seen him display the particular emotions that he displays in this film.
Quite often he's keeping those emotions in check. One moment he's calmly telling a sunbathing motel guest that she needs to cover her breasts and dispose of her alcohol. The next moment, he's intervening in disputes between Halley and a man — a john — who accuses her of stealing from him.
It's the kind of professionalism that, say, any competent hotel manager needs to have when dealing with belligerent, insane, or unruly customers. Or fowl. At one point, he betrays his sense of humor, politely telling several flamingos to leave the premises as if they were drunk (human) guests.
But he does deviate from his professionalism occasionally. At one point he gets physically violent with a potential child molester.  
Bobby''s in a tough spot. The owner of the Magic Castle expects Bobby to keep people like Halley out, yet he clearly sympathizes with Halley and especially with Moonee. Some of the mischief by Moonee threatens the well-being of motel residents.  (He often gives Moonee and her friends a pass for their nearly criminal mischief, such as entering into the electrical room and cutting off the power.) The evidence also mounts, to the point that Bobby can no longer ignore, that Halley is using her bed as a place of business.
The film shifts points of view quite often between the bedbug-bitten reality of the adult world and the fantasy world of the children. 
At one point a rainbow appears over the Magic Castle, a scene to which most adults would attach a bitter irony.  But when Moonee and her new best friend Jancee see the rainbow they see only possibility. They talk about the leprechaun who lives at the end of the rainbow with a pot of gold. "Let's go get him," Moonee says.
It's at such moments when the film is at its most powerful. It's a film that's much more heart-wrenching though, than it is heartwarming. It should almost go without saying to say it's a winner of Heartland Film Festival's Truly Moving Picture Award. (It is, in fact.) Actually, it's one of the most moving films that I've ever seen.
Sean Baker's previous film Tangerine focused on the world of L.A. transvestites and was filmed entirely with iPhones, and nonprofessional actors. While this production largely ditched the iPhones for 35 mm film, most of the actors with whom Dafoe worked (including Bria Vinaite) make their professional debuts in this production. Hence the unforced, cinéma vérité feel of the film.
And the final segment, which was shot with an iPhone 6, packs an emotional punch that you may not be prepared for. I'll spare the details, to avoid spoiling the ending, but it involves Disney World. (Orlando is, it seems somehow important to say, just three hours north of Trump's Mar-A-Lago Golf Club on I-95.) 
More than a few audience members at the particular screening I attended laughed at the ending as if to say "What's with this bullshit ending?" It's hard to interpret this as anything but a lack of empathy, but I suppose that's par for the course these days.