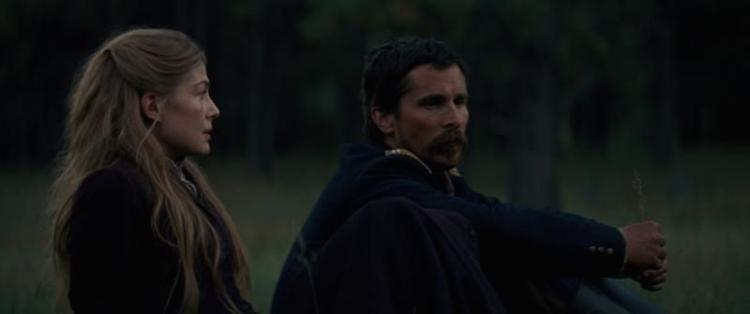 I'll address the music and the screenplay of this unfortunately-titled film in a few paragraphs. First, let's take a look at why more people aren't buying more tickets to this production. The title of the film, written and directed by Scott Cooper from Donald E. Stuart's manuscript, is titled Hostiles and what the hell is that about?
 When I saw the title, Hostiles I thought it would be a war film – one of the World Wars, or perhaps Korea, or Vietnam. When I learned it was a revisionist Western I adjusted my expectations. I also wondered how many casual film-goers thought "screw this" and sought a more user-friendly flick.
This kind of stuff matters. Like many independent films, Hostiles opened in December in New York, LA, and one or two theaters, so that the film would qualify for consideration for the Oscars, and the critics groups, while hopefully creating some positive word of mouth.
 Hostiles made some money – not enough – and got included on a few critics' lasts. What they didn't do was get any nominations from the Oscars. Hostiles is now in wide release. I wonder what might have happened if the film had selected a distinct title, and received some Oscar love?
 Enough about the title of this movie and its financial woes.Time to talk about the movie: In 1892 New Mexico, Captain Joseph Blocker (played by Christian Bale) is assigned one last task before retiring (it seems he's too old for this shit though he doesn't say it aloud.) On the way to Fort Berringer, he rescued a family that were attacked by a Comanche war party.
 The acting is above average, the score is more prominent. At times, the goings get a big sluggish. Just meet the movie halfway and you'll be fine.