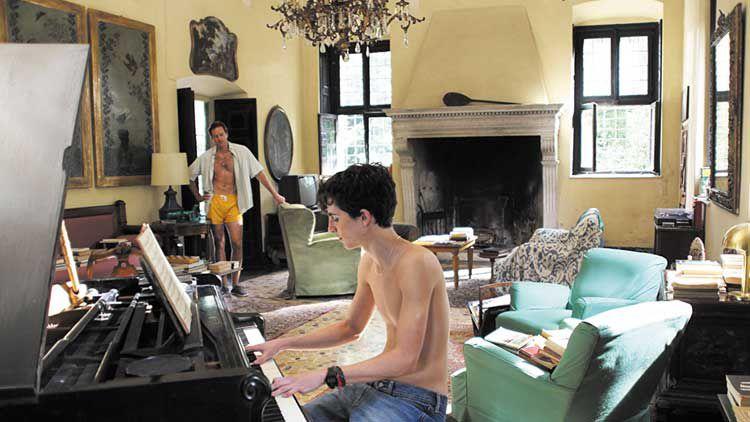 Pick a supporting character in Call Me by Your Name and watch the actor closely. 
Did you see it? 
In most films set in picturesque villages, the supporting characters are used as set dressing. There's no suggestions that the characters did anything before the movie started, or that they will do anything after.
Director Luca Guadagnino took a different approach with the adapted screenplay written by James Ivory, based on the 2007 novel by André Aciman. 
The lead characters of the film are Elio Perlman, (Timothée Chalamet), an Italian teen, and Oliver (Armie Hammer), a student from America, and while we follow them, Guadagnino establishes and maintains a pleasing continuity, in part by giving the supporting characters lives of their own. We don't see much of those lives, but they help this place feel alive.
We start with Elio, a 17-year-old who lives with a pair of wonderful parents in Northern Italy and all is pretty much well. Still he walks around with a petulant look and finds the nearest wall to lean on when anything happens that doesn't meet his approval. 
Elio is sexually active. He has a girlfriend. Her name is Marzia. 
Elio should be a happy young man. 
His biggest issue is Oliver is staying with Elio's family for the summer and Elio doesn't like that he has to share his bedroom with the foreign visitor. He doesn't like all of the attention that Oliver is receiving. He finds the good looking young man a perfect example of the vulgarity of Americans. Almost instantly Oliver walks through the room slapping hands and saying, "Later." Elio hates it.
This being a movie though, you know what's going to happen. No problem because it's done so very well.
The tension Elio feels with Oliver fades over time and Elio finds the handsome American much less vulgar than he initially thought. The icy wall between them melts and is replaced with a fiery passion.
Warning: This film is sensual in nature and though there's no graphic sex, there is lovely sex and lots of smooching. So, if you have problems with public displays of affection, you have been warned. If two guys kissing makes you uncomfortable, maybe it's a good time for you to go to the bathroom or back to the olden days.
I enjoyed the fact that in any of the three languages in the film, the word "gay" is never spoken. Tensions still remain, but this is a place where relationships are judged one at a time. 
When sexuality is discussed it almost always lives in three categories at once: heterosexual, homosexual and bisexual. As anyone knows who has read a Kinsey study, there are multiple levels of sexuality, not simply the three separated American ones: gay, straight and bi. As cultures become more civilized we…
Idealized reader, I almost went on a full-fledged, climbing on a soap box tangent. I've decided I didn't need to hear it and neither did you.
Suffice to say Elio's parents are nice people — the kind of people who observe their son acting like an ass and gently talk to him. The film debuting this year is poignant. This film gives us a vacation to somewhere wonderful and it gives us just the right amount of squabbling to remind us that disagreeing without becoming ugly is the best way to deal with conflict. A lesson many of us have seemed to forget. 
Overall, Call Me by Your Name is a charming film, a sexy film and a family story. 
Though it drags in a couple of spots, it recovers nicely. What else could you want?
[Fun Fact: The Academy just announced their 2018 nominees for Oscars and Call Me by Your Name is up for Best Picture at the 90th Academy Awards, Best Actor for Chalamet, Best Adapted Screenplay for Ivory and Best Original Song "Mystery of Love".]