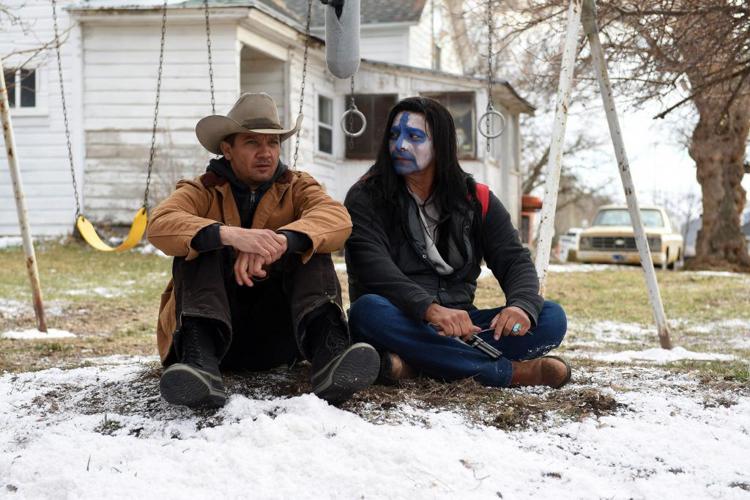 I was so excited for Indy Film Fest's screening of Wind River, the newest from Oscar-nominated screenwriter Taylor Sheridan, that before the show I began to engage in some negative self-talk in an attempt to ward off disappointment. 
"Sure, self, Sicario (2015) was one of your favorite movies of the last few years, and Hell and High Water (2016) was stupendous. But there's no way this Taylor Sheridan character can keep it up. Oh, his character on Sons of Anarchy was one of its best parts? Nah, he can't keep it up. No way." 
"
Hell or High Water
"
takes an utterly predictable plot and makes it feel new
Here's what I thought at the end of last night's screening: Shut up, self. Sometimes a guy really is just that good.
Sheridan's newest release — a bleak, violent look at a murder investigation on a Native American reservation — also serves as the conclusion in his trilogy exploring the American West, which also includes the Mexican-American border investigation of a cartel's violence in Sicario and the West Texas bank-robbers in Hell and High Water. Sheridan, who played a sheriff on FX's Sons of Anarchy, is obviously interested in dissecting issues of jurisdiction in his films. Who has the power to investigate what and where? How do those investigations harm or help victims? When is "justice" really served? Those are questions rookie FBI agent Elizabeth Olsen and game-tracker Jeremy Renner contemplate in Wind River as they work together to find the killer of a young Native woman. 
Our resident on staff- criminal justice expert (yes, NUVO's staff has it all) also in attendance commented on the compelling way Sheridan depicted the fallout from sexual assault — how invasive the process of investigation is for victims and their families, and the challenges in investigating sexual assault thoroughly in the first place, especially among disadvantaged populations. Like Graham Greene's tribal police character Ben says, there just aren't resources. Sheridan never lets you forget that the crimes in the film are based on current realities for Native Americans, including that until 2013 reauthorization of the Violence Against Women Act, non-Native persons could not be prosecuted for crimes against women that occurred on reservations. (Another injustice: Native persons can be prosecuted for the same crime committed on a reservation twice — both federally and also by Indian criminal tribunal.) 
These are all subjects actor Tokala Black Elk-Clifford (who plays a strung-out character named Sam) spoke movingly about in a panel after the film's conclusion, alongside Johanna Blume, Dorene Red Cloud and Scott Shoemaker of the Eiteljorg Museum of American Indians and Western Art. Tokala, who grew up very near Wind River reservation and still has relatives there, spoke of the fear he felt for his female relatives. Struggles continued after leaving the reservation, and Tokala spoke of the difficulty he had breaking into an industry resistant to cast Native persons in Native roles (and the difficulty of finding roles where he could wear pants and not breechcloths; and the gratitude he has toward Sheridan for taking time and care to craft complex portraits of Native American people in the film. There's been much written about the importance of diverse representation in film in the last few years by writers far more eloquent than I. (Read some stats here.))
There wasn't much time for the other panel members to speak, as Clifford had quite a lot he wanted to say about the realities of living on a reservation. (Side note: After Clifford said he was the grandson of famous Native American spiritual leader Black Elk, whose words were the basis of internationally known book on Lakota traditions called Black Elk Speaks, I understood his oration totally.) 
This would be a good time to mention that this is Sheridan's directorial debut. He told the IndyStar in an interview, "I could not trust that someone else would have a different vision for this film." Like any first-time director, there's room to grow. A few scenes could have used some editing and a few visual clues were leaned upon a bit too much. (Many, many shots of family photos.) 
But the passion for justice and honest depiction of realities Native Americans face on reservations was evident throughout. Earlier this year, Sheridan took home the Un Certain Regard mise-en-scene award from Cannes. Harvey Weinstein (whose Weinstein Company is distributing the film) read his acceptance speech, which included, in part: 
"It is a great shame of my nation the manner it has treated the original inhabitants of North America. Sadly, my government continues that shame through an insidious mixture of apathy and exploitation. There is nothing I can do to change the issues afflicting Indian Country, but what we can all do as artists — and must do — is scream about them with fists clenched. What we CAN do — is make sure these issues aren't ignored. Then the people who CAN effect change will be forced to."