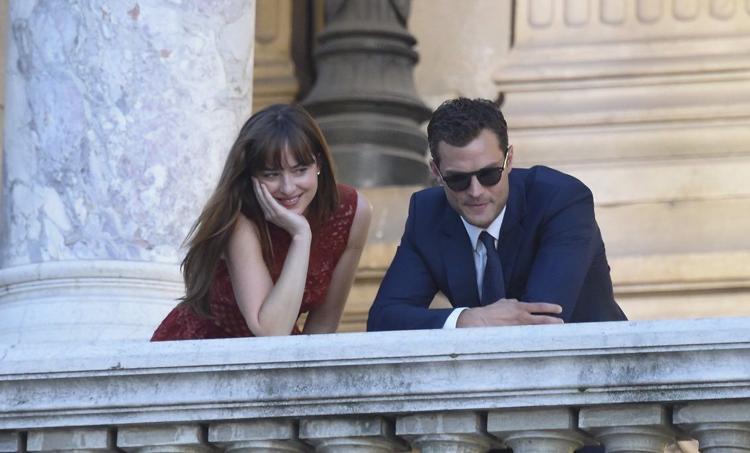 I'll begin at the beginning with this one. I'm not talking about the opening montage of Fifty Shades Freed, but the moment I walked into Flix Brewhouse in Carmel on opening night. The theater lobby and bar was jam packed with groups of (mostly) women. This was the audience targeted by the producers of the Fifty Shades trilogy with laser-guided precision. 
They were sipping on free champagne and eating Lindor chocolates, pre-climax, as it were, waiting for the film to start. (The Lindor chocolates were given out by bow-tie wearing dudes, aping Chippendales). Many of these women probably came of age around the time montage scenes that resemble music videos started appearing regularly in Hollywood movies.
Devoted followers of the first two Fifty Shades films —  based on the trilogy of novels by E.L. James —  probably didn't mind this opening montage. Or maybe it's just that they cared less about the film's VHI aesthetics than about the pecs and buttocks of one Christian Grey (Jamie Dornan). And perhaps also they were also wanting Anastasia Steele (Dakota Johnson) to succeed in her apparent desire to turn the sadistic Christian into a loving husband and devoted father.   
Anyway, the montage spends a minute or less depicting the marriage between Christian and Anastasia before he whisks her up off her feet and carries her into his private jet. They fly off to their honeymoon, to a beach presumably in the South of France.
As soon as the montage ends, the familiar tensions come back.  
Can we blame Anastasia for wanting to take her bikini off at the nude beach that they visit?  (For what it's worth, Johnson spends about half her time in this movie topless.)
But Grey is clearly not happy with her expressed wish. "If you love me, then why do you defy me?" he says petulantly.
"Look around there's boobs as far as the eye can see," Anastasia says, making me wonder why Christian didn't whisk her away to Saudi Arabia for their honeymoon.  
If you've seen the first installment of the Shades trilogy, then you know that Anastasia Steele meets the Seattle-based corporate bazillionaire Christian Grey while working as a student journalist. She comes to his office and interviews him for her college newspaper. Shortly afterwards, she submits to his sadistic tendencies —  she also seemingly enjoys their tamer explorations into BDSM —  and apparently falls in love with him. But in the end makes the right decision and tells Grey to go fuck himself.
Why she goes back to him in the second installment in the trilogy, Fifty Shades Darker, is beyond all logic. After all, she's found a great job as an assistant editor in a publishing house, and seems to be making her way in the world.
But the deck is stacked in this trilogy. That is, it's designed to stroke the audience while not offending too many sensibilities.
The second film accomplishes this by introducing another alpha male asshole character, but one who's clearly less Christian, as it were, than Christian Grey. This is Jack Hyde, Anastasia's boss in the publishing house. But his real role in Darker is the same that he has this time around in Freed. That is, to make Christian Grey look like Dr. Jekyll in comparison to Hyde's Hyde.
If you want to see a movie that deals with sadomasochism in a serious way, this movie isn't it. Instead, you might want to check out a couple of foreign films. One of these movies deals with consensual BDSM. The other one goes well beyond all safe words and is definitely not for the easily-triggered.
The French movie Romance (1999) is an unblinking exploration of female sexuality, by a female director. The movie includes some hardcore bondage and sex as well as the most profoundly intellectual interior monologue I have ever heard take place during a penetration scene.  
And then there's Salò (1975) an Italian movie that is as difficult to watch as it is timely. It's an interpretation of the Marquis de Sade's sordid novel 120 Days of Sodom. In this film a group of power-hungry Nazi collaborators take a bunch of adolescents into captivity and then strip them, torture them, and murder many of them. They do this because they can. To the World War II-era collaborators, the adolescents are worthless commodities, sorta like Trump steaks. (This is less a movie about BDSM and more a look into how easily power can corrupt the human soul.)
But with Freed, you're not getting 100 percent Marquis de Sade-branded sadism. It's more like the Marquis de Sade meets Nora Roberts.
Which under normal circumstances might just be fine. What's the harm, after all, in a little mindless, escapist fun? But we're not living in normal circumstances right now, if you haven't noticed.
Think of the #MeToo Movement. I wonder how easily #MeToo supporters —  or posters of #MeToo memes — can stomach the site of Christian tying Anastasia up in the Red Room and then delivering an electric shock to her vagina against her will.
"You tell me one thing and you do the opposite," he says, apparently trying to justify this behavior.  
Believe it or not, Freed resembles a Christian story of redemption. And the protagonist's transparent name is probably no coincidence. But the climactic road to Damascus moment in this film seems psychologically false. (Henry Rollins' song "Liar" is all about guys like this.)
Ultimately we're coaxed by the filmmakers to believe the unbelievable. We're supposed to believe that Anastasia has it within her power (like a BDSM Wonder Woman) to tame this rich douchebag with killer biceps. (About Christian's penis size, forget about it, this film isn't going there.) And to top it off, as it were, we're supposed to feel sorry for him —  and excuse his repeated non-consensual sexual assaults —  because of his mommy problems.
We know what's going to happen when Anastasia becomes a little too involved in her child's education to constantly get down on her knees for Christian. We know what's going to happen when she gets the first few wrinkles on her face.  
He'll do a Trump dump and drive off the lot with some East European model.
Maybe there were some women who had been dumped in a similar fashion, in the audience at Flix Brewhouse on opening night. I wonder if they recognized the irony.