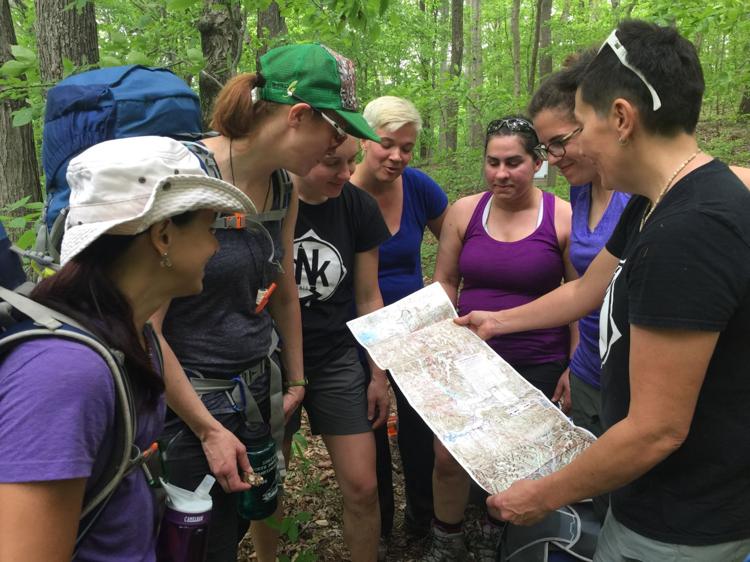 Kate Nolan and Danielle Wolter Nolan started their married life on an adventure trip. So it was no surprise when the two started an adventure tour company together called DNK Presents.
They began to lead people on hikes, rock climbing and mountain biking trips, backcountry skiing and more. (They both have a slew of certifications; Kate is one of 54 women in Central, North and South America who were chosen to represent Trek Bicycles.)
Danielle and Katie saw people on these trips transform when they were pushed out of their comfort zones. It moved them so much that they created a Women's Adventure Contest—where the women must be nominated in order to get a free adventure weekend. The goal is still to bring women who wouldn't sign up themselves.
Since the creation of the contest, DNK Presents created a documentary showing how much the winners changed in a matter of days. The film Live Adventurously has won Best Documentary at the Alhambra Film Festival on April 8.
Executive Commissioner of Film Indy, Teresa Sabatine, noted in a press release: "The world is ready for more content that shines a light on women, and is for women by women. Live Adventurously is exactly what we have all been waiting for.  It is powerful, inspiring, emotional, and shows us real women overcoming real challenges.  In a space that is often lacking the honest portrayal of women, Live Adventurously finally fills the gap."
On April 14, the film will show at the IMA. We spoke with Danielle and Katie about their company and the film.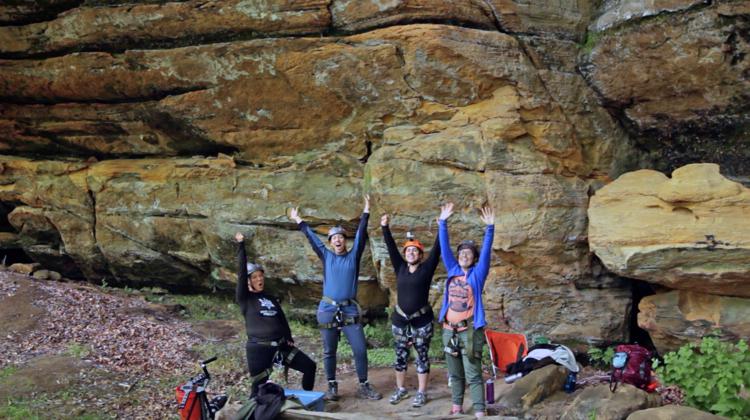 Emily Taylor: You guys started doing this just for fun. What was it like making the switch to doing it for profit and taking people out?
Kate: You know, people started asking us… Some of the trips were out of state, like backcountry skiing or caving. Some of them were right here in Indiana. We would backpack down Peninsula Trail down to Lake Monroe. It's super beautiful, beautiful trails, beautiful sunsets, it's a nice beautiful hike. People just didn't realize that those opportunities were here and so close and easily accessible. So we were like, alright, let's create a business and get some certifications, get insured and do this right.
Danielle: People were also like, "I would love to try that, but I have never done it before, and I don't know where to go, I don't have equipment, and I wouldn't feel safe going alone." We felt like if we can bridge the gap for people [and] get people back outside and being able to unplug and disconnect from technology; and kind of plug back into yourself is so important to our health and well-being. … We wanted to provide an opportunity to have a safe and fun environment.
Kate: Yeah, there are so many people who are afraid to go outside. Which is so insane to me. That is such a vital part of connecting with nature. Everybody has a place in nature, maybe it's not to the same degree to extent for everyone but it's still healthy. Even hospitals like Eskenazi, all of their artwork is nature photos because it's been proven to increase recovery time. University of Michigan did a study on 30 minute nature walks and how it's been proven to increase productivity, mood, fight anxiety and depression. And that was just for 30 minutes…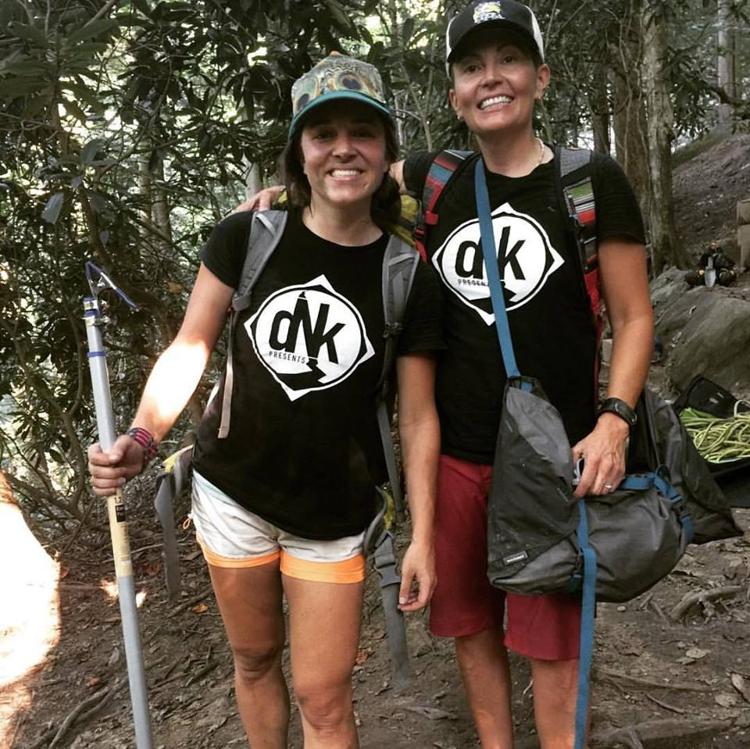 Emily: How did the film first come to be? Where did the idea come from, and how long have you been working on it?
Kate: The first one we planned for over a year. We would lead a backpack trip or guide a mountain bike ride, and we would see women in particular having a huge breakthrough moment. It wasn't people like me or Danielle, who are like "oh my God, adventure trips, let's sign up for it!" … You would just see them have these huge moments.
She gave the example of one woman who had cancer, who asked if she could join one of the group hikes (after her doctor cleared it). She hiked eight miles into Hoosier National Forest, pulled out a flask, took a drink and said "fuck cancer."
Kate: Just seeing that she was capable of doing that.
Emily: Tell me about some of the women who are featured in film?
Kate: I think the youngest we had is 26 now. Kelsey Steuer was nominated by a coworker of hers. She lost her father to suicide when she was 11. She grew up in a place of uncertainty. Her mother had some boyfriends along the way who were not the best. … Kelsey became a keynote speaker for Out of the Darkness after our adventure. … She wants to speak out and let people know that they are not alone and she is not going to be silent about her experience anymore. She has become way more vocal...
Michele Lorbieski Anderson, almost to date a year before the weekend, had lost her nine day old son. She had a complicated pregnancy and had gone through miscarriages to have  a child. She carried her son Hudson full term. He was born with a lot of issues, and they ended up taking him off life support at nine days old. Less than a month later, her mother died…. Michelle is this strong dynamic personality… She was voted the best up and coming corporate attorney in Indy.
Danielle: She was like, "I just need something good to look forward to, because I have had the worst year of my life."
Kate: She was like, "I wasn't living, I was simply existing."
Ali Lemberg and Candice Baggett were featured in the film as well.