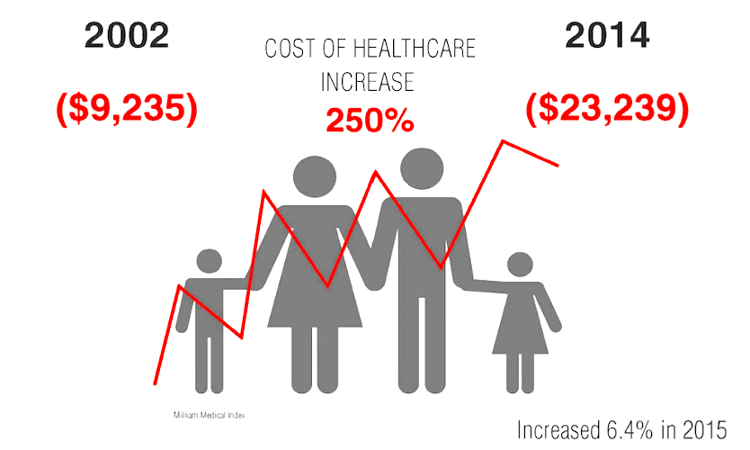 Last year, Alec Smith of Minnesota suddenly became one of millions of Americans unable to afford either health insurance premiums or the treatment he needed. Despite working full-time, Alec was forced to ration the insulin prescribed to treat his Type 1 diabetes. Only 26 years old, his lack of healthcare was fatal: he died last June from diabetic ketoacidosis.
Tragic stories like this represent the status quo of U.S. health care. Even among those who do have insurance coverage, nearly a third are enrolled in high-deductible insurance plans that can force them to skip filling prescriptions or go without other necessary care. The hundreds of thousands of web pages pleading for help paying for medical procedures and prescriptions are what "put GoFundMe on the map," according to its CEO.
At the same time, business owners struggle to keep up with the ever-rising cost of their contributions to employee insurance premiums, a challenge their rivals in other countries do not have to meet. Healthcare costs are the "tapeworm of U.S. economic competitiveness," according to Warren Buffett.
The bottom line: Americans pay the world's highest costs for our health care, yet still have massive gaps in coverage and overall poor outcomes.
What is the problem here? And how can we fix it?
In an effort to spur that conversation, a coalition of healthcare advocates and a local Quaker congregation are co-hosting a screening of the documentary film Fix It: Healthcare at the Tipping Point on May 3rd at 7PM at First Friends Quaker Meeting, 3030 Kessler Boulevard, East Drive.
A post-film discussion will be led by Rob Stone, M.D., a palliative care physician and director of Hoosiers for a Commonsense Health Plan, one of the event co-sponsors. Other sponsors are Indianapolis First Friends and People of Faith for Access to Medicines.  
For more information, contact First Friends' office at office@indyfriends.org or 317-255-2485.