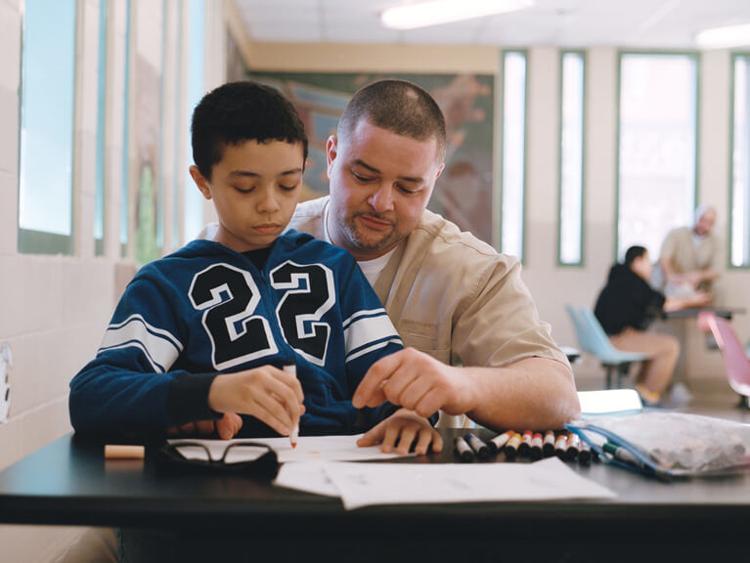 Even though one in 14 American children have a parent in prison, rarely do filmmakers focus on the daily lives of inmates' families. Denali Tiller decided to make Tre Maison Dasan to tell the stories of three children from Rhode Island in their own words: Tre, 13, Maison, 11, and Dasan, 6.
The film is one of five documentary feature finalists at Heartland International Film Festival, Oct. 11-21 at various locations around town.
Tiller and Stern will also speak on a Social Impact Panel at 2 p.m. Oct. 18 at the Francis Ford Coppola Pavilion at AMC Castleton. She will be joined by Dr. Susan MacLaury, co-founder of Shine Global, and Richard Propes, local film critic, activist, and namesake of a new Heartland Social Impact Award.
We recently spoke with Tiller on the phone about this film, which is her first feature, and which is produced by Rebecca Stern.
NUVO: Why do you think the impact of the the criminal justice system on children is an important story to tell?
DENALI TILLER: It's common knowledge at this point that our criminal justice system in America is exorbitantly larger and more unjust than any country in the world. It's been a conversation since the '80s and '90s, especially when incarcerated populations were rising due to mandatory minimums and three strikes rules and other things that mostly affected Black and Brown folks in America. The conversation stayed centered around those who were incarcerated and victims of crimes, as it should. But if millions of people are incarcerated, then millions more are affected by that incarceration collaterally.
NUVO: Why did you choose to have the children tell their own stories?
TILLER: There aren't a lot of people that are really willing and able to listen to children. Their voices matter, and they have a way to articulate it, in a way that adults just can't. I wanted people to listen to them, people to hear them, and to empower these kids knowing that their voices matter and people are going to have to listen to them.
NUVO: How did you build a trust with the children and their families?
TILLER: I became interested in [asking the children], "What do you want me to see?" "Why are you important on this Earth for any reason, not necessarily because you have a parent in prison?" And so the relationships and stories really grew ... We had over 300 hours of footage at the end of three years, and most of that is just playing with LEGOs, eating McDonald's, going to the park, birthday parties. We were meeting them on their level and asking them to lead the way, really including them in the process. They're actually listed as filmmakers in the film itself.
NUVO: How were you able to get this project off the ground?
TILLER: As an undergraduate at Rhode Island School of Design, I made a short film about one of the kids, Tre. Then when I graduated, I knew it was something much larger than that. … As a first time female film director, no one is going to believe you can do anything. … There were some very intimate and powerful moments in the short film that I think convinced people that I knew what I was doing. My first supporter was Chicken and Egg Pictures. They specifically support first-time female film directors.
NUVO: What's next for the film?
TILLER: As we're going to festivals, we're also connecting with community groups and organizations in the festival cities. So while we're in Indianapolis, we'll be connecting with different organizations and the Indiana Women's Prison to try and do some community screenings. Our big thing is getting it out there and having it be a tool for people.
NUVO: Are there systems of support for the children of incarcerated parents?
TILLER: That's what we're working on with the film, it's beyond just starting the conversation, but really creating these actionable steps and having people identify those actionable steps for themselves. I would say the support exists in pockets, but I still go into schools where teachers will say, "Oh no, I don't think I've ever had a child in my class with an incarcerated parent, in my 25 years of teaching." But statistically that can't be true. One in 14 kids experience parental incarceration. That's at least one in every classroom.