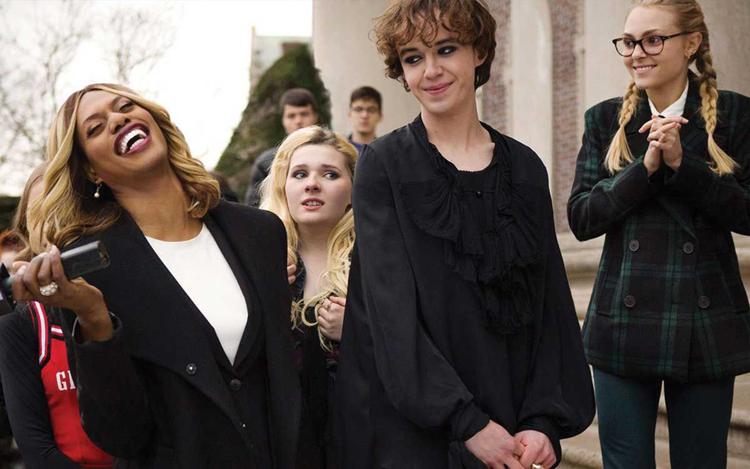 If Matthew Mutchmore had to pick one word to describe the Indianapolis LGBT Film Festival, it would be "celebratory." The festival is celebrating local talent, such as the Indy-based activist group the Fierce Four.
This group produced Our Love Story, which highlights the relationships of 19 diverse couples.
"Some of the most successful screenings we've ever had had local ties," Mutchmore said. "A few years ago, we had a film about Talbott Street, the bar, that did really well. So, we're really excited about Our Love Story."
 For 14 years, Mutchmore, a Vincennes native, has served as art director for the festival. This year, he became chairman of the event, which raises money for Indiana Youth Group, a nonprofit that serves LGBTQ youth.
"I'd say we got about 80 film submissions from around the world, and we narrowed it down to 35," Mutchmore said.
The selection committee of six individuals decided on Freak Show, a Trudie Styler-directed coming-of-age flick starring Alex Lawther, Laverne Cox and Bette Midler for the premier night screening.
"Coming of age stories tend to do really well for us," Mutchmore said. "If it has star power, it usually does pretty well for us. I mean, this has Bette Midler in it. When we showed the trailer for the first time at an event in September, there was a little 'oooh' from the audience, so we were like, 'All right, we'll do this one.'"
Issues surrounding the transgender community are central to this year's festival.
One of the offerings is a film short entitled The Real Thing, featuring a transgender college student from Indianapolis.
"With the political climate the way it is, trans issues are really hot right now," Mutchmore said. "That's kind of our focus this year."
With the festival scheduled for November 10-12, at the Indianapolis Museum of Art at Newfields the planning and preparation begins much earlier.
"We start at the beginning of the year and then the last couple months are kind of frantic getting everything ready and in place," Mutchmore explained. "This year we have a lot of films that are coming from film companies that like to send in their films just a couple days ahead of time, and that makes me nervous," he added with a laugh.
"It's kind of a scheduling nightmare sometimes, but we pull it off every year."
Despite the hassles that can arise while planning an event, support from the community has been evident, starting with the IMA.
"We were at a small theater on the Southside for a long time and that was going to close down, and the IMA reached out to us and initiated the relationship," Mutchmore said. "That's helped us a lot, because people love going to the IMA."
Throughout its 17-year-long existence, the Indianapolis LGBT Film Festival has brought together a community in Indianapolis, a progressive hub in the middle of a conservative state. Despite societal progressions, the festival continues to shed light on the issues that the LGBT community still faces.
"Cosmetically and physically, we've changed over the years," Mutchmore said. "We've grown, we've shrunk, and then we grew again. Our mission though, to raise money for Indiana Youth Group, has never changed."