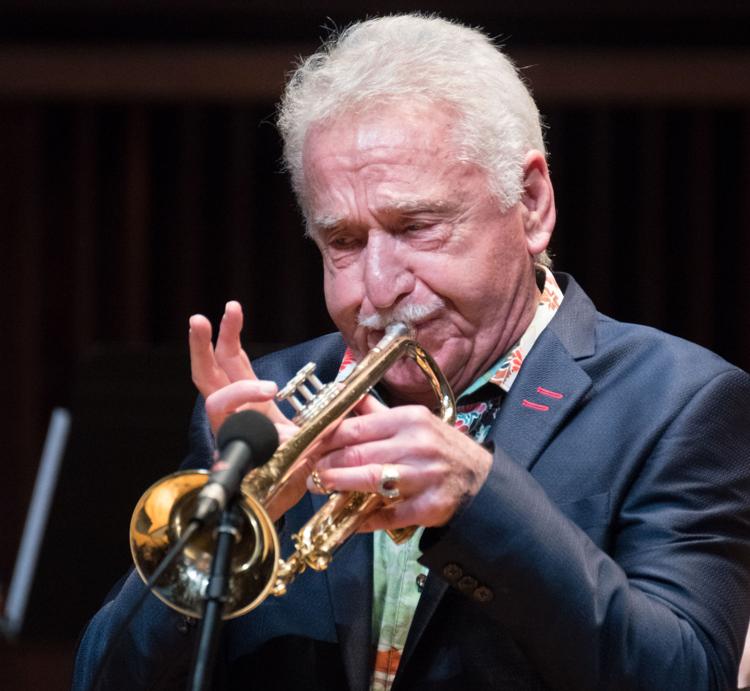 The walls of Ruth Lilly Hall at Christel DeHaan Center are still intact, but they'll be reverberating the trio of trumpets in concert at the close of the Second Annual University of Indianapolis Trumpet Conference on March 18. Providing the gusto were internationally-known solo artists Rex Richardson, Doc Severinsen and Larry Powell, in concert with the Indiana Wind Symphony.
Each of the headliners can elicit ovations on their own; together they had the audience on its feet throughout with Indiana premieres of new compositions and a classic wind repertoire new to me. Story was at the base of each.
Richardson and Powell warmed us with Kevin McKee's two-movement Under Western Skies, initially unfolding the sweep of sunset in splendorous colors, then encoding a new day with cautious expectancy. A ghost town? High noon tolling? A duel? Adventure capped by another sunset.
Severinsen commissioned Anthony diLorenzo to compose a three-part Thoughts from a Stairwell. "I warm up on stairwells  backstage. The reverb is great," remarked Severinsen, introducing the 2015 piece. Expanding the solo for a duet with Richardson is a brilliant showcase of acoustic ambiance. Daybreak (Stairwell) depicts a player at the top of his game; in Alley Song he's down on his luck; Locomotion is the itinerant journey of work where he can find it.
Richardson commissioned Freedom of Movement by Andy Scott. The 2017 work initially marks freedom of musical expression for a soloist to roam over, around, beyond, and within an orchestra, easing into flights of straight-ahead swing, half-time funk groove, reflective improvisation, leading to full band sound; and ending with the kind of ecstasy you feel in the presence of virtuosity. An engrossing 15-minute seminar in music theory, it equally feels like a metaphor for cultural inclusiveness.
The program closed with Chicago-based composer James Stephenson's A Tribute to Louis Armstrong, with Richardson leading off with Armstrong signatures, particularly a beautifully modulated "What a Wonderful World" and a rousing finale with Powell and Severinsen on "When the Saints Go Marching In."
And for an encore, Doc gifted an impromptu rendition of "Back Home in Indiana"  that deserves to become the standard.