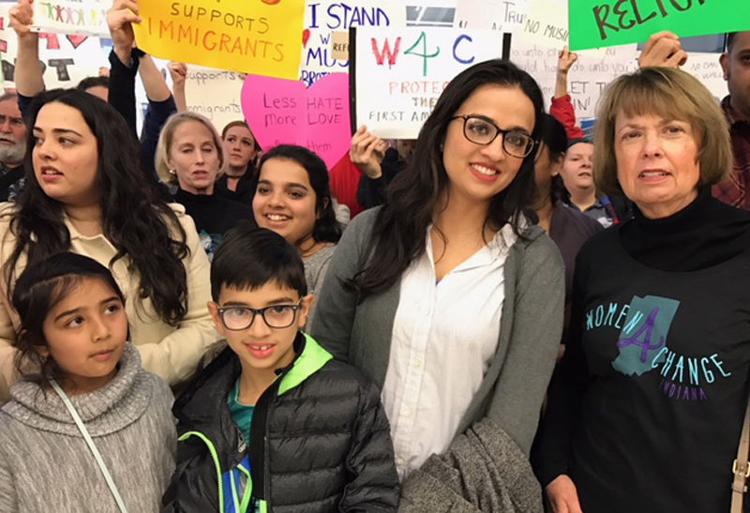 There's an African proverb that says, "If you want to walk fast, walk alone. If you want to walk far, walk together."  Walking together and going the distance are what a new civil rights group in Indiana says they've set out to do. 
Rabbi Sandy Sasso and Jennifer Nelson Williams, co-founders of Women4Change Indiana, were struck by the rhetoric and hate that seemed to engulf the 2016 presidential election and the feelings of helplessness many women felt afterwards. So the two decided to take matters into their own hands and seek a solution.
Following the election, they held a panel discussion to gauge interest and options for forming a new coalition of women wanting to change the political landscape. Initially hoping for 50 attendees, Sasso and Williams were surprised to find approximately 900 people from all over the state interested in participating, ranging from Hoosier women to local politicians. The event even attracted coverage from the BBC.  
After that first event Sasso and Williams created Women4Change, a nonpartisan organization dedicated to advocating for the "leadership, health, safety, and dignity of all women in Indiana." A steering committee was formed and, eventually, a board of directors appointed.
Crucial to the organization's mission and a core value it hopes to restore to political discussions is civility. It's so important to the group, they incorporated a "Civility Pledge" for members to model within the group and as individuals based on four simple principles: "to be civil and respectful in my public discourse and behavior; to honor the dignity of others, whether in agreement or disagreement; to respond to incivility and speak up in the presence of name-calling, stereotypes, slander and slurs; and to do this for the sake of our children, for the healing of our country, for the future of democracy and for peace."
"We believe we need to be together as women in order to make any kind of changes and to respect one another and to find ways we can link hands," Sasso says.
"We strongly believe that when women's voices come to the table — all women — there is a diplomacy, and a desire to compromise and negotiate so that everyone feels as though their voices have been heard," says Williams.
"I think we need to walk far," says Sasso, referring back to the proverb. "We have a lot to do and it's not going to be done in a day, and the only way we're going to do it is be together."
The initial  panel discussion uncovered four issues heavy on attendees' minds: immigration, women's health, civility and gerrymandering. These four pillars eventually became the number "4" in the organization's title.
The group took on one of those issues this legislative session by advocating for the passage of a tangible Indiana Hate Crimes Bill - Senate Bill 418, which would provide tougher laws and stricter penalties for crimes in which a victim's sexual orientation, race, religion or gender identification makes them a target. Proponents argued that not just one person is threatened by hate crimes, but rather an entire group. 
"These are all things that hold Indiana back. It is a human issue. It is a woman's issue…But it's also a fiscal issue," Williams says. "One would be hesitant to select a state that is not friendly to all of its residents."
"There's a loss of civility," says Rima Shahid, Executive Director of Women4Change, about the bill. "There's a loss of that human connection. But even if you were just to strip that away, I think that by not protecting its citizens, Indiana loses economically, as well. And until our state can protect all of her citizens, we will continue to be on the wrong side of history."
In addition to being one of just five states without a hate crimes bill (the others being South Carolina, Georgia, Wyoming and Arkansas) Indiana also had one of the lowest voter turnout rates in the nation, ranks among the lowest in women representatives in government, and has one of the largest wage gaps in the nation. 
"This is not something we should be proud of," says Shahid. "These are not things that put Indiana ahead." 
"To ignore something that is of critical importance to the majority of one's residents, it's short-sighted," says Williams. "It's misogynistic."
Organizers say the response to Women4Change has been extremely positive and that energy is clear in the support they've already received. "There were so many incredible women in the state of Indiana who felt like their voices hadn't been heard and who have dedicated themselves, their energy, their time, and their talent, to making sure we're successful," says Williams.
To learn more about Women4Change Indiana, visit women4changeindiana.org. 
---
Women4Change Indiana is co-sponsoring a screening of the documentary, Women Like Us - Three Journeys. One Mission. To Change the World from Executive Producer Linda Rendleman and Co-Producer Catt Sadler Feb. 25 at the Indiana State Museum.
"This story follows three women on a moving journey of exploration, adversity, and evolution, in addition to witnessing the unimaginable social injustices women face around the globe. Award-winning journalist Catt Sadler and activist/author and co-founder of Women Like Us Foundation, along with Sally Colon, film director, travel the US and Kenya to engage in conversations with astounding women tackling unimaginable social injustices such as female genital mutilation, human trafficking, teen suicide, homelessness and more."
Tickets are $15 for the film and $40 for the VIP Media Reception and are both available through the IMAX theater.