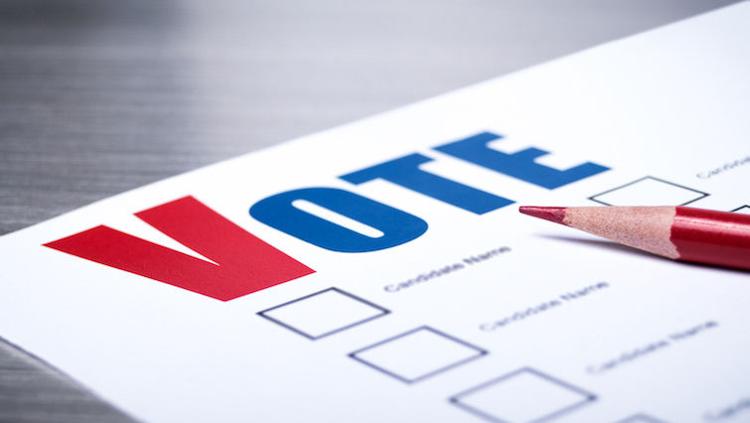 Like a fast food restaurant's secret menu, how to vote for write-in candidates may not be apparent, but you can still make it happen if you know how.
This year, several races have certified write-in candidates. Heather Meloy and John Miller are independent candidates for the 6th District House of Representatives seat. Nathan Altman, Christopher Fischer, and James L. Johnson Jr. are independent candidates for Senate. Green Party candidate George W. Wolfe and Pirate Party candidate Jeremy Heath are running for Indiana Secretary of State.
HOW TO VOTE FOR WRITE-INS
The methods for choosing a write-in candidate vary depending on what kind of ballot marking process your voting location uses, but the main steps are the same. First, you choose the "Write-in" option, and then, you write in the candidate's name.
For touch screen machines, voters would choose the words "Write-in" by touching the square to the left of the "Write-in" line. A keyboard will then appear on the screen which will allow the voter to type the full or last name of the write-in candidate. Finally, touch "Record Write-In" to record the vote.
For punch card voting, fill in the oval next to the words "Write-in." Then, you would write in the last name or full name of the write-in candidate.
WHAT IT TAKES TO GET ON THE BALLOT
The process for candidates to get their name listed on the ballot or even register as a write-in isn't as simple as voters might think.
To see what they have to go through, just look at Indiana Secretary of State's race.
"The road to ballot access has been bumpy in Indiana," said Greg Ellcessor, Wolfe's volunteer campaign manager.
According to Indiana Code, a person is considered a major party candidate if the candidate affiliated with the party obtained the highest or second-highest number of votes cast for Indiana Secretary of state at the last election held for the secretary of state's office.
Thus, the Democratic Party and Republican Party are considered "major parties" based on the results of the 2014 election for Indiana Secretary of State. If a political party did not run a candidate for that office in 2014 or if the party's candidate did not receive the highest or second-highest number of votes in the 2014 for election to that office, the party is considered a "minor party" for ballot access purposes.
An "independent" candidate is a candidate not affiliated with any political party.
If a minor party received at least 2 percent, but less than 10 percent of the vote cast for Indiana Secretary of State at the last election held for the office, the party may nominate candidates for the general election by conducting a state, county or municipal convention. The Libertarian Party falls into this category of "minor party" based on the 2014 election results.
According to the 2018 Indiana Candidate Guide, a minor party (other than the Libertarian Party), or independent candidate in Indiana is nominated for placement on the general election ballot by petition of nomination.
The candidate must collect signatures of registered voters in the election district that total at least 2 percent of the total votes cast in the 2014 Secretary of State's race in the election district the candidate wishes to represent to have their name printed on the ballot.
Ellcessor said this meant that they had to collect almost 27,000 signatures, but they immediately ran into problems.
"We attempted to organize a grassroots campaign where everyone who was interested could go to our website, and print off these petitions, sign them themselves and have their friends and families sign them as well," he said. "We were able to collect thousands of signatures that way, but we had no way of tracking exactly how many were collected and taken in to be certified by each individual county voter registration office."
Ellcessor said that even though those were due at noon July 2, they would have to wait to have them counted by the Indiana Election Division, who wouldn't be able to do so until July 16. Meanwhile, the deadline to file as a write-in candidate was noon July 3.
"So we had to make a decision; either wait and hope that we got the 27,000 signatures that we needed to be placed on the ballot that were going to be counted on July 16, or give up that possibility and file as a write-in," he said. "We were told by an official at the IED that we could rescind the 'Write In' candidacy if the IED counted our petitions and found that we met the threshold, but after we filed as a write-in, we were told that the Election Committee would not count our petitions because we filed as a write-in."
There is one way the Green Party could get automatically placed on the ballot next election, though: If that same number for the signatures was met by those who write Wolfe's name in on Election Day.