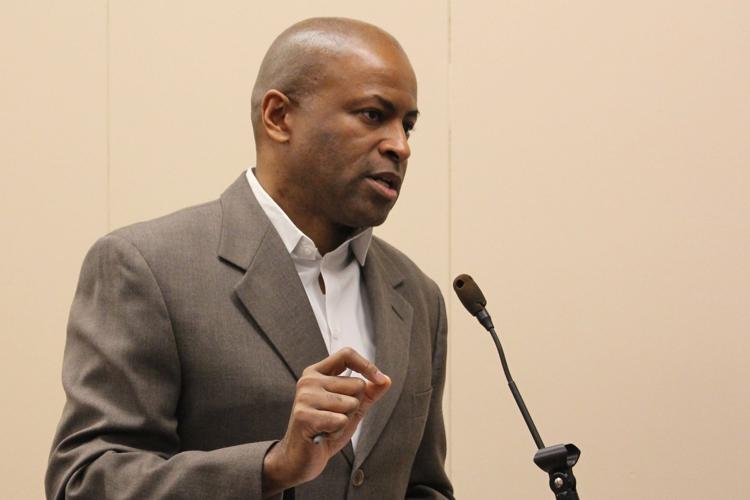 In a move that surprised a standing-room only crowd in the chamber, Stephen Clay resigned Monday evening as president of City-County Council, paving the way for the unanimous election of Vop Osili to the position.
Saying he wanted a smooth transition of power, Clay, a Democrat, announced he would support Osili's election. "Tonight we begin the position of moving the Council forward," said Clay, whose six-week tenure as Council president was marked tumult and controversy. Clay left the chamber after the vote.
In taking the gavel, Osili, also a Democrat, acknowledged the past month could have "shaken the confidence of constituents." But added he would act to "rebuild the trust of the community.
The Democratic caucus of the 25-member Council had planned to force a vote tonight to remove Clay as president, an attempt Clay repeatedly indicated he planned to thwart. But seeing the handwriting on the wall and with behind-closed-doors support coalescing around Osili, Clay threw in the towel.
"It's been a crazy six weeks. And it's been an embarrassment to the City of Indianapolis," said Council member Maggie Lewis.
Democrats hold a 14-11 edge on the Council. And the controversy started on Jan. 8, when Clay cobbled together a coalition with five Democrats and nine Republicans to elect him president, defeating Lewis, who had been Council president for about five years.
Clay then appointed Republicans to chair three key committees, a move that is virtually unheard of and that deeply angered Democrats. To consolidate his position, Clay also removed three Council staffers.
Due to second thoughts or intense public pressure, several of the Democrats who supported Clay in the January election switched sides and voted late last month to place Clay's removal on the Feb. 19, agenda.
Clay avoided that embarrassment by resigning.
Osili said he would be considering committee assignments in the near future.