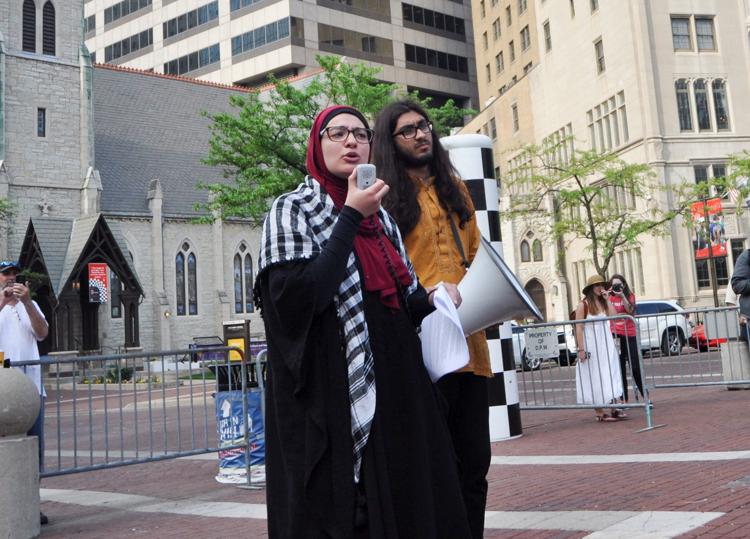 If you were at Masjid Al-Fajr on the evening of Friday, June 1, you would have seen 21-year-old Umaymah Mohammad setting up tables outside the mosque and welcoming guests to an iftar, the meal eaten by Muslims after sunset during Ramadan.
Not all the guests at the iftar were Muslim. But many of the non-Muslims observed the Ramadan fast in solidarity with Muslims, and with Palestinians in particular. The food itself was provided and prepared by a Syrian refugee now living in Indianapolis and We Run This, which is a project of the nonprofit Kheprw Institute.
If you were at Monument Circle on May 15, you would have seen Umaymah Mohammad that day as well. She was the main speaker at the vigil marking the Nakba. Observed the day after Israeli Independence Day, Nakba Day marks the dispossession of 750,000 Palestinians who fled their homes during the Israeli-Arab War in 1948.
The vigil on Monument Circle also honored the more than 100 Palestinians who died in the Gaza Strip since March 30 of this year—deaths caused by Israeli Defense Forces firing across the border fence at protesters participating in the Great March of Return. One of the most recent Palestinians to die along the border was 21-year-old Razan al-Najjar, a medic who had her arms raised above her head shortly before she was shot and killed on June 1.
Mohammad works with IUPUI sophomore Ahmed Abbas on the American Friends Service Committee's (AFSC) Communities Against Islamophobia project. Together they have trained people of all backgrounds to counter Islamophobia and anti-Muslim racism. They have also worked on trainings on political education within the Muslim community. Their newest project is the Muslim Youth Collective, a group of Muslims who want to educate their community about how to counter anti-Muslim practices and policies.
Recently, I spoke to Mohammad about her work and life. Here's a portion of our conversation, edited for space and clarity.
NUVO: What is your connection to Palestinian issues?
UMAYMAH MOHAMMAD: My mom is Palestinian. She lived through the 1967 mass exodus of Palestinians, the second mass exodus after the Nakba in 1948. Her family was forced to leave as refugees into Jordan. As I was growing up, she wanted us to be oblivious and not to carry the burden that so many displaced Palestinians living in the diaspora carry. So I think when I was 15 or 16 years old and I started asking questions about Palestine, my mom started to slowly open up about how being forced into exile affected her life and what her real upbringing was. One of her earliest memories is living through the Black September of 1970 when the Jordanian army was targeting and killing Palestinian refugees.  
NUVO: Where did your mother's family live before fleeing as refugees into Jordan in 1967?
MOHAMMAD: Her family is from Huwara, which is on the outskirts of the city of Nablus [in the Israeli-occupied West Bank]. Her family's always been from this area.
NUVO: How did you get involved with American Friends Service Committee?
MOHAMMAD: In high school I did a project that was something like "fix the world's problems." We had to do a semester-long research project. I'd never really thought about or did any research into Palestine. As I began to research, I can't really describe what I felt in words. I was 15 years old—so privileged and so ignorant of my mom's experiences. It was that moment that I began to think more critically about my history and my connection to Palestine and what was happening there. It escalated into advocacy work when I got to college.
NUVO: I know you are a recent graduate of IUPUI. What were you studying? What career path are you considering?
MOHAMMAD: I double majored in political science and neuroscience, two very different fields. Right now, I'm working with AFSC full-time and building capacity for the Muslim Youth Collective. The plan is to go to medical school eventually. I mentioned that my mom is a refugee, and I don't want to go into too much detail because it's her story, but being forced into exile has resulted in her having severe health issues. This is not unique to people who are suffering under colonialism, and exile, and being forced into migration. It's something I've witnessed my entire life, and it really inspired me to make the connection between medicine and social justice and issues of injustice. I hope to enter an M.D./Ph.D. program to study what physicians can do for people facing mass systems of oppression like colonialism and racial injustice.
NUVO: How were you involved in activism on the IUPUI campus?
MOHAMMAD: My freshman year, three Palestinian Muslim students were killed in a hate crime in Chapel Hill [North Carolina.] I spoke at a vigil in downtown Indianapolis. It was winter and freezing cold, and I performed a poem about being Palestinian in America. The director of social justice education at IUPUI came up to me after the vigil and encouraged me to apply to a scholarship program in social justice education. It was my first real concrete campus-organizing experience, and I was in charge of the artistic branch of the program, talking about social justice and being activists through poetry and art. For three years, I also helped organize different rooms in a program called The Tunnel of Oppression, put on by Social Justice Education [part of the IUPUI Division of Diversity, Equity, and Inclusion]. The program is an immersive experience lasting about 45 minutes. During the presentation, social justice issues are explained in five-minute productions. It could be through acting, through videos, through whatever sort of means the performer chooses. In my first year, I talked about the conflicted identities of being both Arab, which is an imperialized people, and being also American—what it means to live in the age of U.S. imperialism as a Palestinian and as an Arab. The second year I did one about Islamophobia, and just this past year I did one about Palestine.
NUVO: I recently spoke with Sheila Kennedy [professor of law and policy at IUPUI] about the Tunnel of Oppression. In her opinion, it lacked balance. What do you say to that?  
MOHAMMAD: That's something I've been facing from the very beginning when I proposed the room—people saying that this is a two-sided issue and we need to present both sides. But if you really want to look at it from two sides, then the only two sides are the colonized and the colonizer. And in terms of balance, the pro-Israeli, pro-Zionist, pro-colonial narrative has been so pervasive for 70 years that the Palestinians have had almost no voice. This is what a colonial, occupying force does to an occupied people. One of my mentors had a student who went through the tunnel—this is a college student and he's lived here for nine years—and came out of the room crying. He told his professor that in nine years of living in the U.S., he's been too terrified to come out as Palestinian because he had never seen the Palestinian side of things presented here; he'd never seen anyone tell our story. So what is balance when we have been giving no voice to the Palestinians, the most oppressed people, the most marginalized people in the situation? That's that balance we are seeking.
NUVO: Is your sister [16-year-old Salma], who appeared at the Monument Circle vigil and read two poems there, influenced by your activism or has she come into it on her own?
MOHAMMAD: Honestly, I didn't know she had written those poems. But she's always been so talented and so brilliant. I don't know if I've influenced her activism, but I hope I have.