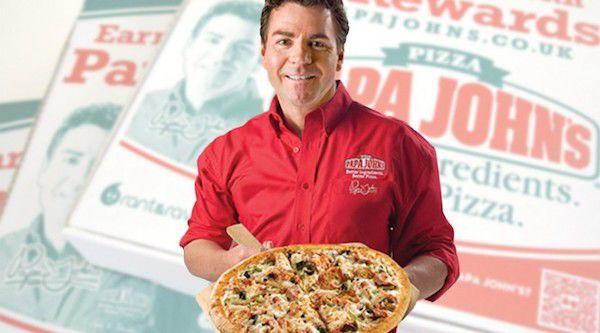 Friday was a very busy day for Papa John's Pizza founder John Schnatter. After Ball State University embraced their former student, Purdue University responded by stripping his name from their campus and offering to return his donation.
Ball State University Board of Trustees announced they would "continue our support of the John H. Schnatter Institute for Entrepreneurship and Free Enterprise."
Schnatter, a Jeffersonville native and 1983 Ball State graduate, resigned from his positions as Papa John's Pizza board chairman and University of Louisville Board of Trustees member on July 11 after Forbes' Noah Kirsch reported he had used a racial slur during a conference call in May.
"Colonel Sanders called blacks n-----s," Schnatter said, before complaining that Sanders never faced public backlash, reported Kirsch.
The conference call had been arranged with marketing agency Laundry Service in the wake of another controversial statement by Schnatter last year.
In November, during another conference call, this time with investors, Schnatter said the National Football League's ongoing anthem protests by some players was hurting sales.
"We are disappointed the NFL and its leadership did not resolve this," said Schnatter.
The following month, Schnatter stepped down as CEO. And, in February, the NFL changed its official pizza sponsor from Papa John's Pizza to Pizza Hut.
Unlike Ball State, Papa John's Pizza and U of L have sought to publicly distance themselves from Schnatter since the scandal broke. U of L announced the name of their football stadium would change from Papa John's Cardinal Stadium to just Cardinal Stadium. Papa John's Pizza quickly moved to remove Schnatter's image from their future advertising and marketing materials.
Schnatter and the Charles Koch Foundation's $3.25 million in funding for the John H. Schnatter Institute for Entrepreneurship and Free Enterprise, housed in the Whitinger Business Building, was first announced March 2, 2016.
BSU alumni and students react
Readers who were either current or former BSU students were mostly outraged by the decision:
"I am a Ball U alum and am so ashamed of their response!" — Kimberly Gerhart-Fritz
"I'm ashamed as an alumni of BSU that they haven't done anything to remove his name." — Karen Wingert Pell
"Ball State alumni here... no matter his reasoning, he should have known better than to say what he said. Disappointed in BSU." — Keshia McEntire
"We received an email from BSU today and it explained in more detail about what happened and their stance. When you take it out of context (what he did), it sounds bad. If it all went down as they said in the email, I understand BSU standing behind him." — Stacy Mosbaugh McCord
"I'm incredibly disappointed. There are many things I love about Ball State, but this saddens me because I think it undermines other good work happening there. Ball State has had a rough time recruiting and retaining faculty and students of color. This will not help. This isn't the first embarrassing issue related to Schnatter. Creating some distance would have been the right thing to do." — Kelli J. Huth
"Pissed off alumna here. Like, fuck them for even saying anything. All about the money - which is why they aren't getting any of mine. (Also, I have a shit ton of student loans tbh)" — Lindsay Leonhard
"Ball State student. I wish I could say I was surprised but I'm not. Ball State is about the money and nothing else." — Mary Doty
"I'm a Ball State alumni and I'm not sure what I think. I believe most of us, black or white have been guilty in one form or another. I've been experiencing some difficulty with the sudden ostracizing of many without trial whether it's sexual harassment or using unbecoming language. I have never liked this guy and became iffy with Peyton Manning after his association and discovering his history but again, we have been guilty before of doing or saying stupid things as well if we have any desire to be honest." — Kathleen McCann
"Alumni here. The email made it seem as if they searched long and hard for a reason to keep the name, ie money. Money talks in this case. Extremely disappointing." — Bryan Michaels Bertoline
"Alumni as well. BSU gets so many things right. This was not one of them. Disappointed." — Freedom Rice Kolb
"Former BSU student. An unfortunate truth I've learned is money will always take precedent over morality." — Danny Kelly
"Alumni here, disappointed but not surprised." — Maxine Wallace
"Ball State alum here. This is *beyond* disappointing. BSU isn't doing itself any favors in standing by him." — Nate Logan
"2007 Alumni- I'm disgusted and embarrassed." — Ali Brown
"Student-currently involved in student life and multicultural organizations. It's incredibly disheartening to see that the board of trustees chose to stand by him. The students of color on our campus deserve to have a university that truly values the beneficence pledge and stands against racist actions/words, even if it means losing funding or cutting ties. Purdue University, the University of Utah, and others handled the situation well and Ball State fell flat not only on the decision but on their reasoning and delivery of the announcement. Nothing can excuse the use of slurs and they need to be better than this." — Isabella Gandy
"I'm an alum, and I'm disappointed in my university over this." — Ryan McGill
"I'm an alum and I absolutely detest the trustee's decision to continue supporting this man." — Chris Tyler
"We are embarrassed, angry, and figuring out what to do next." — Jannell Summers
"I am an alumni and am very disappointed." — Alison McCool-Smith
"Disappointed but not surprised. The board clearly values money over integrity, and stands by racist slurs. If it was positive PR they were looking for, they won't get it here and a lot of my fellow alums are equally disappointed and disgusted with this decision. Shame on Ball State." — Nick Caine
"Ball State alumni (BS & MA) totally disgusted and embarrassed by my university. An overwhelming amount of professors and students on campus are passionate about creating a better society that values and respects everyone. I can't say the same about the board of trustees. Our university motto is 'we fly.' You know the saying- birds of a feather flock together. This cardinal has fled the nest and definitely does NOT fly with John Schnatter's flock." — Noël Sucese
"Ball State alum here. Couldn't care less to be honest. I feel like the money I spent there gives me the right to apathy." — Daniel Nicely
Purdue rejects Schnatter
On the same day that BSU decided to stand by Schnatter, Purdue University went in a completely different direction.
The Purdue Board of Trustees announced Friday that the university's economics center, the John H. Schnatter Center for Economic Research at Purdue, should revert to the Purdue University Research Center in Economics.
Further, Purdue also offered to return $8 million in funds associated with the naming.
Purdue announced the name change April 10 when the John H. Schnatter Family Foundation and the Doug and Maria DeVos Foundation announced they would give the university $8 million and $1 million, respectively. (Doug DeVos is the brother-in-law of Secretary of Education Betsy DeVos.)
Along with the Purdue Office of the Provost matching gift of $9 million in university funding over the next six years, the donated money was slated to be used to hire six additional economists.
Readers cheer Purdue's decision
The reader response to Purdue's decision was almost uniformly positive:
"That's one for Purdue." — Sue Klaus
"Glad at least one (Indiana) school has some integrity!" — Emily St Clare
"Lol Purdue took advantage of that opportunity pretty quick! Note how they didn't do it after it happened. Only did it to make Ball State look worse lol" — Brandon Tinkler
"Way to go, Purdue!!" — Lisa Marie Bowman
"BYE PAPA." — Tara Woods
[Editor's note: Follow our Facebook, Twitter and Instagram accounts to participate in future conversations.]