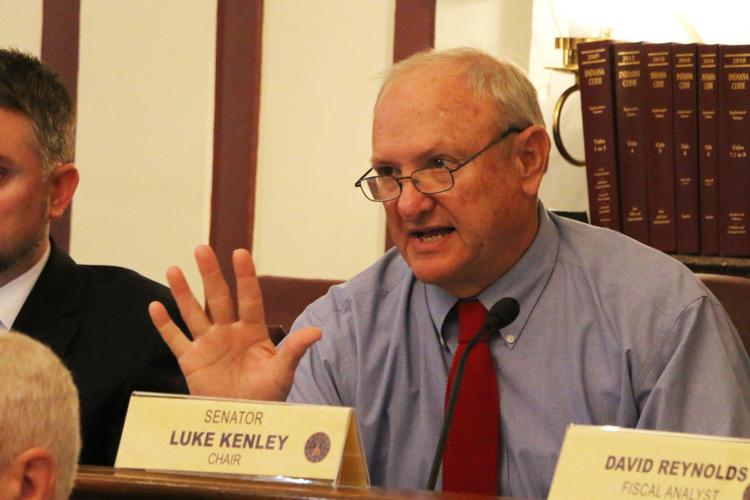 One of the most powerful leaders in the Indiana Statehouse is retiring after 25 years of public office.
Sen. Luke Kenley, R-Noblesville, will be step down from his seat on Sept. 30.
"It's been my privilege to serve the people of Senate District 20 at the Statehouse for the last 25 years," Kenley said in a statement. "I've been honored to join with so many outstanding legislators as we have worked to move Indiana forward."
Since 2009, Kenley has chaired the Senate Committee on Appropriations, where he was the architect of multiple budgets.
Senate President Pro Tem David Long, R-Fort Wayne, described Kenley as an integral member of the Senate.
"Luke's experience, integrity, intellect, Hoosier common sense and genuine love for our state and its people have helped him be one of the most effective and influential public servants of our generation," Long said in a statement.
David Orentlicher, professor at Indiana University McKinney School of Law, said Kenley has a deep understanding of the strengths and weaknesses of proposals.
"He's been an important leader in terms of budget expertise and he's been a go-to guy on important questions such as financing, and his expertise will be missed," said Orentlicher, who also served in the House as a Democrat from 2002-2008. "Having somebody with his depth of understanding and institutional memory is incredibly valuable."
Kenley led efforts in 2003 to eliminate the state's inventory tax and sponsored legislation in 2013 to get rid of the state's inheritance tax.
In 2008 and 2010, Kenley pushed for permanently capped property taxes for homeowners, farmers and employers. The constitutional amendment authorizing the tax caps was approved by 72 percent of Hoosier voters on the 2010 statewide ballot.
He also sponsored legislation in 2005 that led to the construction of Lucas Oil Stadium in Indianapolis. The stadium's construction was a key component to Indianapolis hosting Super Bowl XLVI in 2012.
Gov. Eric Holcomb said despite Kenley's absence from the Senate chamber, he and others will continue to seek his counsel.
"So, even though he won't be in the Senate Chamber come January, and he'll have a little more time to spend at his ranch in Texas, he will continue to contribute to our state's success in countless ways," Holcomb said in a statement.
Before becoming a legislator in 1992, Kenley served 15 years as a Noblesville city court judge and two and a half years in the United States Army. 
During his last session, he achieved his goals of passing another balanced budget and developing a long-term road funding plan for Indiana.
In the press release announcing his retirement, Kenley called upon others to help continue to lead Indiana forward.
"It's now time for others to have the opportunity to serve Hamilton County and our great state," Kenley said in a statement.
Kenley was re-elected to his seat in 2016 for a term that runs through 2020. The Indiana Republican Party will caucus to appoint his replacement.