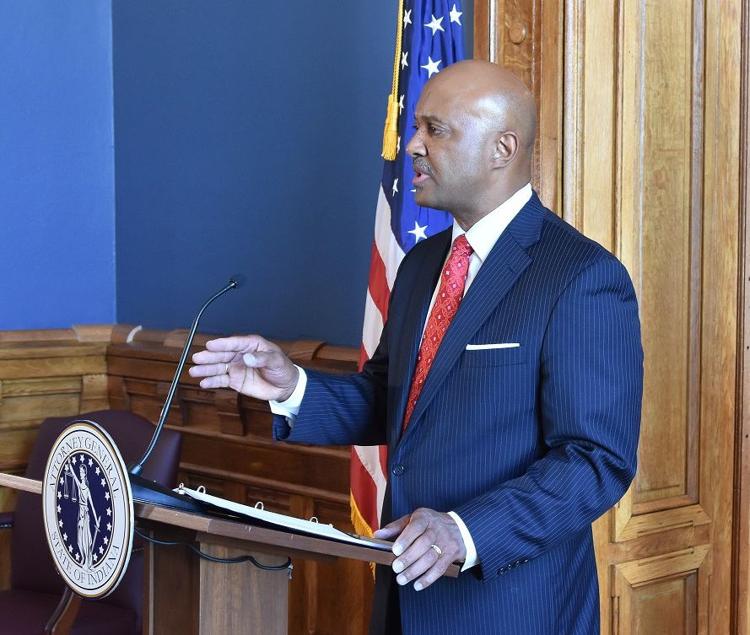 After two accusers went public with sexual harassment allegations against Attorney General Curtis Hill, a third woman has come forward to tell her story.
Niki DaSilva sent a letter to The Indianapolis Star identifying herself as one of the anonymous accusers in the harassment case against Hill. The letter was published Thursday morning.
State Rep. Mara Candelaria Reardon, D-Munster, and Gabrielle McLemore, Indiana Senate Democrats' communications director, are two of the four women who have made harassment allegations against Hill. They also went public in letters to The Star, which first reported the incidents last week.
All accusations have stemmed from one night in March following the end of the legislative session at a bar in Indianapolis.
Hill has denied that he did anything wrong and said he welcomes an investigation by a special prosecutor, who is expected to be named by a Marion Superior Court judge shortly. Republican and Democratic leaders in the House and Senate as well as Gov. Eric Holcomb have called for Hill to resign.
After DaSilva's account became public, Hill issued a news release later Thursday suggesting the accusations are part of a larger conspiracy against him. He said the young woman had sent her letter to a friend who had been working in his office asking for help to correct mistakes. Hill noted the friend had been terminated.
"It's clear that the integrity of this investigation is compromised," Hill said. "The various stories appear to be coordinated and changed under the direction of others. We believe these emails could be material to an investigation. We would hope that any emails sent on state equipment between the accuser and others be preserved and not deleted."
In her letter, Da Silva said she came forward to share her story in her own words.
"It's a funny thing to watch your story be told by others, to be put on display, to be twisted and paraphrased and to have assumptions made about your intentions," DaSilva wrote.
DaSilva, the first Republican to come forward, has worked for the Senate Republican Caucus for the past three years. She began during her last semester at Indiana University-Purdue University Indianapolis.
At IUPUI, DaSilva served as student body president for two terms where her platform was to eradicate sexual violence on college campuses through the It's On Uscampaign.
On the last day of the regular legislative session, DeSilva went out to celebrate with several of her coworkers at AJ's Bar.
Hill asked DaSilva and three of her female coworkers what they were doing as he approached them at the bar and they replied they were waiting to order their drinks.
Hill told the girls they have to "show a little skin" to get drinks.
"I was stunned that the attorney general had told me to 'show a little skin'. I turned to my colleagues and asked them to confirm what I could not believe my ears had heard," DaSilva wrote.
Shocked because she had never held a conversation with Hill, DaSilva moved around the bar in order to distance herself from him.
After receiving their drinks, two of the women left the bar but DaSilva stayed with her coworker who had asked DaSilva not to leave her alone because Hill was "being really weird."
DaSilva positioned herself between her friend and Hill. She said Hill then placed his hand on her back and slowly slid it down.
"I didn't want to bring attention to his actions, so I tried to push his hand away inconspicuously using my free hand," DaSilva wrote. "When our hands met, instead of taking this nudge as a cue to remove his hand from my lower back, he grabbed my hand and moved both of our hands over my butt, lingering there before releasing me."
DaSilva escaped the situation with her coworker but was not sure how to proceed.
"This is the attorney general we are talking about here," DaSilva wrote. "The highest law enforcement officer in the state. How do you hold someone like that accountable?"
It wasn't until DaSilva learned about Hill's other accusers that she came forward and even then she did not want the problem to be made public. Neither did the other women.
"What we wanted was for the attorney general to recognize the inappropriateness of his behavior and for steps to be taken to ensure that these sort of incidents would not happen in the future," DaSilva said in her letter. She added that the investigation was kept confidential at the request of all four women.
When the memo was first leaked to The Star, the House and Senate leaders who had been working to keep the investigation confidential were furious, she said.
But in hindsight this is what needed to happen for her to hear Hill's response, DaSilva said, and for her to conclude that the attorney general had no remorse.
DaSilva said she believes that the women's stories showed a deliberate pattern of unacceptable behavior by Hill.
"I'd like to close by saying that at the end of the day, there is one point the attorney general and I agree on in this situation: All people are deserving of respect and of due process," DaSilva wrote.
After the release of the letter, Reardon said in a written statements, "I am very proud of these brave young women that have found their voice to stand up and declare that power is not consent."
Brynna Sentel is a reporter for TheStatehouseFile.com, a news website powered by Franklin College journalism students.