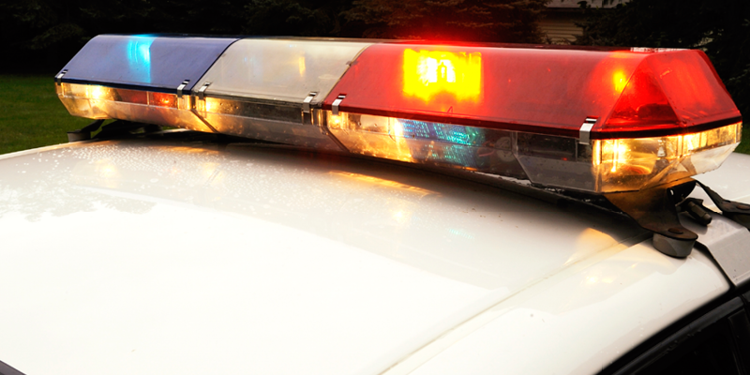 The Indianapolis Metropolitan Police Department (IMPD) is now an active part of a national debate about the actions of police officers that lead to the deaths of unarmed black men.
 In the early hours of June 29, IMPD officers Michal Dinnson and Carlton Howard pulled over 45-year-old Aaron Bailey at the intersection of Burdsal Parkway and East Riverside Drive. At some point during the stop, Bailey drove away initiating a short pursuit with the officers. The chase ended a mile away when Bailey crashed his car near 23rd and Aqueduct Streets.
As Dinnson and Howard approached Bailey's vehicle, they fired their service-issued weapons.*
Thirty minutes later, Bailey was dead and Dinnson and Howard were on administrative leave where they will remain until the investigation into the incident concludes.
So what part of this scenario puts the story in the middle of  the national conversation?
Authorities found no weapons of any kind in Bailey's car.
Aaron Bailey was a Black man. Dinnson is Caucasian and Howard is biracial.
By Thursday afternoon, IMPD Chief Brian Roach held a press conference that was broadcast on Twitter via Periscope. Roach acknowledged the pain of loss that was currently being felt by Bailey's family, the officers involved and the community as a whole.
"I probably screwed up by not having a prepared statement for  you, but I wanted to come out here and at least share the feeling and the emotion of [the department]," said Roach. "This is a problem and an issue that not only affects this police department, your chief of police [and] your mayor, but the community as a whole."
Roach broke down how the investigation into the shooting would proceed. Two investigations will run concurrently. Police detectives will investigate this shooting just as they investigate any other homicide, regardless of who is involved. Roach stressed that the fact that officers in his department were involved would not influence the course of the investigation or its outcome.
"If you've listened to me over the last six months then you know that the number that we discuss are total homicide numbers and not necessarily just the criminal homicide numbers," said Roach. "Because we believe that every one of those deaths is important. This death is no different and will be treated like any other homicide investigation."
Roach said that while he has questions just like many in the community have questions about the incident, it will be important to let the investigation run its course if we are ever to have any answers. He said that he expects a grand jury will probably be called at some point to determine if anything criminal did in fact occur. But he also reminded the press and the public that like any other citizen under investigation in America, Dinnson and Howard have constitutional rights.
Roach described an administrative investigation, where administrators will look at the policies and practices that may or may not have contributed to this incident. He also explained that any issues that may come from the administrative investigation cannot be used against the officers in the criminal investigation.
Ultimately, Roach said that he understands that keeping the community informed and aware of the progress of the investigation is important and that conversations will need to happen.
"My expectation is that all of us can have an open and clear discussion as we move forward, to the extent that we can, within the parameters of the process," said Roach.
Despite the police chief's efforts to be transparent about the process and calm the community, the Indianapolis Congregation Action Network, known as IndyCAN, and LIVE FREE responded to the words of law enforcement with their own social media outcry and outreach. In a Facebook Live stream, people called on Marion County Prosecutor Terry Curry to file criminal charges against the officers immediately. Calling for accountability and justice for the loss of Bailey's life, the groups challenged Roach's portrayal of the narrative and echoed the cries that have been shouted in communities all across the nation — people of color are under attack by law enforcement in America.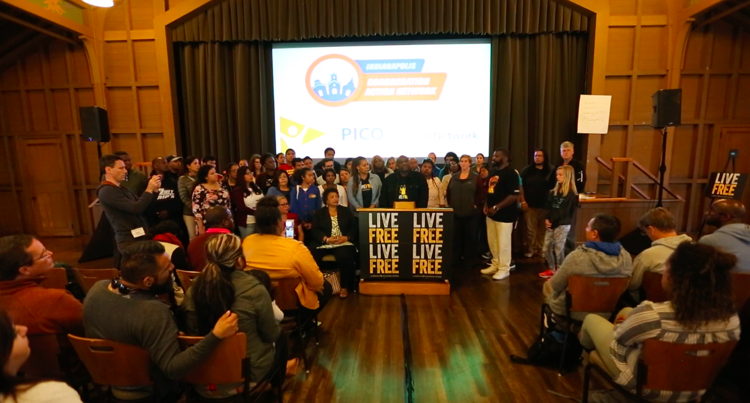 The sentiment carried through to Friday, when dozens of people gathered at City Market during afternoon drive time in the rain to protest the shooting and call for justice.
The Greater Indianapolis chapter of the NAACP recognized the need for an investigation before prosecution, but challenged the objectivity of IMPD in that investigation. President Chrystal Ratcliffe called for more accountability in the investigation process.
"Use of excessive force by law enforcement officers can no longer be tolerated in our communities. The lack of accountability erodes trust between law enforcement and the communities they serve which impedes the ability to solve crime," said Ratcliffe in a statement released to the press. "The NAACP is committed to a proactive approach to police shootings and all other forms of police brutality.  Our solution to this egregious problem is accountability."
Specifically, the NAACP would like to see a civilian review board be created with subpoena power; a U.S. Department of Justice review of IMPD's pattern and practice along with a full criminal investigation; and for Congress to enact legislation that mandates standards and training in the use of force for all law enforcement officers in the country.
Ratcliffe notes that Indianapolis is not unique in this issue.
"It is a human and civil rights issue. When there are no systems for accountability, safety is affected and anyone can be a victim," she said. "Let Indianapolis be the last time people lose their lives and families are terrorized by a police force without accountability. Law enforcement accountability means safer communities for us all." 
The issue of training has been a reoccurring theme over the last few years regarding law enforcement and lethal force. And according to IMPD Sgt. Kendale Adams law enforcement training varies between the states.
"The reality is that there is no set standard for each and every law enforcement to follow," says Adams. "In other words, every law enforcement may do if differently and with 18,000 law enforcements agencies representing 850,000 law enforcement officers you are certain to get differences."
Indiana has nearly 500 law enforcement agencies with a tiered system of required training. The majority of those agencies require the full 15- week Basic Recruit Academy training with continuing education throughout an officer's career. However some smaller agencies like town marshalls and constables or agencies that are considered law enforcement but with limited powers, like the attorney general's Medicaid fraud unit or the secretary of state's securities enforcement division, only require three weeks or eight weeks of academy training.
The questions of training, protocol and many others will be a part of the IMPD investigations that Roach discussed last week. However only time will tell the results. Adams, who is also African American, says as a law enforcement officer he knows that every encounter and every situation is different. As a citizen, Adams says he understands how encounters with police are unnerving and uncomfortable. But when it happens, he reminds says staying calm and compliant is the best way to avoid any type of problem.
"Stay calm and compliance is the most referred to standard when dealing with the police," says Adams.  "I'm nervous when I'm stopped by the police and even as [a] police officer and supervisor, I'm compliant as that is likely to decrease the [approaching] officer's fear."