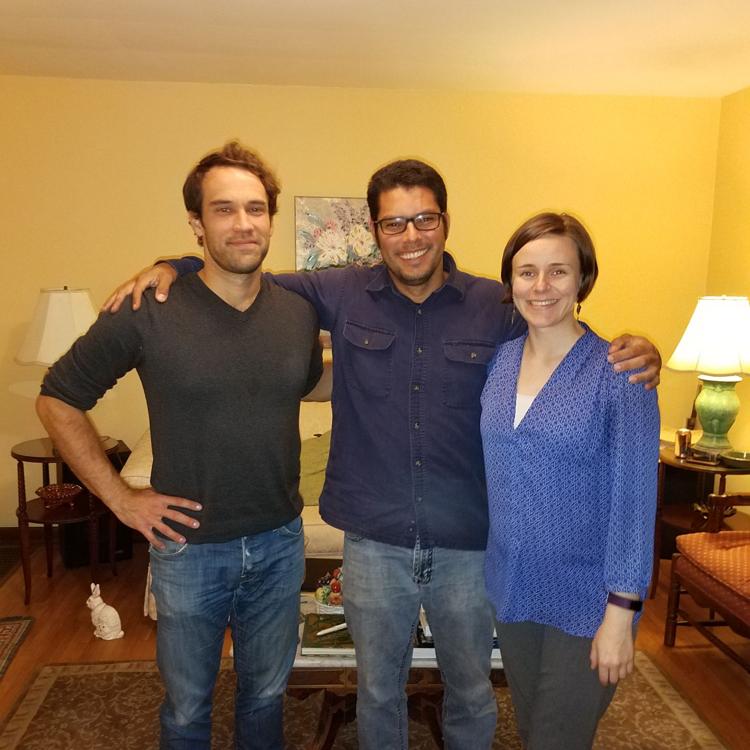 On Sept. 5, 2017 the Trump administration announced that it will rescind the Obama-era policy known as Deferred Action for Childhood Arrivals [DACA] It is a program which allows certain individuals who had entered the country illegally as minors to access a renewable two-year reprieve from deportation and a work permit.
However, the implementation of this rescission has been delayed by six months to give Congress time to decide how the roughly 800,000 individuals affected by the policy should be treated.  These individuals are often called DREAMers, after the DREAM Act, the goal of which was to protect these same young people but failed to pass the Republican-controlled Congress.
Recently I talked with Emma Mahern, Associate Attorney at Muñoz Legal, and 2014 graduate of Indiana University Robert F. McKinney School of Law about the policy changes and the effects they are having on her practice. She is the wife of Eduardo Luna, Big Car staff artist and co-founder (along with Pike High School art instructor Chris Dance) of the pop-up gallery La Sardina which launched the Lienzos Americanos art exhibition at Circle South Gallery. Said location is where this week's NUVO cover story subject Valadezza has her paintings on view through Sept. 26.
We talked at their Westside home on Sept. 8, 2017
DAN GROSSMAN: Do you see Deferred Action DACA cases as an immigration lawyer?
EMMA MAHERN: My practice is primarily immigration and my firm does criminal defense as well. So we do what is what we would call crimmigration. Sometimes it's just straight up immigration cases, but sometimes involves immigrants who are charged with crimes.
DACA is maybe a third of what I do in my job. I also represent immigrants who have more permanent forms of relief for example through family-based petitions or humanitarian relief or U visas for victims of crimes. And then I also represent people in immigration court facing deportation and maybe have some form of relief either because of how long they've been in the country or family ties here or through asylum or through some other form of relief.
DAN: What kind of questions do you get from DACA recipients now?
EMMA: Right now most of our DACA recipients are pretty well-informed. So part of the bag along with being a DACA recipient is that you're probably a younger person, you probably know how to use the internet. You know how to access information. Most of my DACA clients who came in this week have been well-informed and have maybe read the memo or maybe read a summary of the memo [Memorandum on Rescission for DACA] so they're coming in pretty well informed about what this means for their particular case. And we're able to discuss in more detail. But [there are rumors going around] and I feel like it's often maybe parents or immigrants who came here when they were a little bit older; maybe they aren't as tech savvy; they're older DACA recipient and have heard rumors and some of these rumors come from bits and pieces of truth [such as, for example] when their DACA expires, they're going to get a knock on their door from ICE although that doesn't appear to be what the administration is planning to do, based on the fact that they will respect certain policy memos that were in place... But I understand why people who are DACA recipients wouldn't necessarily trust this administration. And so that's a primary concern; what happens when this expires.
People who are renewing [DACA] right now; who are most of the people I see in my office this week are people who will have two years to figure that out. There will be some whose are expiring in March or April; who have about six months to figure out what that means so for those people there's more urgency and I've been talking to some of those people. Fortunately some of those people already knew that they had a more permanent form of relief or maybe they've already applied for some kind of relief. And they're in a process. Often it could take many years to get where they're going, to be on the path to residency or citizenship and so for some of those people they're just calling in and saying well what am I going to do when my DACA expires and it's like, well, there might be a gap and you'll probably be okay… Will ICE show up at my door? Chances are very low that that happens based on their circumstances.
DAN:  Have you been upsurge in ICE [Immigration and Customs Enforcement] activity since Trump came to office?
EMMA: So that's a yes and no answer. I would say that we've seen a return to kind of the same level of activity before to what there was in the Obama administration prior to the 2014 policy memos that the Obama administration enacted. At that time they were at the same sort of place; if we detect someone who's undocumented we're going to place them in removal proceedings no matter who they are. And that's what we've basically seen now.
We have seen one big change, however. Under the Obama administration ICE enforcement was still exercising their prosecutorial discretion to not execute orders. We saw people who had maybe claimed asylum and didn't win their case or their appeals and they had now been in the country for 12 years and they have 3 us citizen children and they were a single parent and ICE said, OK, we're not going to execute this order because you're a very low priority. For those kind of cases, now they are executing those orders. They are having people report in and they either have to show up with a plane ticket or they're going to detain them for removal. So that's been a shift but in terms of how much activity is going on they have the same number of agents that they had during the Obama administration so there's not been a big increase here in Indiana in the amount of enforcement activity. There's only a certain number of agents and there's only a certain number of hours in a day. So we continue to see that their focus is as it's always been, on detaining people who have been detected through the criminal justice system.
DAN: What is your advice for someone who is unsure of their status?
EMMA: Well, for someone who knows they're undocumented, and knows they don't have any relief, and wants to avoid deportation, my advice to anybody, to any immigrant –  whether they are a legal permanent resident or whether they are completely undocumented –  is to avoid the criminal justice system. Lots of people who haven't necessarily committed a crime get arrested maybe because they're in the wrong place at the wrong time or maybe they have the wrong friend; they're riding in their car and there were drugs found in the car and everyone gets arrested, things like that. Whereas for a citizen maybe they would get out and it would all be worked out in a matter of hours or days, for an immigrant that could start a process of deportation proceedings.
But my advice to everyone who's undocumented is you need to talk to an attorney because often we find that they have relief that's actually quite easy to obtain or they get placed in removal proceedings and they can become a legal permanent resident in front of a judge and so for those sorts of people it's just the fear it's just the fear that's keeping them from the relief.
So it's kind of a two-fold thing. Abide the law, try to stay out of dicey situations and get informed about what your situation is and what your rights are in that situation. In fact, occasionally I've had the joy of consulting with somebody who didn't know it but they were a US citizen already. So those are great consultations where all you need to do is get your proof that you're a citizen; but yeah you're a US citizen. Good job. They thought they were an undocumented immigrant their whole life. And that's how complex our immigration law is.