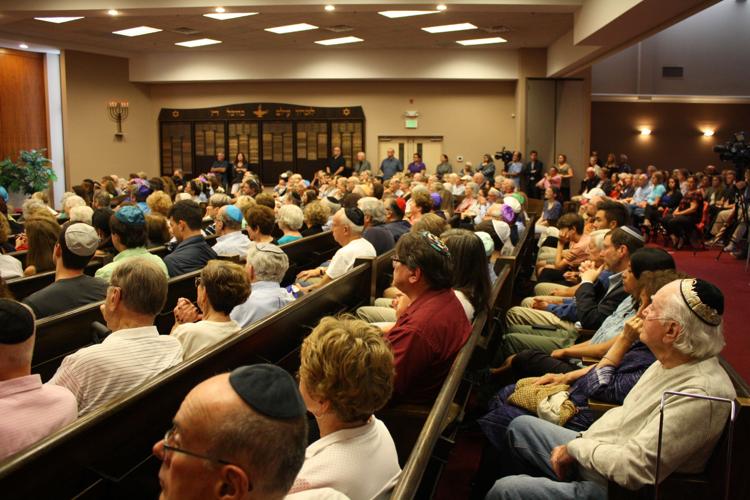 Monday evening, an overflow crowd packed the Congregation Shaarey Tefilla in Carmel in a show of support after anti-semitic graffiti were found outside just days before.
A pair of spray-painted Nazi Party flags and Iron Crosses, along with burn marks, were discovered early Saturday on the brick walls around the garbage bins outside the synagogue.
As one speaker after another addressed the attendees of the subsequent community solidarity gathering — including Anita Joshi of the Hindu Temple of Central Indiana; Aliya Amin, executive director of the Muslim Alliance of Indiana; and Tony Mason, president and CEO of the Indianapolis Urban League — the loudest cheers came after their repeated calls for a hate crimes law in the state.
"It is way long overdue," said Annette Gross, a member of the synagogue and vice president of Indianapolis Parents, Families and Friends of Lesbians and Gays.
Forty-five states have hate crime laws in effect. Indiana — along with South Carolina, Arkansas, Wyoming and Georgia — is just one of five without one.
"So, what can we do? I have received that question dozens of times over the last 48 hours," said Greg Maurer, a member of the congregation and an Anti-Defamation League board member. Earlier that day, the ADL offered a $2,500 reward for information leading to the arrest and conviction of those responsible.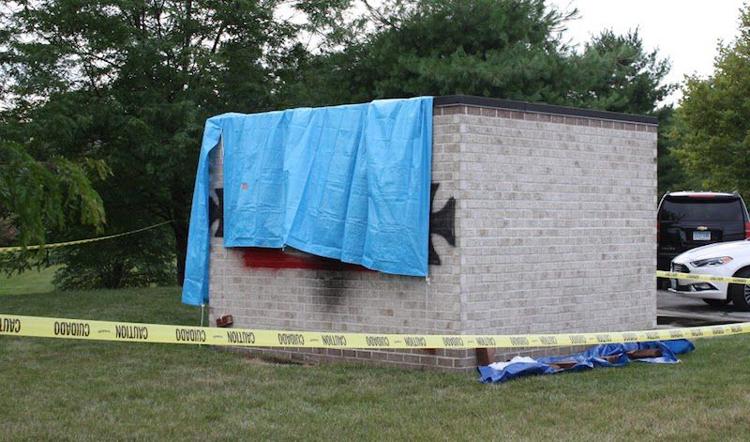 "When we catch them we can throw the book at them," he said. "And, with the governor's noble step today, we will soon have a hate crimes bill where that crime can be treated with the severity it represents and not as vandalism."
Republican Gov. Eric Holcomb broke with his own party just hours before to call for Indiana to join the vast majority of other states in passing such a law.
"No law can stop evil, but we should be clear that our state stands with the victims and their voices will not be silenced," he said. "I'll be meeting with lawmakers, legal minds, corporate leaders and citizens of all stripes who are seeking to find consensus on this issue so that, once and for all, we can move forward as a state."
Statehouse Democrats have long advocated for such legislation, and this incident only renewed their calls.
"It is my hope that members of the governor's party will join him and make the 2019 legislative session the year Indiana tells Hoosiers that enough is enough," State Sen. Gary Melton, D-Gary, stated in a Monday press release.
Dee Thornton, the Democratic candidate for the state's 5th Congressional District seat, pointed out that lawmakers had found time for the controversial Religious Freedom Restoration Act, but not a hate crimes law.
"I urge Gov. Holcomb and the Indiana state legislature to pass a bill in the upcoming session that ensures protections for all Hoosiers and justice for those who perpetrate our social contract," she wrote in a Tuesday statement.
Indiana House Democratic Leader Terry Goodin, D-Austin, lamented Republican leaders' past successful efforts to thwart such a bill.
"This is Indiana, where we find it easier to talk about stopping hate crimes instead of actually doing something about it," he wrote in a Monday statement.
In January, Senate Bill 418 — which would have allowed judges to weigh everything from race and sex to gender identity and sexual orientation as aggravating circumstances in sentencing a criminal defendant — was pulled by the Senate Corrections and Criminal Law Committee after committee chair, Sen. Michael Young, R-Indianapolis, announced that it would not be heard.
Now, other Republicans besides Gov. Holcomb may be in favor such legislation, but with some preconditions. Attorney General Curtis Hill called for a law which would add two to six years for misdemeanors and low-level felonies, and an additional six to 20 years for higher-level felonies.
"My proposal differs from many other so-called hate-crimes proposals in that it avoids entirely the exercise of separating 'protected groups' from 'non-protected,'" he wrote in a Monday op-ed.
Chris Paulsen, executive director of the Indiana Youth Group, told the crowd Monday such compromises would be completely unacceptable.
"We are not fully protected until all marginalized groups are protected," she said. "As we've seen at the Statehouse the past couple of years, the work will not be easy. Conversations are difficult and the opposition is organized. … Our youth are watching us and they're deciding if Indiana is a safe place to live as adults. Let's all work together to show them that Indiana will be that place."