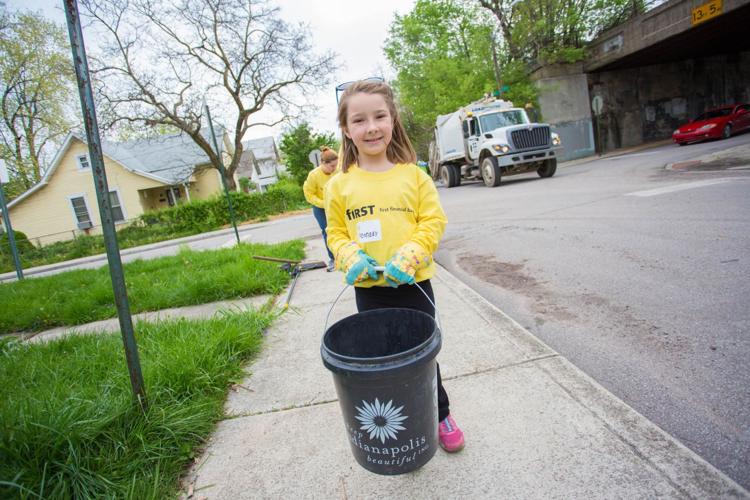 First, it was IKEA. Now it's plogging. 
A play on the Swedish phrase plocka upp, meaning to pick up trash, plogging is a new workout trend that encourages people to pick up trash while jogging. And Hoosiers wanting to give it a try will get their chance on Earth Day. 
In an effort to introduce more Central Indiana residents to local nonprofits, Yelp Indy has partnered with Keep Indianapolis Beautiful (KIB) and Downtown Indy for Yelp Plogs for a Cause, the first in a series of events being held by Yelp during its first-ever Yelp Helps Week, taking place April 22–28.
For Yelp Indy's Community Manager Niki Kingston, partnering with KIB was a no-brainer.
"We both aim to see our local community grow and develop and love to dream big in the process," Kingston said. "We've partnered with them in the past, and therefore when we created Yelp Helps Week, it seemed only natural for us to join forces."
Yelp is encouraging both people that use their service and those that don't to get involved during the week. 
"There are hundreds of amazing nonprofits in Indianapolis and also hundreds of simple ways that individuals can make an impact in their own time," Kingston said. "With so many involved Yelpers in Indianapolis, it is our social duty to give back to the community we're passionate about."
As for details on how to plog, curious joggers will gather at Round Town Brewery on Sunday, April 22 at 2 p.m. to receive gloves and trash bags before embarking on a 3-mile jog around White River State Park. Their goal is simple: pick up as much trash as they possibly can.
"I was looking for ways to bring plogging to Indy, and it just happened to line up with Yelp's Help Week, which I think is a great way to kick off the entire week," KIB's Director of Marketing Ashley Haynes said. 
While KIB, the Indianapolis affiliate of Keep America Beautiful, has been an organization for more than 40 years, plogging has never been one of the projects it has offered. Haynes said the event will offer people a new, fun way to get involved in their community.
"It's nice to see people who might not traditionally be doing cleanups have an opportunity and an avenue to engage with cleaning up and taking care of our city," Haynes added. 
Earlier this month, Haynes was contacted by the local Pokémon Go community, a group that gathers monthly to play the free, location-based phone app in different areas around the city. She said their enthusiasm about participating in the plogging event shows that there is a social movement around helping make the local community a cleaner, more beautiful place to live.
The plogging event isn't the only event that Yelp and KIB have partnered for during Helps Week. Twice a year KIB hosts a Great Indy Cleanup, among many other cleanups throughout the year, and this year's first event happens to fall on the final day of the Yelp Helps Week.
On top of cleaning up a part of the city, Yelp will donate $1 to KIB for every person that checks in on the Yelp app at the Great Indy Cleanup, which takes place Saturday, April 28 from 8:30 a.m. to noon starting at the Garfield Family Aquatic Center.
"That money will go right back to the Great Indy Cleanup program to provide more gloves for volunteers, trash bags, and other supplies," Haynes said.
The money will come in handy, as KIB has more than 150 cleanup events slated for the month of April alone. 
Other events during Yelp Helps Week include a Wine & Kind Night with Indy Acts of Kindness on April 24, a Storage Unit Switchover with U-Relish on April 25, and a Bingo, Bake-Off at The Ronald McDonald House on April 26. Head to Yelp for a complete list of events.