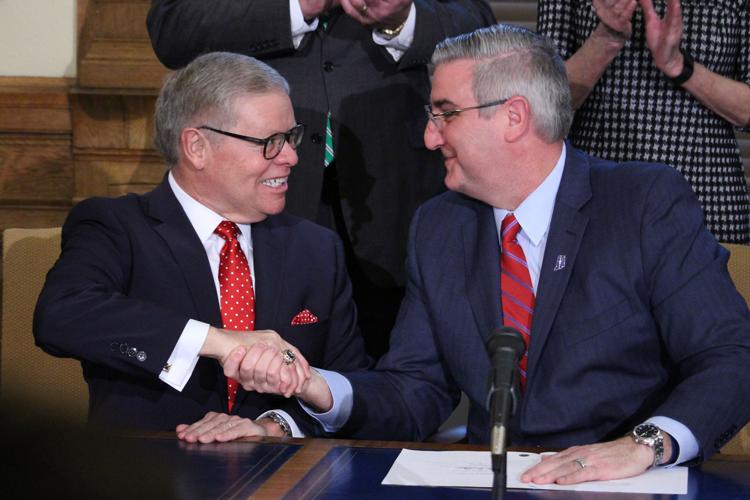 Reporters, lawmakers, and other observers squeezed into the governor's office Wednesday to witness the end of an era as Gov. Eric Holcomb signed the law legalizing Sunday alcohol sales.
Effective this Sunday, March 4, Hoosiers will be able to stop by liquor, grocery, convenience and drug stores to purchase alcohol any time from noon to 8 p.m. Restaurants that meet other requirements of Indiana's alcohol laws will also be allowed to sell carryout.
"This is yet another example in a long list of examples where the state of Indiana has sought to and re-modernized our laws to meet consumer expectations," Holcomb said as he put his signature to the long-awaited law.
Sen. Ron Alting, R-Lafayette, said the General Assembly set a new track record for how fast lawmakers got it to the governor's desk.
"We made history today, and I am proud to be the author of the Sunday sales bill," Alting said.
Senate President Pro Tem David Long, R-Fort Wayne, said modernizing Indiana's alcohol laws has been long overdue. While it may not be the most important law, he said it's very symbolic.
Related: Senate Sends Sunday Sales to Governor Holcomb
House Speaker Brian Bosma, R-Indianapolis, said the signing of the bill is a big victory for Hoosiers who voiced their support to end the decades-old ban on Sunday carryout alcohol sales.
"Indiana's Alcohol Code Revision Commission did a great job in opening the conversation last summer, and it was good to see legislators act quickly to bring this long-awaited convenience to consumers," Bosma said.
The original effective date for the bill was July 1, but lawmakers agreed it was unnecessary to wait that long. Holcomb said signing the bill immediately was not only about meeting Hoosiers' expectations, but also exceeding them.
"I would say to entrepreneurs and residents that there's no need to cross the border," Holcomb said.
Economically, Holcomb said this will be a big deal for businesses that have suffered flooding recently and are recovering in those areas.
"There's some happy businesses along the border chomping at the bit to get this Sunday," he said.
Holcomb said he can see himself making a purchase this Sunday, but he did not share further details.
Quinn Fitzgerald is a reporter for TheStatehouseFile.com, a news website powered by Franklin College journalism students.