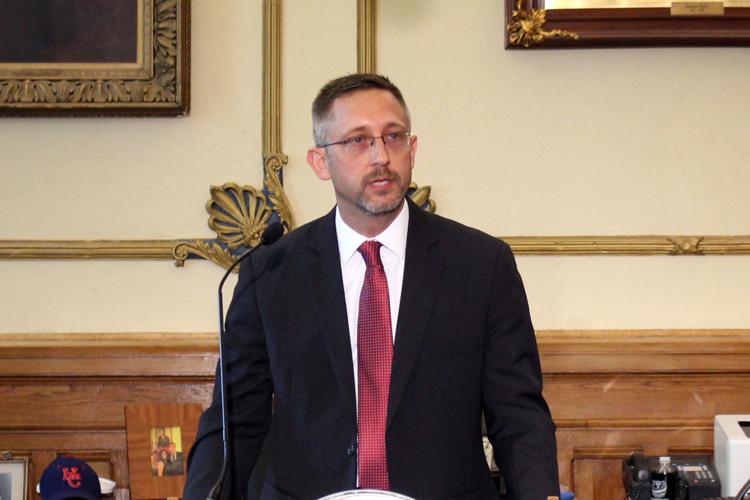 Gov. Eric Holcomb has named Christopher Goff as the 110th member of the Indiana Supreme Court.
"Judge Goff's superb personal and professional qualities are evident to everyone who meets him," Holcomb said during Monday's announcement. "He has a profound respect for the Constitution and the rights and principles embodied within it."
Goff, a native of Wabash, Indiana, has served the Wabash County Superior Court Judge since 2005. Goff was selected to replace Justice Robert D. Rucker who retired in May after nearly 18 years of service.
Holcomb said Goff will bring his own unique voice and experiences to the high court.
"Among them are recognition he received in college for being the most outstanding student of African American history and the fact that he has a racially-diverse family," he said. "Judge Goff also grew up in a working class family and has spent most of his life living in a rural county which will complement his colleagues on the bench with their own deep roots in other urban and suburban regions of our state."
Goff said he was on his lawn tractor when Holcomb called to tell him he was being appointed. His wife had to run the phone out to him.
Goff said he both humbled and honored to be named to the position.
"The weight and responsibility of this role certainly are not lost on me," he said. "I can only hope that, in time, through humility, hard work and a lot of help from others, my service on the court will help make Indiana an even greater place than it already is."
He graduated summa cum laude from Ball State University in 1994 and earned his law degree from the Indiana University Maurer School of Law in 1996
While at the Wabash County Superior Court, Goff worked to fight the problem of drug abuse that was overrunning his community. With limited funds, he implemented Wabash County's Drug Court and Family Drug Treatment Court.
Goff described himself as a strong believer in judicial restraint and an originalist when it came to constitutional interpretation.
Goff was one of the three finalists named for the position along with Clark Circuit Judge Vicki Carmichael and Boone Superior Court Judge Matthew Kincaid.
A date for his robing ceremony will be set by the Indiana Supreme Court.
Abrahm Hurt is a reporter for TheStatehouseFile.com, a news website powered by Franklin College journalism students.