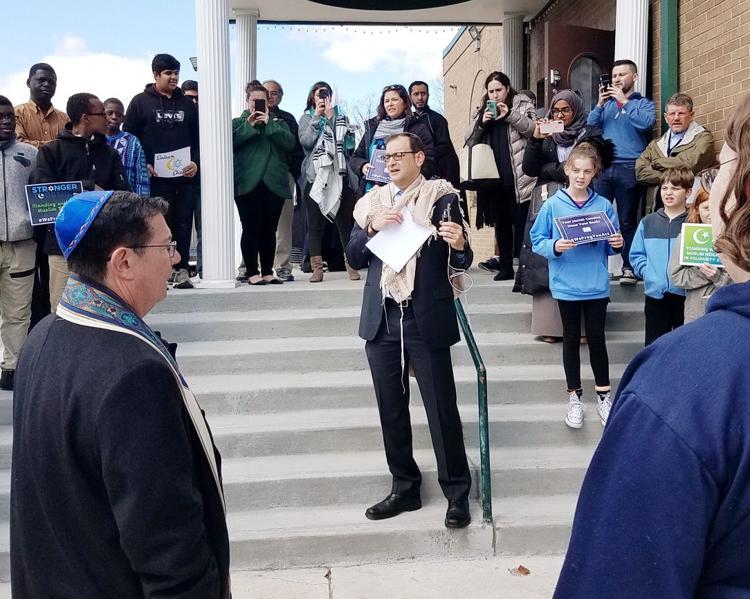 At approximately 12:30 p.m. Friday, March 22, rabbis from three Jewish synagogues in Indianapolis and their congregants began arriving at the Masjid Al-Fajr Mosque, 2846 Cold Spring Road.   
It was a mostly sunny day, if a little brisk, as the congregants gathered together for the solidarity event.
A week earlier, on March 15, a self-described white supremacist killed 50 Muslim worshippers and injured 50 others observing Friday prayers at the Linwood Islamic Center and the Al Noor Mosque in Christchurch, New Zealand.  
As 1 p.m. neared, approximately 40 congregants of three different synagogues and their friends gathered in the grass by the side of the mosque adjacent to the parking lot. They displayed signs reading "Jewish Hoosiers Stand with You" and "Stronger Together" to Muslim worshipers as they arrived for Friday prayers.
On Oct. 29, 2018, at the Indianapolis Hebrew Congregation, Masjid Al-Fajr's Imam Ahmed Alamine spoke from the podium to the overflow crowd in the synagogue's sanctuary, offering words of solace and support after a white supremacist murdered 11 worshipers and injured seven others at the Tree of Life Synagogue in Pittsburgh.
But on this day, Imam Alamine was traveling abroad. It was Halima Al-Khattab, president of Masjid Al-Faji mosque, who addressed the Jewish congregants that had gathered to offer their solace and support in the wake of the New Zealand atrocity.
"It is so heartwarming to know that we have support from our friends, who we can truly call our friends because we're having meals together and building relationships, and we hope that this is just the beginning, that we will continue to get to know one another," she said. "Thank you. I don't know what to say other than thank you."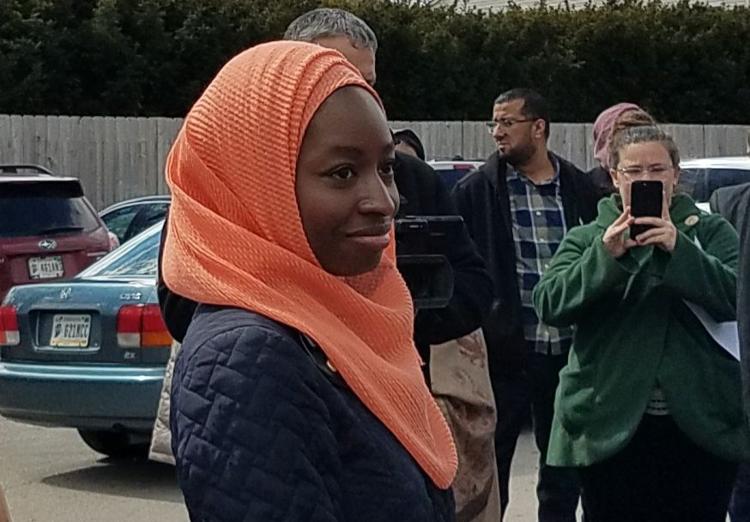 Rabbi Scott Fox of Indianapolis Hebrew Congregation also talked to those gathered about his relationship with Al-Khattab and her family.
"Just a few short weeks ago our families joined together for dinner, and it was part of an initiative to bring members and leaders of the Jewish community, the evangelical Christian community, and the Muslim community together not for major projects," he said.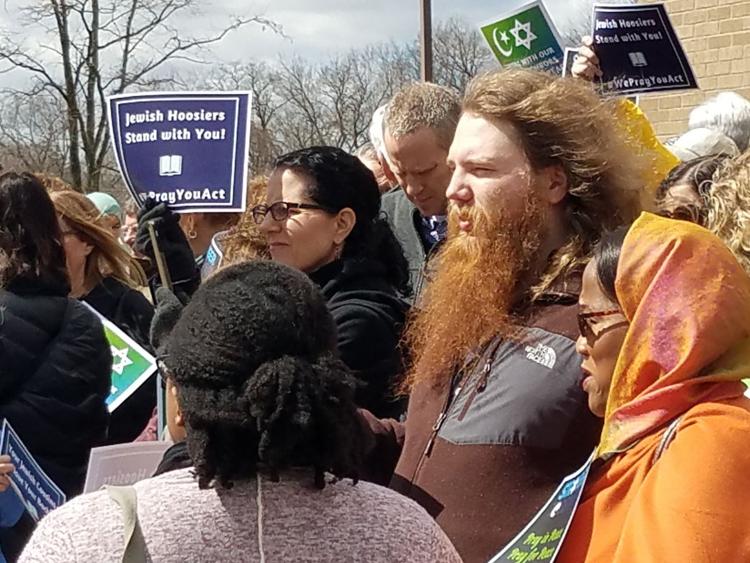 The initiative, he explained, wasn't about accomplishing major initiatives, but for connection and relationship building.
"Here in Indianapolis, we are blessed to have a community with deep connections, a community where we come together not together as members of different religious faiths but as friends," he continued. "My family has a saying. They say, you'll come together when there are funerals and tragedies. Make sure you gather together for weddings as well."
The rabbis present at the mosque were Benjamin Sendrow from Congregation Shaaray Teffila, Dennis Sasso from Congregation Beth-El Zedeck, and Indianapolis Hebrew Congregation's Senior Rabbi Brett Krichiver, in addition to Associate Rabbi Scott Fox. Also present were staffers of the Jewish Community Relations Council, including executive director Lindsey Mintz.
As the Jewish congregation members stood holding signs, Masjid Al-Fajr congregants came up to them, using the Hebrew greeting shalom, meaning peace, and some Jews said the Arabic salaam in response, also meaning peace, as they all shook hands. 
"Literally the words [shalom aleichem] in Hebrew mean peace unto you," Rabbi Scott Fox explained to NUVO. "What that means to me is that even though we have different ways of saying the same thing, there's this beautiful connection that we have, this beautiful shared heritage that we have with one another that the language shares in content. But, even the sound of the letters [are] so near to one another; it's a symbol of how near these faiths are to one another and to the communities as well."
According to Fox, the impetus for the solidarity event came from Rabbi Krichiver, which was not hard to institute, because of the relationship building that had already taken place.  
"We had been speaking about what to do in the wake of such horrific tragedy," said Fox. "And Rabbi Krichiver said I really want to be there and gather with them, to be there in solidarity because they offer words of prayer, be with them as they offer words of prayer and say we are with you."  
At 1:30 p.m., the members of the Jewish community entered into the mosque and stood with their signs in the hallway as Muslim worshipers took off their shoes and entered into the mosque sanctuary.
Later the Jewish congregants came back outside as Friday prayers were still ongoing and Rabbi Dennis Sasso spoke on the steps outside the mosque entrance to a mixture of Jewish and Muslim congregants, to bring the solidarity event to a close.
"Yesterday was the Jewish holiday of Purim," he said. "Purim reminds us each year of the story 4,500 years ago when an evil despot sought to annihilate the Jews of the realm. And, the story is told in the Book of Esther, and it marks the first, and not the last time that Jews are accused of dual loyalties. It is also a charge leveled against American Muslims today."
It's a story, he explains, that repeats itself through history, and one that Jews retell every year to celebrate survival, and in the hope of vanquishing evil.
"Yet evil is persistent; New Zealand, Pittsburgh … how many times how many places," he said.  "Anti-Semitism, Islamophobia, other expressions of hatred and bigotry continue to raise their ugly head and cast their deadly shadow. Today we gather to support our Muslim brothers and sisters and mourn the death of innocents. We gather to say no to prejudice and hatred and to say yes to acceptance and love; to say no to fear and suspicion; to say yes to confidence and trust. To say no to tyranny and oppression; to say yes to freedom and justice."