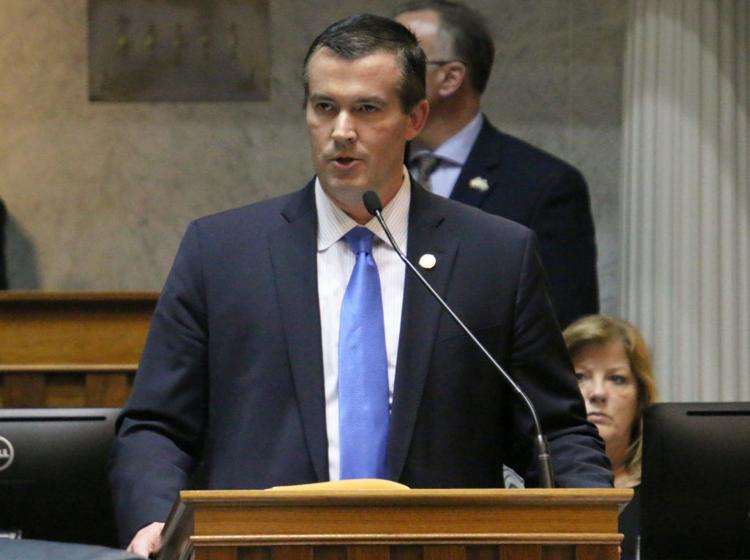 Senate Republicans stripped the list of protectected classes from a hate crime bill, after delaying the session for hours and then calling a break right before the vote to talk about it behind closed doors.
The amendment passed 33-16 Tuesday with a handful of Republicans joining all Democrats in voting no after emotional pleas from three Democratic senators asking them to reject the changes. Not a single Republican spoke on the Senate floor against it.
Gov. Eric Holcomb released a statement shortly after the vote, saying the version of the bill that passed in the Senate will not get Indiana off the list of five states without a hate crime law.
"We have a long way to go, a lot of work to do, and fortunately the time yet still to do it," he said in the statement. "I will continue to fight for the right ultimate outcome for our state and citizens this year so we're not right back here in the same place next year."
The Republican caucus delayed the start of the session Tuesday for more than two hours to discuss amendments on Senate Bill 12 behind closed doors.
Bray said Holcomb was informed of the amendment Tuesday, and he had not spoken to him during the discussions in caucus.
SB 12 was the bias crimes bill chosen out of four that had been filed to move forward in the Senate. The legislation, which was approved 9-1 Monday by a Senate committee, had a list of characteristics that would be protected under a bias crimes law, including race, gender identity and sexual orientation.
Sen. Aaron Freeman, R-Indianapolis, filed the amendment to remove all references to the specific characteristics and simply add the word "bias" to the current common law. He claimed the legislation is already in law under the Witmer v. State case, which many against the bill have argued. He said removing the list is a simpler way to make sure all groups of people are covered under the law.
"I don't have a list, that's true," Freeman said. "Is it better than what we've got today? I argue it is, and I think it gets us there."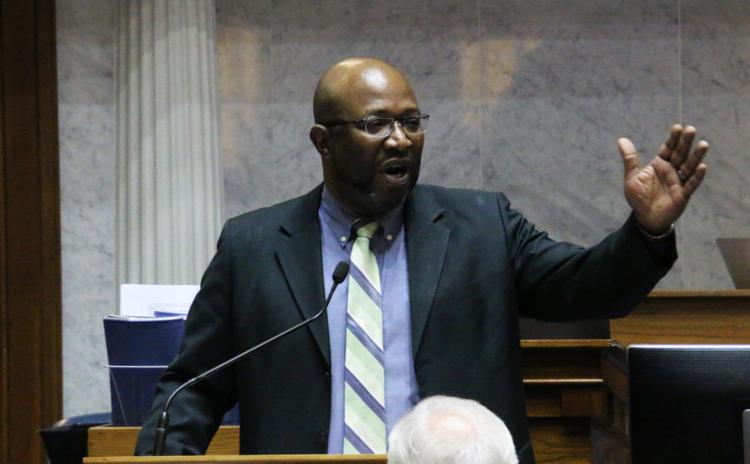 Sen. Greg Taylor, D-Indianapolis, told Senate lawmakers he is tired of getting beat down. He said he worked on this legislation for six years, and each year he was promised the Republicans would work with him to create a bill for everyone, only for it to not happen every year.
"In 2015, I stood here and cried into this microphone, and I said we are going to work this out," Taylor said on the floor. "Do this today, do it. Add your two words. Let's walk out of here and say we have a bias crimes law in Indiana … don't come to me, asking me to treat anybody the same."
Sen. Lonnie Randolph, D-East Chicago, rose to tell senators that "the history of this country is intertwined with black folks," and they can't get rid of them.
"What the heck is going on?" he said, his voice rising. "Give us some kind of dignity. I've got a family just like you do … please, all I ask is for you to treat me as a human being … we do not have tails. We're not monsters."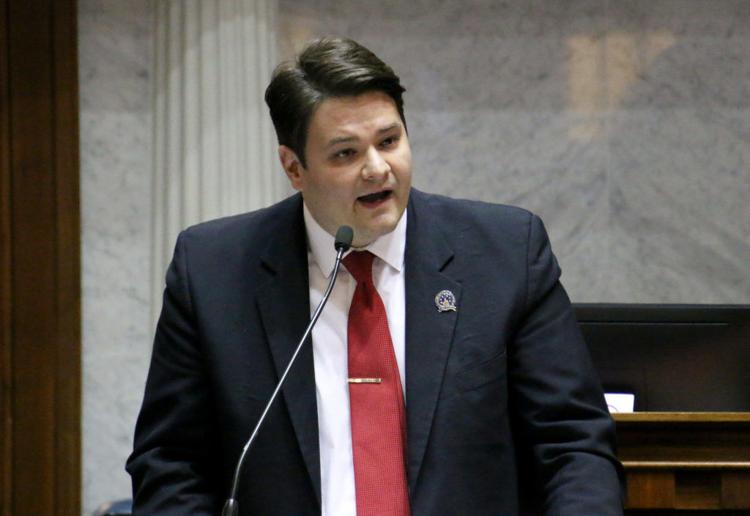 Sen. J.D. Ford, D-Indianapolis, the only openly-gay lawmaker in the General Assembly, said removing the list makes him feel like he does not matter.
"You're saying to folks like me I don't exist. I don't think that's fair," Ford said.
Just as the amendment was about to be voted on, Senate President Pro Tempore Rodric Bray, R-Martinsville, asked for a virtually unheard-of 30-minute break to, again, talk behind closed doors to cool down after heated debate.
Upon the senators return, they quickly voted on the amendment and then went into another recess right for both parties to explain to reporters why certain decisions were made.
The authors of SB 12, Sens. Mike Bohacek, R-Michiana Shores, and Ron Alting, R-Lafayette, opposed the amendment but declined to comment afterward.
Republican Sen. Jim Merritt of Indianapolis was one of the few in his party who voted against the amendment, saying the original drafted bill was what his constituents wanted and what he thought was right. He said he will, however, vote on "yes" on the bill when it comes up for a vote in the Senate later this week.
Merritt said he did not speak against the amendment because he doesn't speak on many bills in general unless they are his own.
"What Sen. Taylor and Sen. Randolph said was pretty captivating," Merritt said.
From the beginning of the session, Bray and House Speaker Brian Bosma, R-Indianapolis, said they supported a bill without a list. Bosma said last week that the only concern he told Bray the House Republicans had was that element of the legislation.
"The bottom line is there are lots of different groups of people and associations … that aren't on that list," Bray said. "So yeah, this is more inclusive in that respect."
When asked why decisions by the majority party have to be made behind closed doors, Bray said the public has the opportunity to listen to full discussion on the floor, and Republican senators are available to be questioned about their positions individually.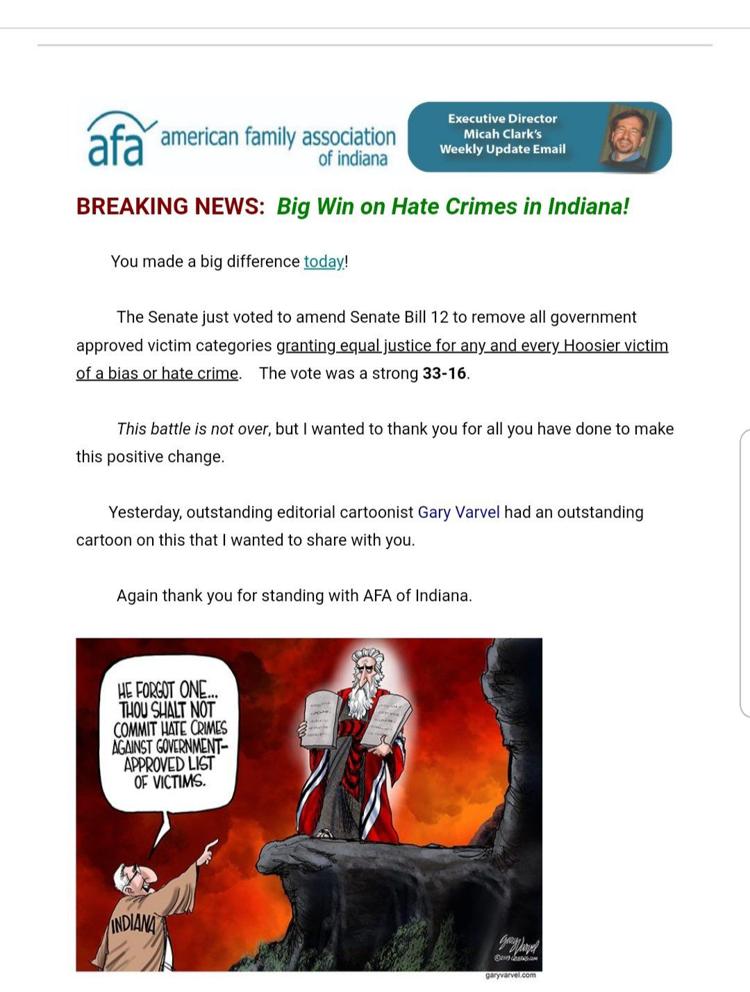 Bray said he will have enough votes to pass this version of the bill without the Democrats' support.
After the amendment passed, the Indiana American Family Association, an organization against the original bill, released a statement claiming a "big win" on hate crimes legislation. On the other side, Indiana Forward, a group advocating for the legislation, released a statement saying they were disappointed in the decision and stand by Holcomb.
Democrats did not return the chamber after the vote in protest. With Republicans holding a supermajority that give them a quorum to act without the Democrats, the session continued without them.
"The citizens of Indiana deserve better," Taylor said.
Emily Ketterer is a reporter for TheStatehouseFile.com, a news website powered by Franklin College journalism students