Senate Republicans unveiled their version of the two-year state budget Thursday, embedding several changes to much-debated funding topics like teacher pay, child services and infrastructure.
Though total expenditures remain the same at $34.6 billion, the state is on track to end the next biennium with $2.2 billion in reserves should the updated budget, outlined in an amendment to House Bill 1001 and approved in committee in a 9-4 party line vote, become law.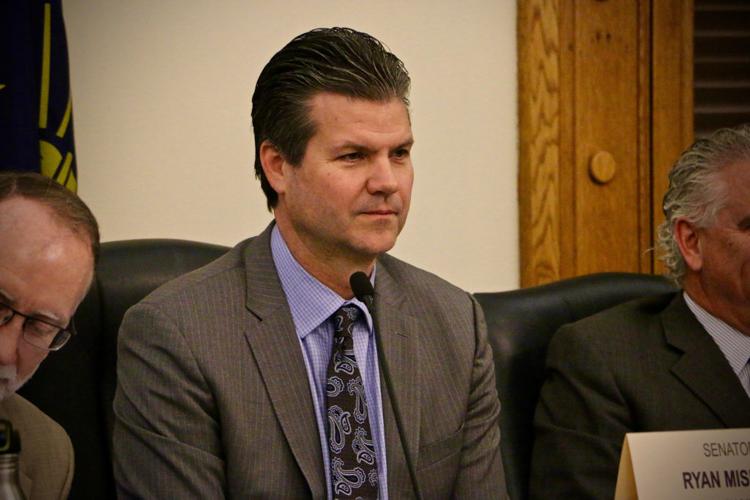 Overall, the new reserve total is a $400 million increase from the $1.8 billion predicted in Gov. Eric Holcomb's budget and a $300 million increase from the $1.9 billion described in the House budget.
In discussions on Thursday, lawmakers said the next state revenue forecast, compiled and released monthly by the State Budget Agency, could change budget calculations across the board. The forecast will be announced on April 17.
One month after lawmakers raised questions about the $286 million budget increase requested by the Indiana Department of Child Services (DCS), Senate Appropriations Committee Chair Ryan Mishler, R-Bremen, announced that the original appropriation would decrease.
The new proposal calls for a $243 million increase to the department's budget in fiscal year 2020 and a $223 million appropriation in fiscal year 2021, millions of dollars less than what DCS officials asked for at the start of the session. DCS originally asked for a $286 million budget increase per year, which would have brought their annual budget to more than $900 million.
Republican leaders clarified, however, that the governor's office will be able to pull additional money from an emergency fund, first established in 2017, to compensate for any unexpected needs in DCS.
"The hope is that we can prevent some of the expense and some of the trauma that comes along with removing kids from their homes," said Sen. Travis Holdman, R-Markle, who said the new strategy will encourage DCS to focus more on prevention programs. Senate leadership promoted this goal in more specific ways, too, such as by requiring DCS to contract with the Indiana Public Defender Council to better train public defenders who work with at-risk children.
The governor can take up to $43 million from the flexibility fund in fiscal year 2020 and $63 million in fiscal year 2021 to assist DCS if there is a shortfall or emergency cost.
Education funding remains a contentious topic for school districts and the legislature, and Senate Republicans did not back down on devoting half of the state's budget to K-12 education.
They did, however, revise and clarify several components within the K-12 funding structure.
For example, the new budget asks for an adjustment to Indiana's teacher appreciation grant program and increased the fund by $30 million. Under the change, teachers who have not reached their fifth year on the job and who are identified as effective or highly effective in their school districts could benefit from the grant, of which 50 percent can be awarded as a stipend to the teacher's salary.
Additionally, it provides less funding to virtual schools. The House budget called on the state to fully fund virtual schools, instead of providing them 90 percent of dollars directed at brick-and-mortar schools. Instead, the Senate budget would reduce that allocation to 80 percent.
The updated version also clarifies how complexity funding will be streamlined to school districts, following concerns that Indiana's most impoverished school districts could receive less money due to faulty calculations in the original budget.
Senators said they increased base funding to districts so that for every dollar spent on a typical student, an additional 66 cents will be provided for complexity students, or those who come from families on the Supplemental Nutrition Assistance Program (SNAP) and Temporary Assistance for Needy Families (TANF).
While representatives from the education community largely applauded this change, Gail Zeheralis, director of government relations for the Indiana State Teachers Association, questioned if the increase would be enough.
"The complexity index is an important part of the arena of providing adequate funding to schools and to help kids with their educational opportunities," Zeheralis said.
And Indiana Retired Teachers Association Executive Director Tom Mellish said his organization is "very disappointed" with the updated version, noting it will take money away from bonus checks for retiring teachers.
"Many already subsist living on less than $500 a month in subsidized housing, and that's not a very positive retirement to look forward to for our teachers," Mellish said. "We're sending a message to them of thanks for your service, but we forget about you afterwards."
Senate Democrats proposed an amendment in the Appropriations Committee to mitigate this risk and to mandate a direct raise for teacher salaries, but Senate Republicans voted it down.
The amendment, as explained by Sen. Karen Tallian, D-Portage, and her Democratic colleagues at a press conference Thursday afternoon, seeks to draw on several components in the state's current K-12 funding plan to provide a 5 percent raise to teacher, school counselor and social worker salaries across the state. Such a raise would cost $315 million overall, party leaders said.
Sen. Eddie Melton, D-Gary, explained raising this total would require the state to reduce spending on its school choice voucher program, which Melton said could be achieved by limiting vouchers for use only by students who previously attended a public school. He also outlined ways in which the state can reinvest money for charter schools and teacher appreciation grants.
"There is no direct pay for increasing teacher salaries, and that's something we're seriously concerned about," Melton said.
Tallian also presented an amendment to adjust how the state funds local infrastructure projects. She proposed using $1 billion raised from Indiana toll roads to fund three existing grant funds that support local infrastructure projects, including water quality and transportation.
She also asked that $100 million go towards a new "local infrastructure" fund, which would support local non-profits and organizations by providing matching grants for a variety of projects.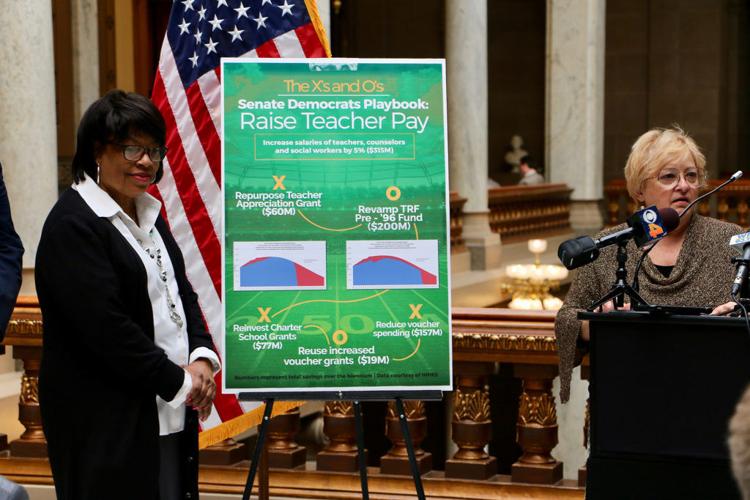 This differs from the Senate Republicans' budget, in which lawmakers outline a plan to fund Holcomb's Next Level Connections projects, including construction on I-69 and U.S. 31, trails, broadband expansion in rural communities and new flights for economic development. They also plan to allocate more money for highway improvements in toll road counties through a new fund that would pay out around $439 million over the next two fiscal years.
Holcomb expressed his gratitude for the Senate budget, though he noted in a press release there is still work to be done.
"I appreciate the Senate's hard work in crafting its budget priorities," Holcomb said in a statement. "There are now three budget proposals — the House, the Senate and my administration. Now we can and will build consensus during the final stretch."
And House Speaker Brian Bosma, R-Indianapolis, said several of the major changes in the new proposal, namely the adjustments to DCS and K-12 funding, concerned him. He also pointed to the forthcoming revenue forecast as an event that could force lawmakers in a different direction.
"So much depends on next week's fiscal forecast," Bosma said. "I expect there's going to be significantly less funds."
The budget now advances to the full Senate, where lawmakers will have to reconcile differences between the House and Senate budgets by the end of April.