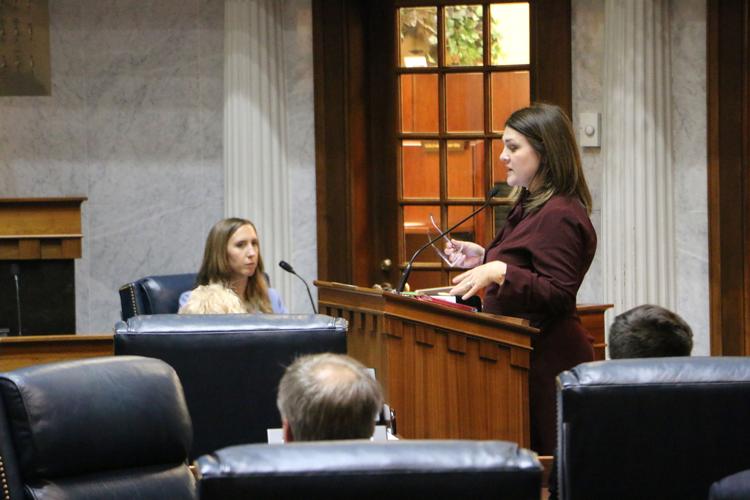 Sunday alcohol sales may soon be in Indiana's future after the Senate Public Policy committee Wednesday passed a bill 9-0 to permit sales at select stores across the state.
Senate Bill 1, authored by Sen. Ron Alting, R-Lafayette, would permit packaged liquor, grocery, convenience and drug stores to sell alcohol for carryout on Sundays from noon to 8 p.m. Restaurants that meet requirements to sell alcohol for carryout would also be permitted to sell on Sundays.
"This was a bill that I went to leadership on at the very end of session last year, and told them that I thought the timing was perfect for this to happen in the 2018 session," Alting said. 
The discussion on Sunday alcohol sales, however, continues to loom over the House Public Policy committee after lawmakers heard testimony earlier Wednesday on House Bill 1051.
Indianapolis Republican Rep. Ben Smaltz's bill would also permit the same stores to sell alcohol for carryout on Sundays between noon and 8 p.m., including restaurants.
"I feel pretty good about it," Smaltz said. "I feel as though we've done our homework, we've done what we are supposed to do, we've worked on it all fall, and I think that we will have the support of the committee."
Eric Halvorson, Kroger's public affairs manager, said the eight extra hours on Sunday would make a big difference for the store's customers.
"Sundays are the second busiest shopping day of the week," Halvorson said. "As a company, Kroger understands that our customers don't want to have to make extra trips to the store just to buy beer to watch a football game at home."
Halvorson, along with members of the Indiana Chamber of Commerce, the Indiana Licensed Beverage Association and the Indiana Retail Council, were fast to voice their support for the legislation.
"There are studies that indicate Indiana is losing at the minimum, $12 billion a year in lost sales and alcoholic beverage excise tax revenues," said Grant Monahan, president of the Indiana Retail Council. "People who live near the border of surrounding states—and all of them permit Sunday sales—are crossing that state line and are purchasing their alcoholic beverages in another state."
Only one person testified against both the House and Senate versions.
"While I welcome the work of the Alcohol Code Revision Committee and believe that it's crucial to informing this policy process, I was displeased that out of the nine lay members, there was not one person who represented prevention or public health," said Lisa Hutcheson, director of the Indiana Coalition to Reduce Underage Drinking.
"We are not prohibitionists. We know that alcohol will continue to have a role in our society as it always has. But what role will we give it? The role of convenience beverage that is as accessible as milk or candy?"
The House Public Policy committee is expected to vote on the measure at its next meeting. SB 1 will move to the full Senate for review.
Shelby Mullis contributed to this story. She and Tanner Nicholson are reporters for TheStatehouseFile.com, a news website powered by Franklin College journalism students.