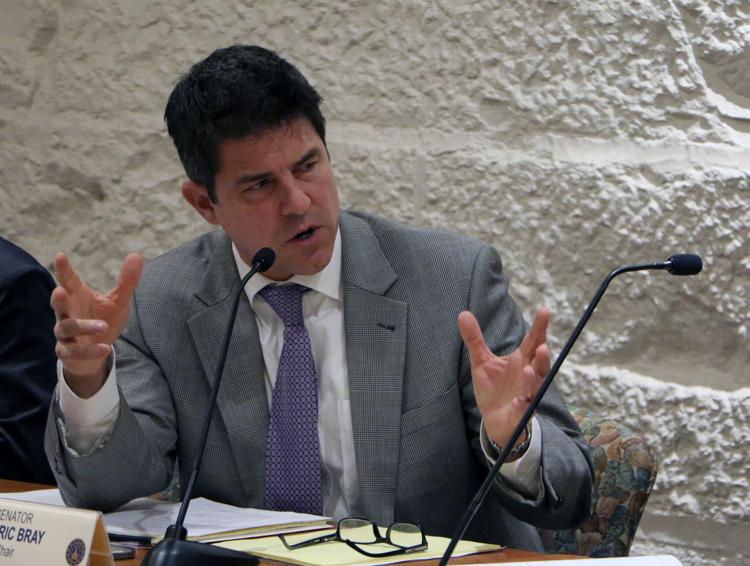 Indiana Senate Republicans elected Sen. Rodric Bray to become the next president pro tem, succeeding Sen. David Long.
"The entire caucus is behind the new leadership, as am I," Long, of Fort Wayne, said. "I know I will be leaving the Senate in extremely capable hands."
Long announced his retirement in February after spending 22 years in the Indiana Senate — 12 of those as its leader. He will still have two years left on his term.
Senate Republicans went into a caucus meeting after the end of the special session Monday and, in less than an hour, emerged with a new leader.
"I really couldn't be more pleased," said Bray, of Martinsville, about the outcome of the race to replace Long. "We haven't set priorities for next session, but we'll spend the summer looking at those type of things."
Long's last day in office will be Nov. 6, Election Day, and Bray will take over the top leadership role later in that month on Organization Day. The full Senate will then have a chance vote to approve him.
Sen. Mark Messmer, R-Jasper, will become the majority floor leader, the position currently held by Bray. Messmer said he looks forward to working with Bray in their respected positions.
"We will have a very collaborative approach on how we structure the committee makeups and the priorities," Messmer said. "I think it'll be a well-balanced perspective on using our caucus member's skills well and getting the right people in the right places."
"In the time that Sen. Bray has been in the Senate, he has been a reasonable, even-tempered individual and has been a strong leader in the Senate," Tim Lanane, the Senate Democratic leader, said in a statement.
Bray, 49, who has a law practice in his hometown, was first elected to the Indiana Senate in 2012. He lives in Martinsville with his wife, Kelly, and two children, Austin and Ethan.
Adrianna Pitrelli is a reporter for TheStatehouseFile.com, a news website powered by Franklin College journalism students.