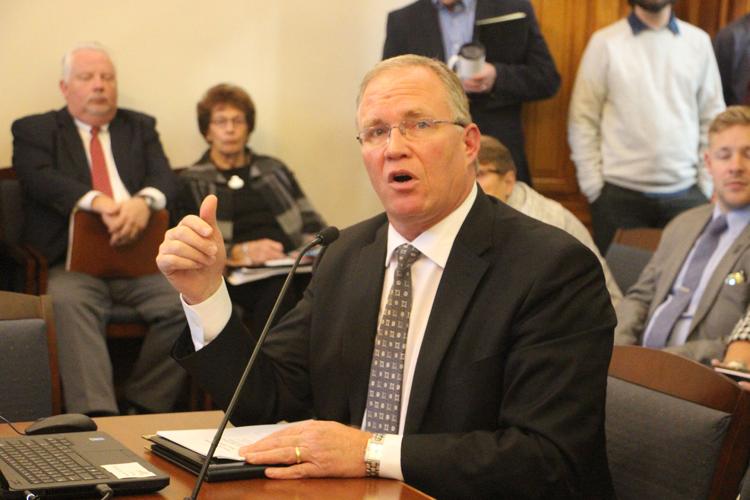 Water prices are steadily rising for Hoosiers because of over usage and old infrastructure, which causes leaks, water conservation advocates said Wednesday.
"The impact is so significant because water is a basic necessity of life," said Kerwin Olsen, executive director of the Citizens Action Coalition. "We need to figure out ways to make sure that people can afford the water services and waste water services to make sure the most vulnerable people in our communities are healthy and safe."
The discussion took place at the meeting of the Interim Study Committee on Environmental Affairs. The focus of the group was to take suggestions for a proposal about ways to fix the financial drain water services can have on Hoosiers.
A 2017 Michigan State University study shows water rates across the country have risen 41 percent since 2010. Today about 12 percent of Hoosier households cannot afford their water bills. Within the next five years, Olsen said he expects more than a third of households across the state to not be able to afford their water bill.
In some Indiana communities, the price a resident pays does not correlate to how much water they use. A neighbor who waters their grass every day would pay the same amount as someone who only waters once a week. Instead of this process, Olsen recommends people pay based on consumption.
"The more you use, the more you should pay," he said. "If you're going to make demands on the system, then you need to pay the price that comes with that."
Currently, some rates are not based on how much water a household uses because the numbers from each water meter is combined to provide fixed rates. Some neighborhoods have argued the billing system is easier because it gives potential residents a rounded number of what their utility bill will be if they move in.
But Olsen said it isn't a fair system and he wants to see it fixed. He and others who testified said it is also important for people to understand the significance of saving water.
"We want people to know the conservation is working and that if the average day consumption lowers, so will the price of their bill," said Jeff Willman, vice president of Citizens Energy Group. "Low flow shower heads, low flow toilets, all those things add up and are working, so people need to do it more frequently."
Willman said another way people can save water is by turning off the irrigation systems when it isn't needed.
"There is no need to use an irrigation system if it has been raining a lot, for instance," Willman said. "If we educate people and they start to irrigate 10 percent less, then we can save $50 million within 25 years."
Educating Hoosiers on how much water they're using is a plan that Sen. David Niezgodski, D-South Bend, would also like to see implemented.
"When customers are more cognitive of what they're doing, they have a much better opportunity serving in the long run," Niezgodski said. "If people have a meter for irrigation separated from their house, they would know the impact it's making."
While education was said to be important to making a change to the water payments, others said fixing infrastructure will help stop wasting water.
Jim McGoff, director of environmental programs at the Indiana Finance Authority, said 50 million gallons of water are lost each year because of leaks in the system. He said it is equivalent to a waste of nearly $4 million.
"Last year when we evaluated utilities across the state, we saw there is a lot of potential need for infrastructure facilities," he said. "We will have to spend money up front but it'll save a lot of money in the long run so it's something to look into."
Issues include leaking pipes and aging infrastructure that are not up to date with technology. The Michigan State study also said it will cost more than $1 trillion nationwide to fix the water systems over the next 25 years.
The Indiana Finance Authority will outline a comprehensive plan, which they hope lawmakers will take into consideration in the upcoming legislative session.
Adrianna Pitrelli is a reporter for TheStatehouseFile.com, a news website powered by Franklin College journalism students.