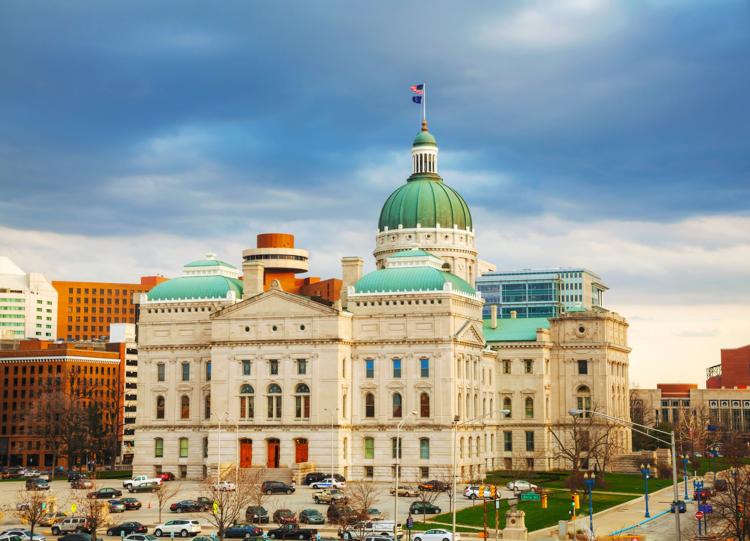 A pair of recent anti-Semitic graffiti incidents has highlighted the state's lack of a hate crimes law.
But, while Republican Gov. Eric Holcomb has signaled his support for such a law, some fellow GOP lawmakers remain hesitant to sign on.
On July 28, a pair of spray-painted Nazi Party flags and Iron Crosses, along with burn marks, were discovered on the brick walls around the garbage bins outside of Congregation Shaarey Tefilla in Carmel. Aug. 16, authorities announced Nolan Brewer, 20, Cloverdale, was charged in federal court on criminal complaint with conspiracy to violate civil rights.
Meanwhile, Aug. 13, a sign at the entrance of the Azalea Hills retirement community in Floyds Knob, Indiana was discovered spray-painted with swastikas.
These cases follow a national trend. In its annual Audit of Anti-Semitic Incidents, the Anti-Defamation League found that the number of anti-Semitic incidents in the U.S. rose 57 percent in 2017—the largest single-year increase on record and the second highest number reported since ADL started tracking such data in 1979.
Forty-five states have hate crime laws in effect. Indiana, along with South Carolina, Arkansas, Wyoming, and Georgia, are the only five without one.
Holcomb broke with his own party July 30 to call for Indiana to join the vast majority of other states in passing such a law.
"No law can stop evil, but we should be clear that our state stands with the victims and their voices will not be silenced," he said. "I'll be meeting with lawmakers, legal minds, corporate leaders, and citizens of all stripes who are seeking to find consensus on this issue so that, once and for all, we can move forward as a state."
Along with Sens. Susan Glick, R-LaGrange; and John Ruckelshaus, R-Indianapolis; Sen. Mike Bohacek, R-Michiana Shores; co-authored Senate Bill 418 during the most recent legislative session. In January, the bill—which would have allowed judges to weigh everything from race and sex to gender identity and sexual orientation as aggravating circumstances in sentencing a criminal defendant—was pulled by the Senate Corrections and Criminal Law Committee after committee chair, Sen. Michael Young, R-Indianapolis, announced that it would not be heard.
Aug. 10, on the eve of the one-year anniversary of the deadly Unite the Right rally in Charlottesville, VA, Rep. Greg Porter, D-Indianapolis, the president of the National Black Caucus of State Legislators, renewed his calls for such legislation.
"For 15 years, I and the Indiana Black Legislative Caucus have tried to convince our fellow legislators of the critical necessity of a hate crimes law," he stated. "Social conservatives have fought hate crimes legislation because they don't want to offer protections to these groups, especially those in the LGBTQ community."
Aug. 17, Bohacek and Sen. Ron Alting, R-Lafayette, announced their intentions to introduce bias crimes legislation during the 2019 legislative session.
Aug. 25, the presidents of 22 of Indiana's small colleges signed an open letter supporting a hate crimes law.
In a July 30 op-ed, Attorney General Curtis Hill called for a law which would add two to six years for misdemeanors and low-level felonies, and an additional six to 20 years for higher-level felonies. However, he insisted he would only support such a law if it disregarded protected classes.
Sen. Greg Taylor, D-Indianapolis, has authored hate crimes bills for several years, including Senate Bill 271, which did not receive a hearing during the 2018 Indiana General Assembly session. Taylor flatly rejected Hill's proposition.
"At this point I'm willing to talk about any compromises that don't include exclusions of certain classes of people," Taylor told NUVO. "One of the things that frustrates me the most about this process is that when we go to the statehouse we represent [all of the] people of the state of Indiana."
As the representative of the district where the Shaarey Tefila incident occurred, Sen. Mike Delph, R-Carmel, immediately condemned the graffiti, but had much less to say when asked directly by NUVO whether or not he now supported hate crimes legislation.
"He looks forward to reviewing Gov. Holcomb's proposal when finalized," wrote Ryan Kommes, Indiana Senate Republican press secretary, in a statement.
Delph's Democratic challenger in the upcoming midterm election, J.D. Ford, said constituents in District 29 were overwhelmingly in favor of such a bill.
"I can't know why Sen. Delph doesn't support this legislation," Ford told NUVO. "What I can tell you is I don't think he's listening to our district. I think he's out of touch with the people I'm speaking with."