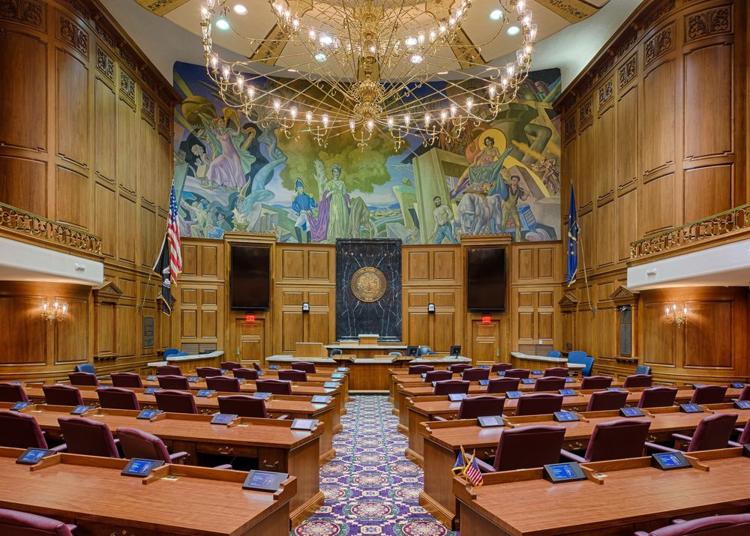 The two-year, $34.6 billion budget designed by House Republicans to address concerns about lagging teacher pay, the Department of Child Services and other critical issues passed out of the Indiana House Monday.
"This budget is financially responsible, doesn't raise taxes and keeps us on our strategic path to economic growth while prioritizing our investments," said Todd Huston, the Fishers Republican who is co-chairman of the budget-drafting House Ways and Means Committee.

Prior to the 65-32 party-line vote, Democrats underlined their disappointment with the chamber's rejection last Thursday of almost all of their more than 25 amendments to House Bill 1001.

Monday, as the House prepared to vote on the bill before sending it to the Senate, Rep. Gregory Porter, D-Indianapolis, the ranking minority member on the House Ways and Means committee, spoke about what isn't in the budget.

He told his Republican colleagues that HB 1001 as is does not address substantial issues in the state, noting everything from teacher pay to pre-kindergarten, healthcare programs, the minimum wage and school security in K-12 schools.

"We strive to do the best within our means, but within our means, ladies and gentlemen, there are times in which we can do better," he said. "Unfortunately, this budget, yet again, has neglected the human infrastructure of our state."

Rep. Cherrish Pryor, D-Indianapolis, followed up on Porter's remarks, claiming the Republican budget fails working class families while propping up big business.

"It's good that we have a great climate for corporations and the business industry," Pryor said. "We need that, but we can't be one-sided."

House Minority Leader Phil GiaQuinta, D-Fort Wayne, further disputed Republicans' claims that the proposals by House Democrats would draw up to an additional $1 billion from the state's surplus.

The concerns surrounding HB 1001 stems from more than partisan disagreements.

Hours before the Monday deadline, the Indiana Fiscal Policy Institute, a private research organization in Indianapolis, released a report illustrating the benefits and drawbacks of the prospective budget.

Their conclusion? The House budget provides "minor tweaks, not major transformation" for the state, in many cases leaving out direct funding avenues for those most in need.

The institute's report examines critical details in the Republican's K-12 funding plan through fiscal year 2021. In particular, the institute dissects a key provision in House Bill 1003 that would require a school district to not transfer more than 15 percent of dollars from its education fund, which covers classroom instruction, to its operation fund.

While HB 1003 is off to the Senate for further review, the institute, alongside the state's top education leader, Superintendent of Public Instruction Jennifer McCormick, warn the rule is imperfect.

"The 85/15 ratio is one useful metric, but it doesn't account for school corporations with high assessed property values and the potential to collect more revenue, and therefore keep more state money in the education fund without being especially efficient or making any extraordinary efforts on teacher pay," the report reads.

But Huston continues to disagree with this and similar arguments, insisting the budget keeps his caucus' promise to Indiana schools and the children they serve.

"Of the new money in this budget, that isn't going to DCS and Medicaid, 67.6 percent of the new money is going to K-12 education," Huston said. "That is a commitment."

The Senate Appropriations Committee is next in line to review the state budget.

Erica Irish is a reporter for TheStatehouseFile.com, a news website powered by Franklin College journalism students.