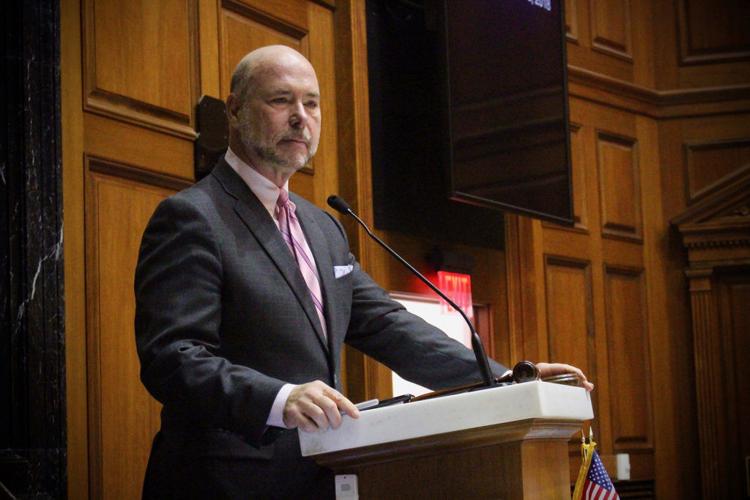 For the second year in a row, Rep. Milo Smith, R-Columbus, has killed a redistricting reform bill and House Speaker Brian Bosma, R-Indianapolis, said he is OK with that.
"There's a lot of questions we had. I don't think the bill accurately follows some of the national case law that that's required to be followed and I hesitate to put that into code until we're confident of that," Bosma said of Senate Bill 326, which passed out of the Senate with a 42-6 vote.
But even more important, Bosma said, the United States Supreme Court is already ruling on similar legislation in Wisconsin, mirroring Smith's reason to kill the bill. Smith had told another reporter that he would not call SB 326 for a hearing in the Election Committee, which he chairs.
"I don't think it's optimal to try to put something into code now when the Supreme Court is going to be ruling on that by October of this year. I think we need to take that into consideration as well," Bosma said.
The bill, authored by Sen. Greg Walker, R-Columbus, would establish redistricting standards for congressional and state legislative districts.
Debbie Asberry, redistricting advocate for the League of Women Voters of Indianapolis, is frustrated that Bosma agrees with Smith. She said that while she understands it was not everything advocates wanted, the bill was a good first step.
"We're disappointed that he's not exercising what we would have hoped would be to support a really simple bill," Asberry said.
Julia Vaughn, policy director for Common Cause Indiana, said the reasoning is simply a delay tactic.
"That's not a good excuse," Vaughn said. "If anything, it should spur the General Assembly to take action."
She said the Wisconsin case could encourage litigation in Indiana over the 2011 maps because the legislative district maps were drawn to benefit one political party over another. The Supreme Court is expected to rule on whether gerrymandering districts for partisan advantage is constitutional.
The U.S. Supreme Court is also set to rule on similar cases in North Carolina and Maryland. Vaughn said if Indiana waits for all of these cases to be resolved, then there won't be any redistricting reform in Indiana before 2021.
Vaughn challenged all who agree with Smith and Bosma to think about the implications of killing the bill, including whether lawmakers will make a commitment to pass redistricting reform in 2019.
"As long as this conflict of interest exists where the same people who are going to run in the districts play the primary role in drawing the districts, the public is always going to believe that partisan gerrymandering exists and has happened, and that is enough to generate a lawsuit," Vaughn said.
In the 2017 legislative session, Smith held a hearing on a redistricting reform bill and then refused to call it for a vote, which effectively killed it.
Quinn Fitzgerald is a reporter for TheStatehouseFile.com, a news website powered by Franklin College journalism students.