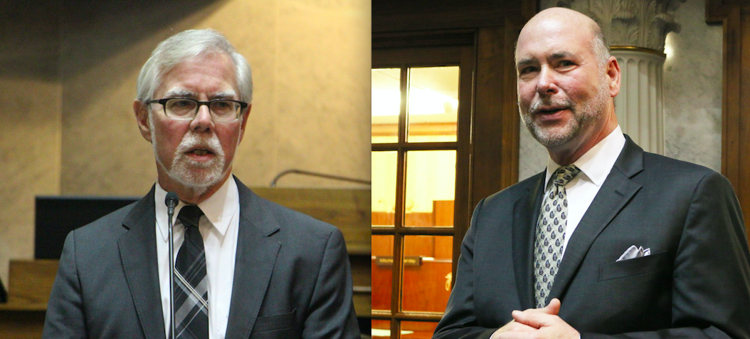 Without one overarching goal for the 2018 legislative session, which starts Wednesday, key Republican and Democratic lawmakers are setting their own agendas.
Gov. Eric Holcomb and the four Republican and Democratic leaders of the Indiana Senate and House of Representatives discussed their goals for the 2018 session of the General Assembly on No Limits, WFYI-FM's twice a week public affairs program hosted by John Krull, publisher of TheStatehouseFile.com. The program aired Tuesday.
Holcomb, Senate President Pro Tem David Long, R-Fort Wayne, House Speaker Brian Bosma, R-Indianapolis, Senate Minority Leader Tim Lanane, D-Anderson, and House Minority Leader Terry Goodin, D-Austin, each laid out the biggest challenges facing the state and how lawmakers plan to tackle the issues.
Workforce development
Holcomb and fellow Republicans are focusing on workforce development.
"Workforce development is the issue of the day," Long said in the interview, which aired Tuesday. "There are obviously some other very important issues for the state as well but that one dominates our thinking today."
Long said both the House and the Senate must work together to find programming that can be implemented for K-12 students, as well as for the existing workforce to skill people up for the future.
"Really, we have such a non-advanced manufacturing history, and it's all advanced manufacturing today, which isn't running a drill press—it's running a computer that runs a drill press or a line," Bosma said. "So we have to retool what we have traditionally thought about in education, in workforce for the modern economy and bring people."
House Speaker Brian Bosma, R-Indianapolis. Photo by Alexa Freeman, TheStatehouseFile.com
Holcomb introduced his goal to develop a skilled and ready workforce in November.
"We have the good problem of having over 96,000 jobs—high-wage, high-demand jobs—where we know where they are exactly around the state of Indiana, region by region by region, that are unfilled currently," Holcomb said.
"Before we connect people with a job, we've got to connect them with the skillset to get hired and that's what we'll be completely and laser-like focused on in 2018 is building the system for students and adults to be able to get attached to those jobs that are waiting for them right now."
One step Holcomb has already taken toward this goal is the implementation of nextleveljobs.org, a website for Hoosiers to search for jobs posted by Indiana employers.
Holcomb said more than 240,000 Hoosiers have visited the site since its August launch, and more than 12,000 applicants have been processed through.
Opioid epidemic
Both parties agree fighting the opioid epidemic must be a key objective in this year's session.
"Every state in the country is dealing with the opioid crisis," Long said. "We've never seen anything quite like it. The damage its doing to our families, obviously to our infrastructure as far as being able to deal with it, whether it's in the healthcare area or law enforcement. It's extremely challenging."
For Lanane and the Senate Democrats, he said combatting the crisis is their number one priority.
Sen. Tim Lanane, D-Anderson. Photo by Adrianna Pitrelli, TheStatehouseFile.com
"I don't think we took all the action that we needed to in the last session," he said. "We did some good things but the situation did not improve much, and we still have some work to do on that front."
Lanane said this work includes adding sufficient treatment facilities and resources to provide treatment for individuals, something he said Indiana does not have currently.
"I know it's a short session we're heading into and traditionally we don't like to reopen budgets and do such things," Lanane said. "And maybe there's some monies available without doing that, but I think we truly need to look at what are the resources that are available throughout the state to handle this."
"We're not anywhere close to solving it," Long said. "I don't think anyone else is either."
Redistricting
A major discussion point from 2017 is returning to the 2018 session, and Lanane said it's time for the state to move if it wants to prevent gerrymandering any further.
"We think that when it comes to electoral reform there needs to be an independent redistricting commission," Lanane said. "There's been some bipartisan support for the idea of this redistricting commission. We will have our own redistricting commission bill which I will offer and that it is a bill supported by our entire caucus."
Rep. Jerry Torr, R-Carmel, offered a bill last year that would have created a nonpartisan redistricting commission to redraw state and congressional districts. The bill died in committee.
Two Senate Republicans— John Ruckelshaus, of Indianapolis, and Mike Bohacek, of Michiana Shores—have already filed a bill for the upcoming session to create a commission of lawmakers and the public to draw legislative district boundaries following the 2020 census.
Lanane said he also aims to ease the voting process for Hoosiers by introducing legislation that would extend polling hours by one additional hour and implement same-day registration.
Minimum wage
The fight for an increase in minimum wage will also continue into the 2018 session.
Senate Bill 121, authored by Democratic Sen. Frank Mrvan, of Hammond, would increase the minimum wage paid to certain employees in accordance. If passed, minimum wage would rise from $7.25 to $10 an hour after June 30, 2019. It would also make gradual increases each year in accordance with increases in the Consumer Price Index.
As the new House minority leader, Goodin said his goal is the same as always: to make Indiana a better place to live, work and raise a family. But in order to live, he said Hoosiers must earn enough money to be able to survive and raise a family.
"I think what we need to do is work with [Indiana Economic Development Corporation] and other groups that bring in potential employers and let them know, 'Hey, if you're going to come to Indiana, you need to pay a living wage,'" Goodin said.