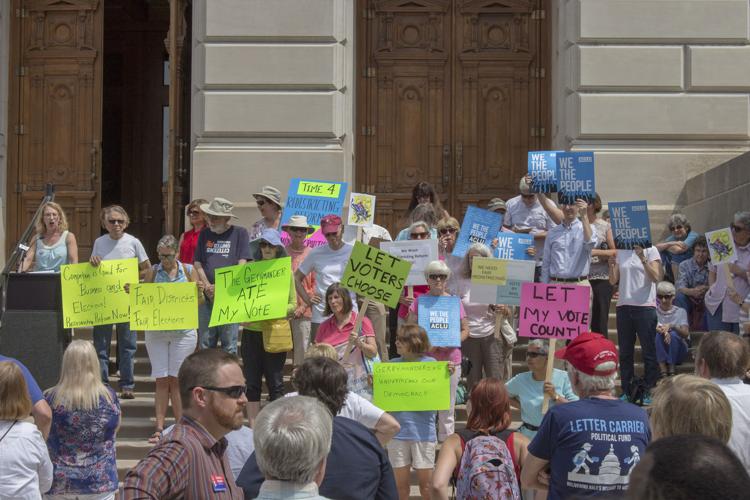 Advocates for redistricting reform gathered to commemorate the birthday of "the father of gerrymandering", former Massachusetts Gov. Elbridge Gerry.
About 100 people showed up on the steps of the south lawn at the Statehouse Monday for the rally, many carrying handmade posters in support of drawing new district lines for the state.
Attendees were welcomed with birthday cake cut in "district shapes" and played games such as "Pin the Tail on the Gerrymanderer" and "Name the District."
The rally took a more serious turn when organizers called on state legislators to make reforming redistricting a top priority for the 2018 legislative session.
"We're here today not just to remember the father of Gerrymandering —who if he were with us— he would be 284 today," Julia Vaughn, the policy director for Common Cause Indiana, said. "Looking at it differently, he's been gone for 203 years, but his legacy lives on not just here in Indiana but in a number of other states."
In 1812, Gerry passed a law that reshaped Massachusetts' Senate districts to favor his own Democratic-Republican party.
The House Elections and Apportionment Committee heard testimony in February on a bill to establish an independent redistricting commission, but the chairman, Rep. Milo Smith, R-Columbus, did not call for a vote.
"If we pass something, I want to make sure it's going to work and not just pass something to appease the people that are appearing before me," Smith said after the Feb. 15 hearing.
If enacted, the Republican and Democratic caucuses in the legislature would've chosen two members. Presidents from Ball State University, Indiana University, Purdue University, and the chief justice of the Indiana Supreme Court would've chose another three members. The eight-member commission would've then appointed its own chairperson to fill the ninth spot.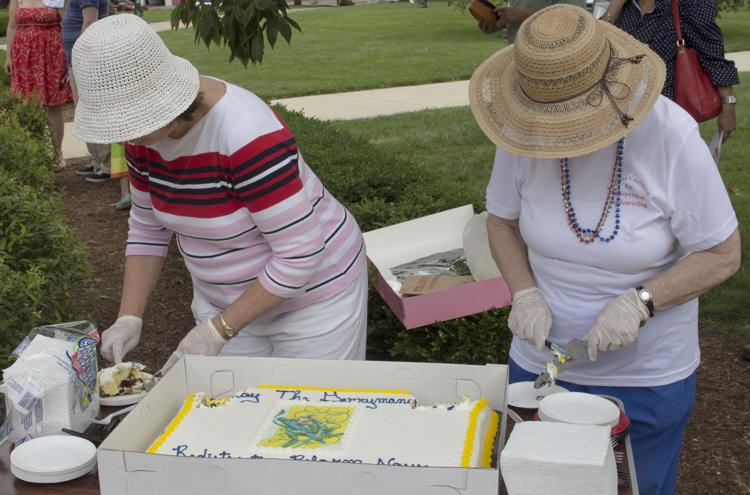 At Monday's rally, Fort Wayne Latino activist Jorge Fernandez, who ran for a House seat in 2016, said Gerrymandering diminishes the voice in government of minorities, young people and the poor.
"This isn't about us versus them. This group versus that group," Fernandez said. "These attacks on the foundation of our Democracy are a threat to us all."
Christie Hurst, vice chair of Enterprise Republicans said she supports redistricting reform because competition makes communities and political parties stronger.
 "We should not create competitive districts for the sake of competition, but districts shouldn't be drawn in a way that avoids it either," Hurst said in a statement that was read at the rally. "If we focus on these communities of interest, we will naturally have more competitive districts and that will lead to better candidates, legislators and ultimately better public policy."
Rep. Carey Hamilton, D-Indianapolis, said Gerrymandering makes the election process less fair and less likely to deliver a representative government.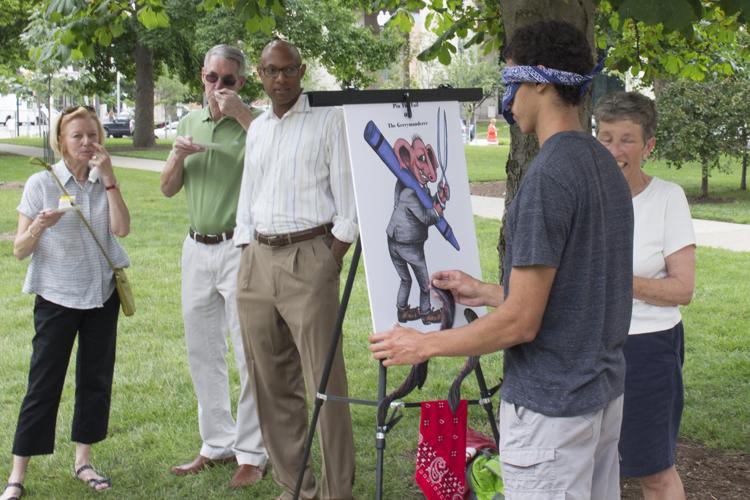 "If we want our Democracy to work for all of us, our districts must be drawn without the sway of political power," Hamilton said. "Let's be clear, I am not pointing fingers across the aisle. Both parties are guilty of Gerrymandering when given the opportunity."
Fernandez said he was not demanding a "perfect system but a better system."
"Brandt Hershman, David Long, Brian Bosma, and Milo Smith and the other leaders of the Indiana General Assembly, I'm calling on you today to fix redistricting, because if you don't fix it, we will in the courts and at the ballot box in 2018, 2020, 2022 and beyond."