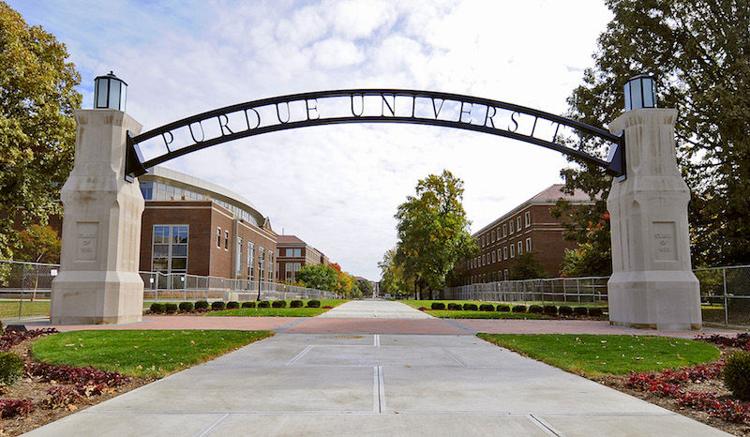 On the same day that Ball State University decided to stand by embattled Papa John's Pizza founder John Schnatter, Purdue University went in a completely different direction.
The Purdue Board of Trustees announced Friday that the university's economics center, the John H. Schnatter Center for Economic Research at Purdue, should revert to the Purdue University Research Center in Economics.
Further, Purdue also offered to return $8 million in funds associated with the naming.
"The board believes this action is necessary to avoid distraction from the center's work, counterproductive division on the campus, and any inference of any deviation from the university's often stated stance on tolerance and racial relations," read the board's statement.
Purdue announced the name change April 10 when the John H. Schnatter Family Foundation and the Doug and Maria DeVos Foundation announced they would give the university $8 million and $1 million, respectively. (Doug DeVos is the brother-in-law of Secretary of Education Betsy DeVos.)
Along with the Purdue Office of the Provost matching gift of $9 million in university funding over the next six years, the donated money was slated to be used to hire six additional economists.
Just hours earlier Friday, the Ball State University Board of Trustees announced they would "continue our support of the John H. Schnatter Institute for Entrepreneurship and Free Enterprise."
Schnatter, a Jeffersonville native and 1983 Ball State graduate, resigned from his positions as Papa John's Pizza board chairman and University of Louisville Board of Trustees member on July 11 after Forbes' Noah Kirsch reported he had used a racial slur during a conference call in May.
"Colonel Sanders called blacks n-----s," Schnatter said, before complaining that Sanders never faced public backlash, reported Kirsch.
The conference call had been arranged with marketing agency Laundry Service in the wake of another controversial statement by Schnatter last year.
In November, during another conference call, this time with investors, Schnatter said the National Football League's ongoing anthem protests by some players was hurting sales.
"We are disappointed the NFL and its leadership did not resolve this," said Schnatter.
The following month, Schnatter stepped down as CEO. And, in February, the NFL changed its official pizza sponsor from Papa John's Pizza to Pizza Hut.
Unlike Ball State, Papa John's Pizza and U of L have sought to publicly distance themselves from Schnatter since the scandal broke. U of L announced the name of their football stadium would change from Papa John's Cardinal Stadium to just Cardinal Stadium. Papa John's Pizza quickly moved to remove Schnatter's image from their future advertising and marketing materials.
Schnatter and the Charles Koch Foundation's $3.25 million in funding for the John H. Schnatter Institute for Entrepreneurship and Free Enterprise, housed in the Whitinger Business Building, was first announced March 2, 2016.