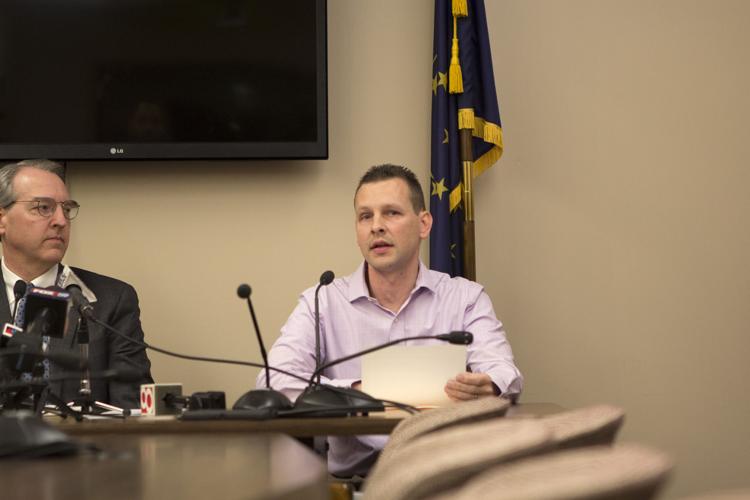 Instead of enjoying time with his three children, his "sweetheart" of a wife and living out his passion for coaching sports, Corey Polen travels a difficult road with limited options.
What Polen now describes as "torture" started small. While hiking with his wife in an Arizona park in 2015, his right ankle started to give out. Over the next few months, he would experience additional pains in his leg.
By March 2016, Polen was diagnosed with Amyotrophic Lateral Sclerosis, also known as ALS or Lou Gehrig's disease — an incurable neurological illness that, for many, results in death within three yearsFrom day one, the Brownsburg resident faced confusion, vague diagnoses and an agonizing fate.
"My future is not a nice one," Polen said. "Knowing what is to come is torturous. It's a future that is worse than what we label as torture for our military."
Polen appeared with Rep. Matt Pierce, D-Bloomington, and Bev Hmurovic of Compassion & Choices of Indiana at a press conference Thursday to announce the first draft of Pierce's reborn medical aid in dying bill.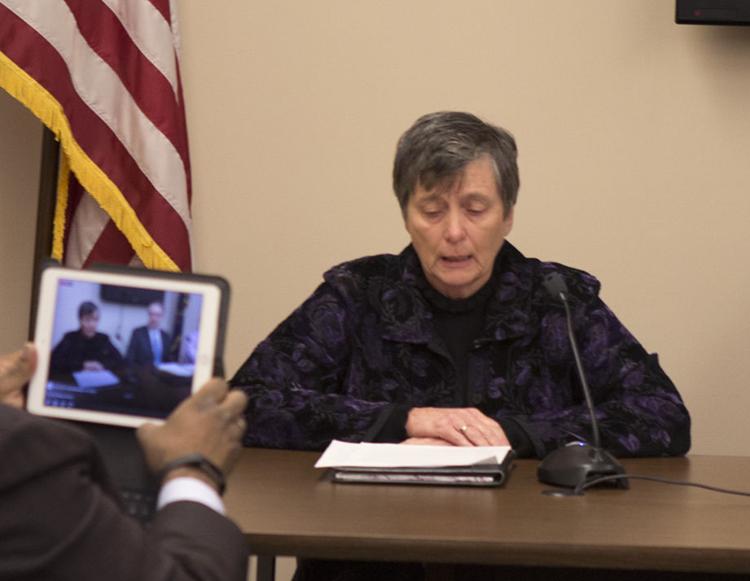 House Bill 1157 would expand end-of-life options for patients with terminal illnesses, like Polen, by legalizing physician-assisted suicide. The procedures listed in the bill are modeled on an existing law in Oregon.
Apart from Oregon, only four other states have laws permitting physician-assisted suicide — Washington, Vermont, Colorado and California. The District of Columbia also permits the practice.
Pierce introduced a similar bill in 2017, the first of its kind to be proposed in the Indiana legislature, but it never received a hearing.
Hmurovic cited the impact of assisted suicide laws in states like Oregon when defending the legislation Thursday.
She said that in the 20 years since the law was first passed in Oregon, there were no reported instances of abuse. Additionally, only one-third of patients who request the medical aid actually went through with the procedure.
With one more option, Hmurovic said, patients have more control over an unpredictable situation and may further reflect on their decision. Likewise, hospice care in Oregon increased to its highest point since the bill became law, she added.
Pierce's legislation requires that individuals have a diagnosed terminal illness with a prognosis of fewer than six months. They would then submit two separate requests to the Indiana Department of Health for the life-ending medical aid.
In the first, the patient's physician would be required to provide alternatives, such as hospice care and pain management. After a 15-day waiting period, a second request would be submitted with the help of a consulting physician, who would confirm the diagnoses of the patient's physician.
At each stage of the process, two independent witnesses would testify that the patient's decision is voluntary.
Additionally, a patient is diagnosed with depression or another mental illness would be referred to separate counseling.
"I am hopeful the introduction of this bill will begin a discussion among Hoosiers about this difficult end-of-life issue," Pierce said.
The lawmaker emphasized that every voice counts in assessing this practice.
"The truth of it is, if you even look at Oregon, there's only a very small subset of the population that needs this help," Pierce said. "It's a very small number of people, but they're people who deserve the help of the legislature."
While Polen continues to face an incurable illness, his mission remains firm.
"Why does a pet have more options than me?" Polen asks in a post on his YouCaring fundraising page. "Timothy McVeigh, who killed 168 people and injured over 600 in the Oklahoma City bombing, was put to death compassionately in my state of Indiana. Why does he get to die compassionately? Yet, my state wants me to have a torturous death in front of my children. I don't understand."
Before Polen and others with terminal illnesses receive an answer, they will have to wait to see how HB 1157 progresses.
"I've only heard the title, which is a little disturbing to me," said House Speaker Brian Bosma, R-Indianapolis. "If it's a euthanasia bill of some sort, I would have to say I'm disinclined to think that's a good idea for Hoosiers. But, I really haven't looked at the details yet."
Until then, Polen will work with Pierce and share his experiences with ALS with lawmakers.
"I'm reaching out to find out how we can be in less pain," Polen said. "Because, in the end, it's a life of drowning yourself in your own saliva."
Erica Irish is a reporter for TheStatehouseFile.com, a news website powered by Franklin College journalism students.