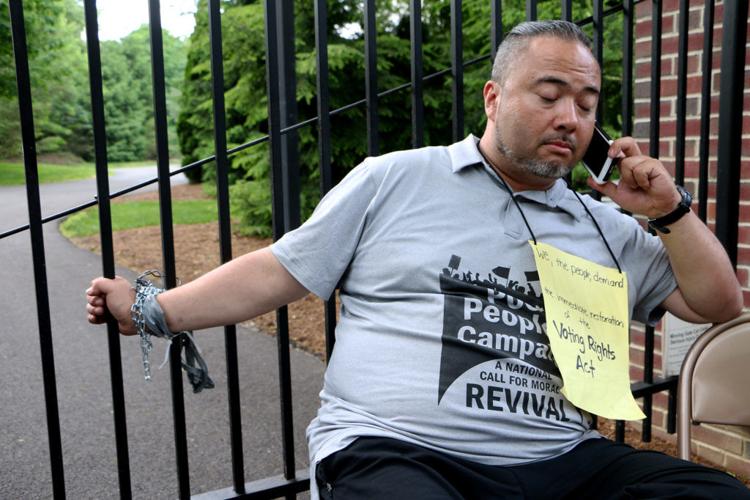 Nonviolent protestors representing the national Poor People's Campaign camped outside Gov. Eric Holcomb's home in north Indianapolis for 24 hours of political action Monday and Tuesday.
The members packed food, water, protest signs and, for some, diapers and zip ties to bind themselves to the gates of the residence for a non-stop stay, starting 3 p.m. Monday to 3 p.m. Tuesday.
The protestors said they had one goal — to sit down with Holcomb and outline the national campaign's demands for equity and social justice.
Holcomb, however, was away from his home on an economic development tour in Europe. He met with officials in Slovakia on Monday and is scheduled to visit Switzerland, Austria, Germany and France by the trip's end.
The demonstrators said they reached out multiple times to Holcomb and his communications office, but, at the time of publication, had yet to receive a response. 
"They're reasonable demands," said Tony Davis, an Indianapolis resident. "We want him to take a stance. We need to hear this from the governor so we know he has the people's best interests in mind."
Jesse Cruz, 24, who leads political education for Indiana's campaign as a member of the statewide coordinating committee, said the demands ask Holcomb to address four issues — systematic racism, poverty and inequality, ecological devastation and national morality, which focuses on multiple human rights concerns like access to clean water and voting opportunities.
Cruz said he wasn't aware that Holcomb would be abroad during the protest.
Four of those present were arrested at another campaign demonstration that blocked traffic on Capital Avenue and Ohio Street May 14. Fourteen demonstrators were arrested in total.
This time, no one was arrested during several encounters with state police, the participants said.
Still, Davis said, the group was under constant surveillance during the event.
As it started to rain near the end of their stay Tuesday, protestors attempted to move a tent to shield those tied to the gates.
"You can't put that there," said an unknown voice from the property's call box.
Members of the neighborhood supported their stay, the protestors said, by providing them with food, water, blankets and emotional advocacy.
Each protestor noted personal reasons for giving their time to the campaign.
Cruz worked in the manufacturing industry in Elkhart, Indiana, climbing the corporate ladder to a point where he said he saw the negative impact of low wages on lives.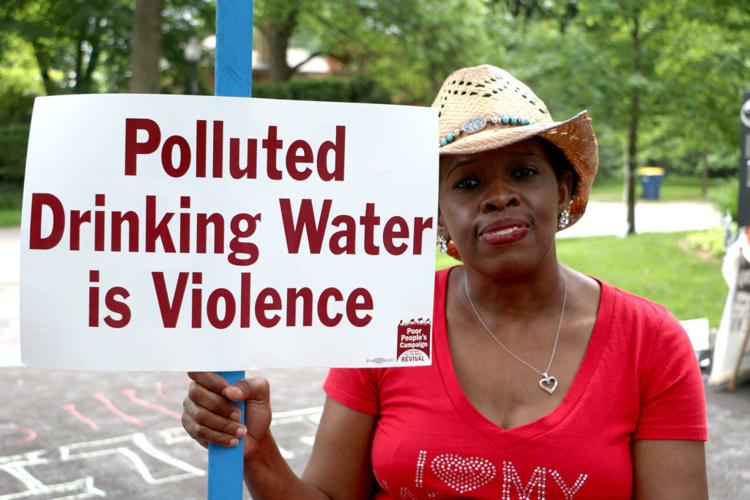 He also pointed to pollution in Elkhart, like lead present in publicly-used pipes, as a reason for trading the corporate world for activism.
"These are issues that we know were relevant 50 years ago," Cruz said. "But now here we are today where these systemic injustices are exacerbated."
Davis, 46, lived his childhood in Greensburg, Indiana. Early racism faced by him and his family generated an interest in activism.
"As a white Asian person at the end of the Vietnam era, I had a cross burned in my yard," he said. "I was jumped every day by kids. My life experience began to lead me to hate the half-side of myself because I wasn't accepted as a human being."
Later, Davis moved to Gary, Indiana, where he said the majority-black community helped him feel connected and recognize larger issues in the country.
Heath Jones, who acted as a media liaison Tuesday, is a pastor at Northwood Christian Church in Indianapolis. He called his involvement an essential part of his life as a Christian.
"From a faith perspective, Jesus spoke more about money and the poor than any other topic," Jones said. "He realized that what we do with our resources, for or against people, tells us where our heart is."
The late Rev. Martin Luther King, Jr. planned what would become the Poor People's Campaign prior to his assassination outside a Memphis, Tennessee hotel in 1968. The momentum generated during the early days of the campaign was lost when he died.
Many of the protestors, including Linda Everett, 57, referred to their campaign as a revitalization of King's goals.
"This is a movement, not a moment," Everett said.
The governor's office was not available for comment.
Erica Irish is a reporter for TheStatehouseFile.com, a news website powered by Franklin College journalism students.