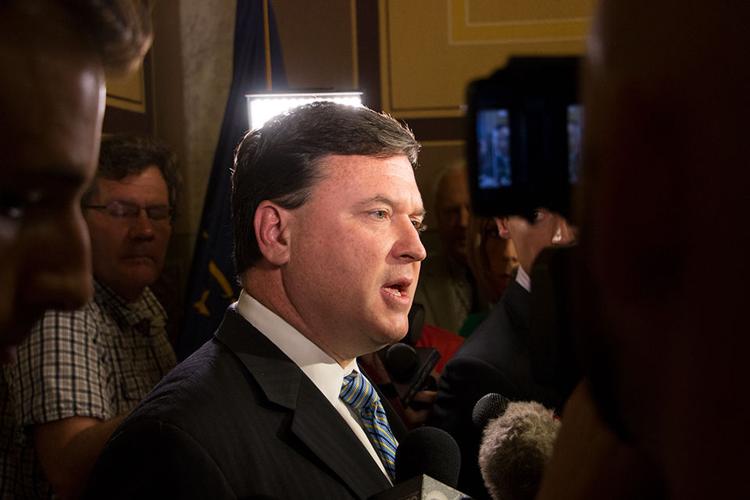 A statement by U.S. Rep. Todd Rokita about God's will regarding natural disasters has stirred up a mix of responses and is giving one of the first looks at the drama that's likely to be a part of the 2018 U.S. Senate campaign.
"Even though we cannot predict God's will when it comes to natural disasters, let's prepare ourselves for God's will," Rokita said after a roundtable discussion in Kokomo, according to a press release from his congressional office.
The Indiana Democratic Party argued Monday that Rokita is "rubbing salt in the wound" of Kokomo storm victims by claiming the disasters were intended by God.
"Will he look his constituents who are still rebuilding their lives after last year's tornado in Kokomo in the eye and tell them that?" Will Baskin-Gerwitz, senior media strategist for the Indiana Democratic Party, asked in a press release.
Rokita's campaign spokesman, Tim Edson, argued "the vast majority" of Hoosiers "believe in God and believe natural disasters are in fact part of the natural course of events."
"Joe Donnelly's pathetic puke spokesman doesn't give a damn about victims of natural disasters. Donnelly is so desperate to distract from being a fraud who profited from jobs being sent to Mexico, he is willing to mock the beliefs of Christians," Edson said in a statement, referring to an Associated Press report that Donnelly profited from a family business that outsourced jobs.
The fight is nothing out of the ordinary in the lead up to the 2018 Senate campaign, said Andy Downs, political scientist at Indiana University-Purdue University Fort Wayne.
"That's just the nature of campaigns," said Downs. "I probably would've been surprised if nothing had been said."
Rokita is considering running in the Republican primary, as is U.S. Rep. Luke Messer, in hopes of defeating incumbent Democratic U.S. Sen. Joe Donnelly.
Indiana Democrats are trying to compare Rokita's comments to controversial remarks about rape and abortion made by Republican Richard Mourdock during the 2012 campaign when he ran against Donnelly. Mourdock stated, "even when life begins in that horrible situation of rape, that it is something that God intended to happen."
"Any time you have a politician say what is or isn't God's will, you're treading into dangerous territory," said Paul Helmke, a political science professor with the Indiana University School of Public and Environmental Affairs.
Helmke said while Rokita's comment might not have been the wisest decision, the sentiment of the statement is important.
"I think the Mourdock comment was seen in the context of almost blaming the victim," said Helmke. "I don't think that's what Rokita is doing when he's talking about natural disasters. I don't even think it's the same level of political dynamite."
While it's too soon to know how this early rhetoric will shape the 2018 election, Hoosiers will continue to see the campaigns seizing opportunities to raise concerns with voters.
"It's shaping up to be one of the most contested Senate races in the country next year," said David Orentlicher, an Indiana University law professor who ran for Congress in 2016.