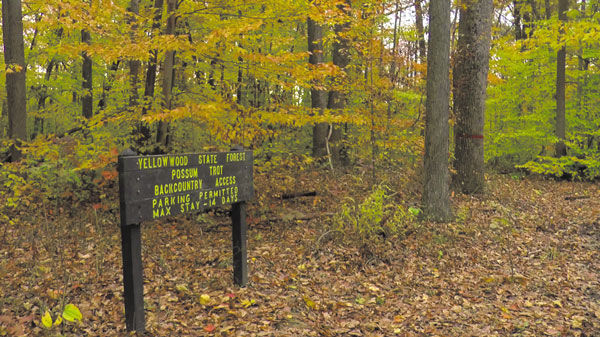 Editor's note: This letter to NUVO from the Indiana Forest Alliance is part of our continuing coverage of Yellowwood Backcountry's timber sale. 
The yellowwood tree (Cladrastis kentukea), the namesake of Yellowwood State Forest, is one of the rarest native trees found in Indiana. The tree occurs naturally in only a few isolated forest patches in Indiana. The Yellowwood State Forest Backcountry area is a sacred place largely free of invasive plants while being home to many rare species.
As an ISA Certified Arborist I am trained to look after individual trees. From this lens, harvesting trees in the Backcountry area killed and weakened by drought and insect infestation may at first glance make sense. However, dead and dying trees provide significant ecological value. I have seen firsthand the scars left behind after logging equipment extracts individual trees. I have seen firsthand the spread of invasive plants that forever spoil the purity of a forest after a timber harvest. As caretakers of the Yellowwood State Forest Backcountry area, we have a moral obligation to protect the sanctity of our forest from logging. 
 - Jerome Delbridge, ISA Certified Arborist
IFA's Executive Director Jeff Stant on the plan to log Yellowwood State Forest. 
A portion of a letter to Governor Holcomb from 228 Indiana scientists:
Large tracts of contiguous mature forests are necessary to preserve the rich biological diversity of central hardwood forests. In Indiana the total acreage of documented old growth forests is small. The current timber management practice of removing large, older trees from state forests impairs the potential for any 2 significant amount of old growth forests to return for the next several generations. Our forest ecosystems cannot be sustainable if the only old growth forest is in nature preserves and state parks, which contain only one third of one percent of Indiana's forest land. Our state forests and Hoosier National Forest are the only publicly owned forest acreages extensive enough to conserve biological diversity on a viable landscape scale.
More than four-fifths of Indiana's forest is privately owned. Forest inventories document that the majority of this private forest is relatively young, with the oldest trees less than half their natural life spans. Active logging in these forests will continue to prevent the return of old growth conditions on private land for many decades to come. Furthermore, nearly four-fifths of all state and federal public lands in Indiana are now under reservoirs or subject to commercial logging or wide-scale cutting of native vegetation. Thus, it is incumbent on the state to take active measures to conserve large tracts of mature forest in the state forests to achieve ecological objectives. … 
Conversation about the Backcountry heated up this fall after the DNR announced plans to log a 300 acre portion of the forest.
We need large tracts of mature forests for resilience in a time of uncertainty. Multi-aged forests that include areas of old growth have greater resilience and supply more pathways to recovery from unpredictable disturbances, such as drought, increased storms, and invasive pests. Invasive pests and pathogens in particular have caused the loss of ash, chestnut, tulip poplar, northern red oak, and more, with great ecological and economic effect. We cannot predict the arrival of new pests, so we need the diversity of intact, mature forests to ensure that there are some unaffected trees remaining. In addition, old trees continue to absorb and store carbon from the atmosphere; the rate of tree carbon accumulation increases with tree size. By preserving large tracts of our state forest from logging, the forest will have the potential to sequester and store more carbon due to increased structural and compositional diversity.
— Leslie Bishop, Ph.D. Professor Emerita of Biology, Earlham College, signed by 228 scientist colleagues, delivered to Governor Holcomb