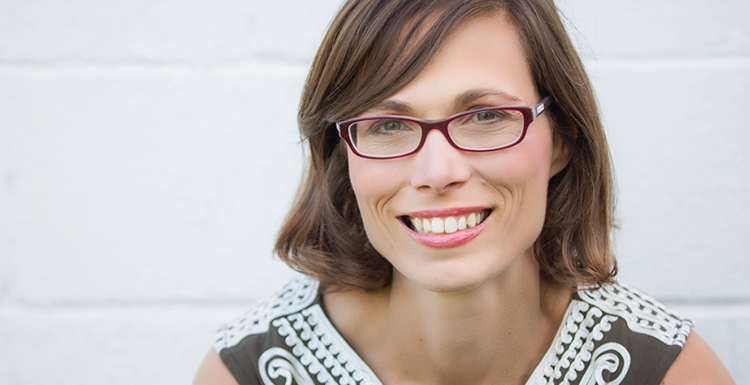 It was 7 a.m. on a Monday morning, a week before Christmas, and Democratic congressional challenger Liz Watson stood in the pre-dawn darkness, looking over her notes as a group of supporters crowded in close behind her, shuffling their feet and rubbing their hands together to keep warm. Watson, bundled in a poofy pink Columbia jacket, and wearing smart, black-framed glasses, had been organizing all weekend. That's when word leaked that Trey Hollingsworth, the current representative of Indiana's ninth Congressional District, would be holding a non-publicized, invite-only, Americans For Prosperity-sponsored "town hall" down in Scottsburg early that Monday morning.
Hollingsworth had cancelled late the night before, citing threats of "planned violence" (no corroborating details were provided), but Watson and about two dozen of her supporters, from five different counties in the district, had decided, well, the signs had already been made and alarms had been set. Why not show up anyway, make their collective voice heard? Send a not-so-subtle symbolic message to their representative, and let him know what it means to show up.
It's no exaggeration to say that Liz Watson could have literally been anywhere else at that moment. Her resume and list of her life's career accomplishments reads like the Facebook feed of that friend you blocked long ago because it made you feel guilty about how little you'd done with your own life.
She could have been in New York, doing yeoman's work at the NY Legal Assistance Group, running the Employment Law practice that she helped start fresh out of law school. Or she could have been living large out in San Francisco, billing outrageous hours and banking insane bonuses for some old-money mega-firm. She could have been back in Washington D.C., where she'd spent the past decade, working as the Executive Director at the Georgetown Center on Poverty and Inequality, or writing labor policy for the National Women's Law Center, lobbying Congress to enact legislation that protected the rights of low-wage workers.
She could have been doing what she was doing just eight months ago, working in Congress, as the Labor Policy Director for House Democrats.
Hell, if Liz Watson wanted to, she could have been curled up under the covers asleep in her nice warm bed at that moment, like Trey Hollingsworth likely was.
The civil rights attorney born and raised in Southern Indiana looks to take down Tennessee Trey. 
But she wasn't. Because for Liz Watson, she says, it's never been about where she wants to be — it's always been about where she needs to be. Or, more precisely: where she is needed. Where can her knowledge and experience, the righteous sense of fairness that so clearly motivates her, be used to best help those who are, in her words, "getting the shaft?"
That's why she was down in Scottsburg that morning, shivering with friends and neighbors, potential constituents. It's why she'd quit Congress and moved back home to Bloomington; why she'd entered the crowded Democratic primary in Indiana's ninth District in the first place (including Dan Canon, who NUVO profiled last week): Liz Watson thinks her background and experience, her policy knowledge and insider know-how, is needed.
It's almost predictable at this point, considering our nation's politics, that primary opponents will take a jab at Watson for being a "Washington insider." It's an obvious target — D.C. is basically a curse word at this point, and not only was Watson out there for a decade, but she was swimming in "the swamp," working as a lobbyist and well-paid congressional staffer.
The implication is obvious: Liz Watson is part of the problem, out of touch with Hoosier voters, representative of the self-serving, lizardly culture that put liberals in this current situation. She's the establishment candidate, they say, not grass-roots enough. A Washington-backed, PAC-funded, Clintonian Democrat who will get crushed in the general election in the Ninth District, a 13-county swath of Southern Indiana, stretching from New Albany to Greenwood, that Donald Trump dominated with roughly 66.6 percent of the vote in 2016.
To be honest, it's not a bad way to frame the race, politically speaking.
Watson has heard the argument, and it's clear she thinks it's a losing strategy.
In a phone conversation about a week after the rally in Scottsburg, she emphasized that she's in this thing for all the right reasons, that she's motivated in this mission by the same desire that's fueled her whole career: the need to help those who need it the most.
This is the pitch: "We have to change the composition of Congress," she said, simply, explaining her decision to quit her job, leave Washington, and return home to Bloomington.
The mud-wrestling match between Luke Messer and Todd Rokita gets dirtier by the minute.
She recounts standing on the House floor when the 115th Congress came walking in, and seeing right away that the things she cared very deeply about, the issues she had dedicated her entire career to, where under attack. "We have to change the composition of the House," she reiterated. "We need to put people in who have values, and aren't in the pockets of their corporate donors."
As for the idea that she doesn't possess enough progressive bonafides, that she could possibly be portrayed as some centrist Democrat backed by the establishment?
"I mean, let's really think about this," she said, a smile evident in her voice. "Let's look at who I've worked with, and who I've worked for, and who I've written legislation with." She laughed. "I've written legislation for Senator Elizabeth Warren, first of its kind legislation to stop unpredictable scheduling in low-wage jobs. That was a pretty big deal. I helped write the $15 minimum wage bill that Senator Sanders co-sponsored in the Senate. I wrote legislation to keep working people from being cheated out of their paychecks ... an issue Keith Ellison was very involved with. And then there's the Working Families Agenda that I brought to Congress, something that had full-throated support from the most progressive members of Congress."
"Here's the thing," she continued. "I'm proud of the work I've done [in Congress] ... that is the work that's going to make me totally effective from day one when I get there. And I'll tell you what," she said. "It really matters that you have somebody who actually knows how that place works, and has been very effective at writing legislation, and is able to think through complex problems affecting everyday lives, and come up with really powerful solutions. That is a skill, and it is hard." She laughed again, as if to suggest what an understatement that was. "And that's what effective members of Congress know how to do."
There it is, the crux of the pitch Watson will be making to voters over the next four months. It's not enough to have big, progressive ideas — you have to be able to turn them into actual legislation. Watson has seen how the sausage is made, has been elbow deep in congressional pig parts, so to speak; she'll be ready to dive in on day one, no learning curve required.
And that, Watson will argue, is exactly what the people of Indiana's Ninth Congressional District need.