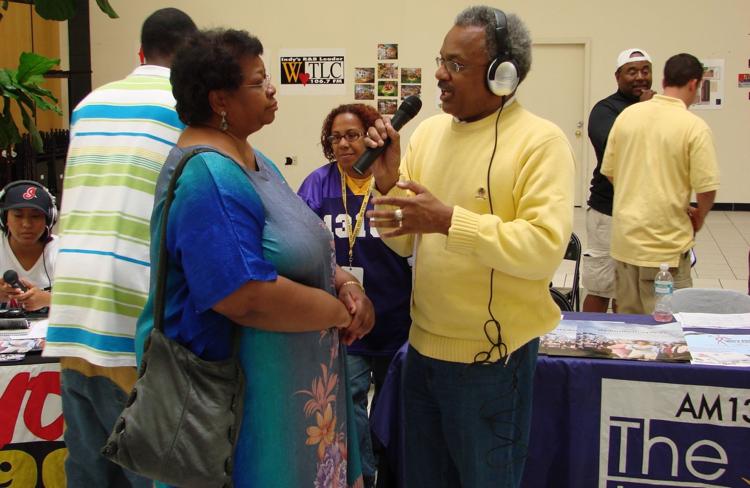 The news of Amos Brown's death rippled through Indianapolis Saturday afternoon. The staff of 1310-AM "The Light" was notified by way of an emergency meeting at the station's studios Saturday at 1:30 p.m. The radio station posted the announcement on its website shortly after the staff was notified. From there the news through social media told Indianapolis and the world that a long-standing voice for voiceless and a crusader for social justice was no longer among the living.
Brown collapsed of an apparent heart attack while visiting family in Chicago Friday, Nov. 6. He had taken some time off following the municipal elections for some rest and relaxation.
The station extended "Afternoons with Amos" Monday afternoon for an on-air memorial for Brown. Listeners, colleagues and friends called in and offered condolences and stories about the broadcaster who connected with them personally and fought for the rights of everyone in the Circle City.
Donna Schiele worked directly with Brown for two years as the producer of his show from 2006 - 2008. She had just moved to Indianapolis and was at the beginning of her radio career. She started out as a board operator and learned the mechanics of the station. Then management put Schiele with Brown to produce his daily show.
"Not only was that my first experience in radio, but also my first experience with Amos," recalls Schiele. "I really didn't know who he was. At the same time I was working for him I was learning him. Didn't know he was a giant."
After sitting down with Brown to find out what was expected of her, she also asked what he hoped to accomplish through his show.
"He said he wanted to be the Larry King of Indianapolis but I felt he was way more than that," laughs Schiele. "I thought that was funny because King interviewed celebrities mostly. He did a little politics and national figures but mostly he did entertainment. Amos was so much more than that. He was the 'Amos Brown' of Indianapolis."
Over the two years that she spent as Brown's producer, Schiele says she not only learned the ins and outs of radio, but the ins and outs of Indianapolis. One of the most important traits for any radio broadcaster is to know the city the station serves. Schiele is originally from Cleveland, Ohio. She had to learn about Indianapolis and Brown was the best teacher — about the city, about radio and about life. "He taught me the importance of giving back and being a voice for the voiceless," says Schiele.
In the two years they worked together, Schiele says she learned firsthand just how important Indianapolis and its citizens were to Amos Brown, especially minorities and those who felt marginalized and disenfranchised. Working for the greater good was a part of everything the veteran broadcaster did. If people called into his show with a problem or complaint and Brown felt that he could help, Schiele says that caller was held on the line until Brown could find an answer that was satisfactory.
"Sometimes we get complacent but Amos would take the helm and do things for people willingly. He would want to have an answer for them," says Schiele. "He would call whoever was necessary and often times the listener was told to 'tell 'em Amos sent you!' when a path [to a resolution] was found. It was a short time, but a very meaningful time."
Unlike Schiele, David Woods grew up in Indianapolis and could not remember a time when Amos Brown was not on the air.
"I don't know any other way to put it, but growing up Amos Brown was my Les Nessman," says Woods, referring to the fictional newsman from the classic 1970s sitcom, WKRP in Cincinnati. "When all of the WTLC personalities were just that, personalities, Amos was serious. He gave the news and people listened. I listened."
Indianapolis radio broadcaster Amos Brown died while visiting family in Chicago last week. A…
From the time he was in the sixth grade, Woods knew he wanted to be in radio, thanks in part to people like Brown and others at WTLC. His path through high school and early in his career crossed with Brown a few times. But it wasn't until Woods left Indianapolis and returned in 2003 to work in video production at Indy's Music Channel, and now Telemundo (also Radio One properties), did he have the opportunity to really get to know Brown as a colleague.
"Amos was more than just a radio professional," says Woods. "In getting to know him, [I realized] he was using the radio to solve the problems in the community."
Woods recalled an incident a few years ago when he was the victim of racial profiling by law enforcement. What began as a simple inquiry about directions to the hospital while in Beech Grove ended with Woods being "secured" by a state trooper — securing the situation apparently involved Woods being slammed to the ground and handcuffed with guns drawn. When Woods retold the story at work, Brown immediately called the State Police commander to find out what had happened and why. The end result — Woods got a written letter of apology from the Indiana State Police.
"I honestly believe that Amos didn't do that because I was a co-worker, but rather because I was someone who had been wronged," says Woods. "He was always there to help. He used radio to help the whole community."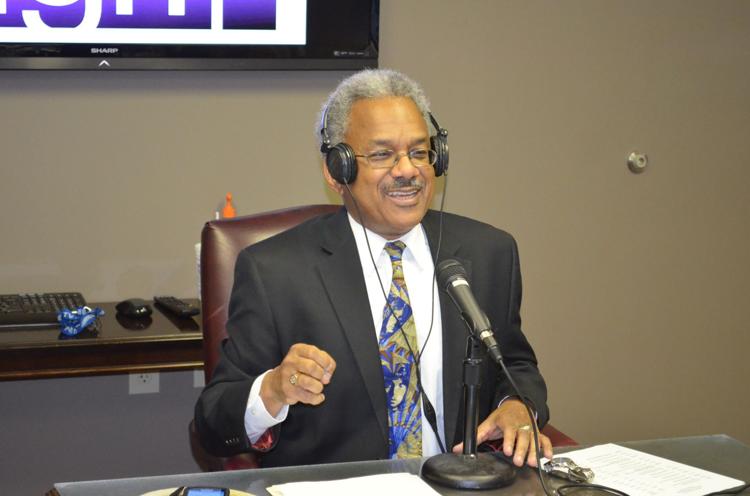 The Amos Brown that most of Indianapolis saw and knew was the man who never held back on his opinion, his disappointment with administrations and policies. He was someone who was always willing to ask the tough questions with a demand for honest and direct answers. Brown continued to question the decisions of the Indianapolis Public Schools board, the city administration and anyone else he felt wasn't keeping the lowest citizen at the forefront. He hosted the very last debate between the two mayoral candidates on his show the Friday before Election Day and after the election of Joe Hogsett, used his "Just Tellin' It" column in the Indianapolis Recorder to point out every question dodged in that debate and what the mayor-elect needed to consider when taking over as the city's top executive.
But there was a "softer" side of Amos Brown that only the people in his inner circle really saw — his love of family, especially the granddaughter whom he and his wife raised. Both Schiele and Woods praised the young lady for her humbleness and togetherness, laying her success at the feet of Brown.
"I mean her granddaddy — or 'daddy' as she calls him — is Amos Brown!" exclaims Schiele. "And she is a sweet and very grounded young lady. She is a testament of who he is."
Woods echoed Schiele's sentiment.
"Out in the community and on remotes, if Amos was there, she was there," recalls David. "I can't think of a child that's been there [at the station] that has 'had it together' as much as she does. I know it came from Amos. He put a lot into her and she is going to go far."
When it comes to the one thing that Indianapolis should never forget about Amos Brown, both Schiele and Woods agree it is his passion and love for the people of Indianapolis.
"He really really loved this community," says Schiele. " He could have been a national personality — Tom Joyner, Al Sharpton — he could have been right there with them. But he didn't want to do that. He wanted to be 'the person' for Indianapolis. Every thing he did came from a place of passion and love for this city."
And they agree there will never be another like him — a hole has been left in Indy that can never be filled.
"He was passionate about what he did, about people and making a mark that can't be erased. That is his legacy," says Schiele.
"Another Amos Brown could not be re-created for this city," says Woods. "There's only one Amos Brown."
About Amos Brown
• 1950: Born December 18 and raised in Chicago, IL
• 1968: Attended Northwestern University
• 1972: graduated from Northwestern U. with a B.S. in Radio-TV-Film
• 1975: moved to Indianapolis to work at WTLC Radio (AM/FM) as an account executive and news journalist
• 1977: Became the Assistant Station Manager for WTLC Radio
• 1981: Became Station Manager for WTLC Radio
• 1994: Began writing his "Just Tellin' It" column for the Indianapolis Recorder
• 1994: Stepped down as Station Manager; became Director of Strategic Research
• 2007: Inducted into the Indiana Broadcasters Hall of Fame
• 2008: Named Marconi Award Finalist for "Large Market Personality of the Year"
• 2013: Named Marconi Award Finalist for "Large Market Personality of the Year" for the second time
• 2015: Died November 6 in parents' home in Chicago, IL