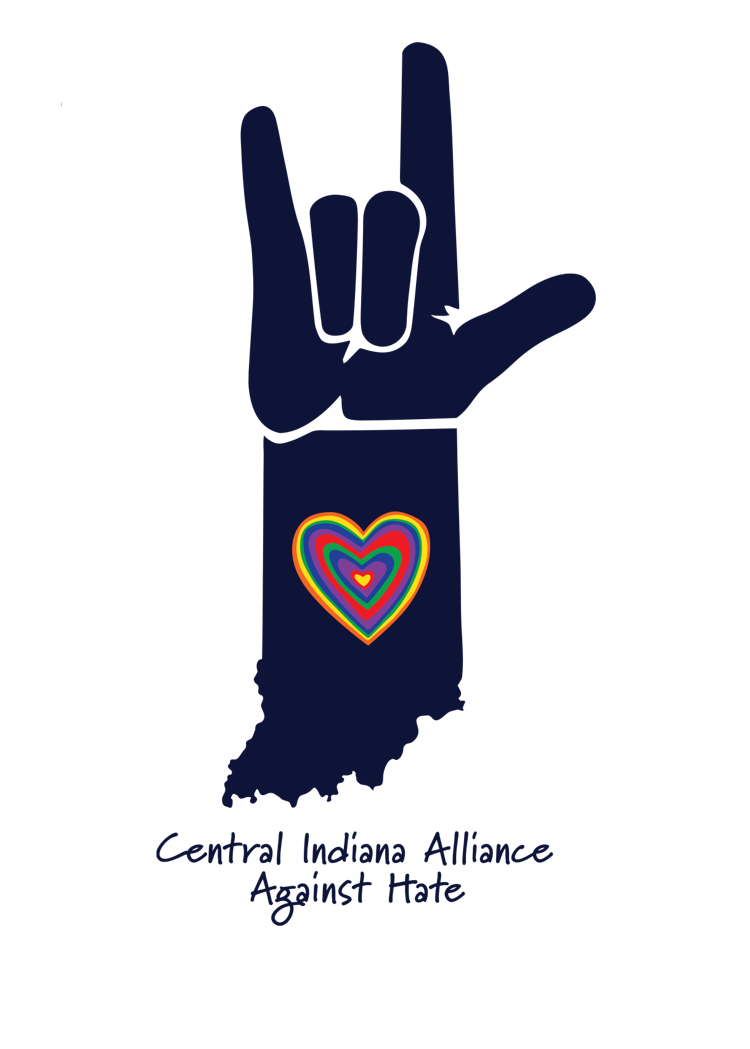 A new alliance of businesses, organizations and individuals hopes to rally attention and response to the rising incidents of hate-based crimes and incidents in Indiana.
The Central Indiana Alliance Against Hate (CIAAH) is a project initiated by the Fair Housing Center for Central Indiana (FHCCI). As an organization, FHCCI is dedicated to fair housing practices and eliminating housing discrimination in Indiana. But Executive Director Amy Nelson says hate-based crimes and incidents that extend beyond fair housing laws are still neglected in Indiana.
"We've been active on the whole public policy issue in trying to get a hate crime law passed," says Nelson. "Then, over the course of the last year and a half we were starting to see increasing numbers of hate-based crimes, as well as what we call hate-based incidents occurring in our community."
The increase in hate-based crimes and incidents — acts of aggression based on hate that don't rank as a crime — was enough cause for concern. It fueled a desire to try and do something about it. 
"We wanted to look to see if there was the potential [for] or if we could find some funding to do some additional work in this particular area," says Nelson.
The FHCCI applied for a "Communities Against Hate" rapid response grant from the Open Society Foundations. In the grant application, FHCCI pledged to "build a resource and training network for persons and organizations working to address hate in Central Indiana, and will develop the infrastructure for a coordinated community response network to incidents of hate in the region." As a result, CIAAH was created. 
FHCCI received $125,000 in grant funding to use over the next six months toward the objectives outlined in the application, and was the only Indiana agency to receive a grant. (It is unclear if any other Indiana agencies applied for a rapid response grant — the list of applicants is not public.) Nelson says we will never know what factors played into the favorable outcome for the grant application, but the fact the Indiana is only one of five states without a hate crime law on the books could easily have played a role in the process.
"[With] the number of hate-based crimes and incidents that we have seen occurring in our state, and the Southern Poverty Law Center statistics about [the] increasing numbers of hate groups along with us being one of only five states without even a state hate crime law, one can only assume that that certainly got us points in a way that you wish you didn't get points for, but in this case it did," says Nelson.
The first-ever Indiana Responding to Hate Conference will be a day of training on how to identify and respond to hate-based crimes and incidents. Nelson says other states, like Michigan for example, have been doing something similar for several years — but these are also states with some type of state legislation addressing hate crimes as well. 
The agenda for the conference is all-inclusive and designed that way on purpose. A variety of marginalized groups victimized by hate crime, and incidents will be represented.
"We tried to be as conscious as we could within budget and within the timeline that we had in trying to put this together to try to get representatives from as many of those marginalized communities that are commonly targeted by hate-based crimes and incidents," says Nelson. "There's definitely still gaps in the agenda, and that's definitely something we will continue to work on. But due to time limitations as well as what we could afford for bringing in some of these phenomenal speakers, we just had to do some limits on that."
Despite the gaps Nelson feels still exist, the agenda encompasses many groups that instantly come to mind when thinking of hate-based crimes — African Americans, the LGBTQ community, immigrants, Jewish people and Muslims — as well as other groups like Native Americans and individuals with disabilities. 
"So very often in the disability community, there's a mislabeling of hate-based crimes and incidents where it's often called abuse," says Nelson. "It's not truly identified as hate crimes and we wanted to bring some attention to that."
Several national recognized advocates are scheduled to speak at the conference. Hate crimes activist Judy Shepard will talk about her son Matthew's death and the movement she led to get a federal hate crime law passed as a result. Hilary O. Shelton, senior vice president for advocacy and policy for the NAACP will speak about preventions and solutions to hate crimes in the 21st century. Miriam Ziedman with the Anti-Defamation League will also lead a session. Ziedman has been working with Indiana officials in the effort to get a hate crime law passed in the state.
Other speakers include members of the Indiana advocacy community.
Nelson hopes the conference is a success in bringing peoples together that all stand for the same goal — eliminating incidents of hate from the Hoosier state — and standing with voices together.
"We want to help build up that advocacy part of the alliance through individuals who will be available when we need them to either contact legislators or to speak out when things happen in their communities to report it or to assist in some way," says Nelson.
While getting a hate crime law passed in Indiana is a goal, it isn't the only goal of the alliance. Nelson hopes the alliance will grow into something that will be at the ready to respond and address any and all incidents of hate in Indiana — existing as its own 501c3 non-profit organization instead of a FHCCI project. But until then, Nelson says the Fair Housing Center will continue to support it because the need in the community is too great to ignore.