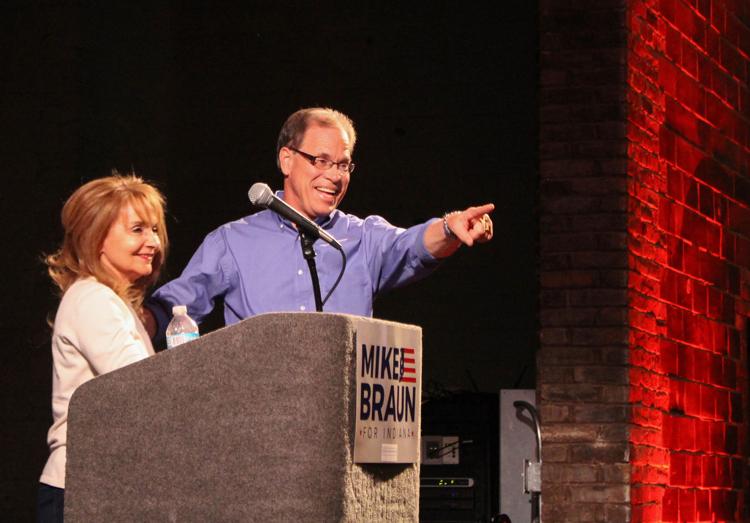 Businessman Mike Braun launched his campaign against incumbent Democratic Sen. Joe Donnelly almost as soon as he was declared the winner of the bitterly-contested Republican primary.
"Joe Donnelly, he is a guy that got into office on a fluke in the first place and his record lines up with Pelosi and Schumer," Braun said in his victory speech, referring to Nancy Pelosi and Chuck Schumer, the Democratic leaders of the House and Senate in Washington.
Braun, a former state representative, scored an upset victory Tuesday against two sitting congressmen, Reps. Luke Messer and Todd Rokita. He will face Donnelly in November.
"This was going to take a lot of time, a lot of resources," Braun said after winning Tuesday night's race. "When I told my friends I was pursuing this, they said, 'Do you need to have your head examined?'"
Braun entered the race months after Messer and Rokita, but it was enough to win. Braun's campaign was mostly self-funded, as he put about $4.5 million into the race. Together, the three candidates spent more than $9 million in what is known as one of the most expensive primaries of the year.
He parlayed his outsider role and his experience as a small businessman in his hometown of Jasper to soundly defeat his rivals by more than 10 percentage points. Braun said one of his inspirations to run for office was President Donald Trump.
"We all wondered how it was going to work out with him, but I was driving around the rural counties in southern Indiana, and saw Trump signs showing up in yards and that's when I knew people wanted something different," he said. "When you watch that whole journey, that's a deep message."
Braun said getting 10 or more outsiders in the Senate will change the atmosphere of the country. Even though he beat two political insiders in one of the nastiest Senate races, he hopes to gain their support.
"It was a difficult decision for many because we were all good conservatives and sometimes it gets hard to differentiate," Braun said. "It can get intense. It can get harsh. But I hope they can join me just as I would them."
Early on in the night, supporters of other candidates admitted they thought Braun would win the primary.
"I think Rokita knows the state better because of his background in Indiana," Bill Reed said at the Rokita watch party. "But I think Braun is going to win because people are gravitating to business-oriented politicians just like they did with Trump."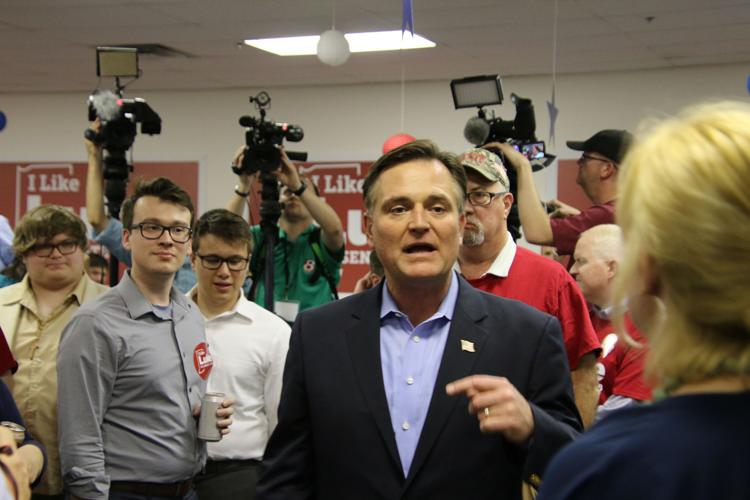 Following the results, Messer kissed each of his family members, and sounded broken as he addressed the crowd, saying it was an extraordinary opportunity to be part of this race.
"It has been a wild ride over the last 20 years," he said. "Do not be discouraged by today. This is a great country."
After addressing the crowd of supporters and members of his campaign, Messer embraced his sobbing mother and tearfully hugged those around him.
Meanwhile, Rokita congratulated Braun in his concession, yet didn't shy away from making a dig at him.
"I hope he will find it in him to fight for the people of this state and not just wage an expensive fight," Rokita said.
Rokita and Messer both received about 29.5 percent of the vote each, according to the Associated Press.
Indiana's Senate race has been making national headlines for months as one of the most hotly contested and closely-watched elections in the country. Republicans barely control the Senate, with just a 51-49 advantage, so unseating Donnelly is vital for the party.
Despite not having as much name recognition as Messer and Rokita, Braun was considered a favorite going into the night. He spent millions of dollars on ads positioning himself as an outsider.
Indiana Democratic Party Chairman John Zody issued a statement after the results, saying Braun funded his own campaign from the profits he made from importing auto parts from China.
"He believes public office is his best opportunity to put his wallet first, and Hoosiers last," Zody said in a statement. "That's why he voted dozens of times to raise your taxes while writing legislation to cut them for himself."
After the GOP primary was called for Braun, Donnelly held a media availability to congratulate Braun and talk about his plan's leading up to November's election.
"It is a choice about who is going to fight to provide decent and affordable healthcare for Hoosiers," Donnelly said. "Who is going to fight to protect our good paying jobs? Who will be an independent voice in Indiana?"
Donnelly said he will continue to do his job in Washington D.C. — which he says is to work nonstop for Hoosiers, not be a cheerleader for the president.
However, Donnelly has voted with Trump 62 percent of the time, and often works with Republicans.
Trump will visit Elkhart Thursday to get Republicans to rally for Braun. The president won Indiana by a 19-point margin in 2016.
In the months leading up to November's election, Braun said he plans to show voters Donnelly's record, which includes voting against tax reform and voting in favor of ObamaCare.
"I know that Joe Donnelly will try to come at me but I can't wait to take the record of what we did in our hometown to get our values out there," Braun said. "The government is not the solution. Joe Donnelly's record is going to be easy to flush out — let's send him into an early retirement."
Adrianna Pitrelli is a reporter for TheStatehouseFile.com, a news website powered by Franklin College journalism students. Abrahm Hurt, Jessica Kaiser and Brynna Sentel contributed to this story.