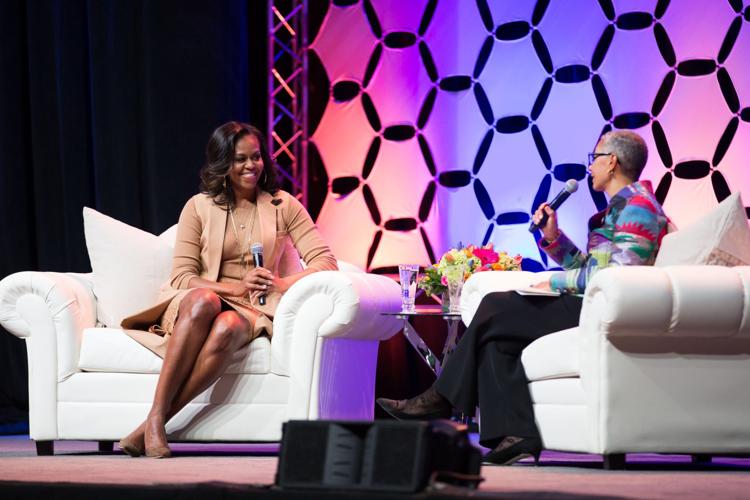 Michelle Obama brought her message of female empowerment to Bankers Life Fieldhouse on Tuesday night. The former First Lady was in Indianapolis for an event that helped raise more than $1 million for the Women's Fund of Central Indiana.
Speaking to a primarily female audience of more than 12,000, Obama responded to questions by moderator Alecia DeCoudreaux, former president of Mills College and a founding board member of Women's Fund. Topics ranged from her girlhood in Chicago, professional career, years in the White House, motherhood and fashion.
The conversation began with DeCoudreaux asking Obama about her childhood, specifically about female role models and mentors who helped shape her worldview and her self-worth. "My family was my first role model," Obama explained. "My mothers, aunts and grandmothers were my mentors."
"There were a community of mothers who took care of [us]," she said.  Describing her early school days when her "gang of little girls" would walk to one house or another with their brown bag lunches, Obama remembered that a mother  was always nearby.
"Whether we knew it or not, they were listening. Listening to us talk...knowing when to step in if we were in trouble. Or just letting us talk about mean teachers or boys or whatever girls talk about.  But they were there."
Those first mothers gave Obama and her peers something she still sees as the key to raising strong, empowered daughters - time and attention. "It's not magic," she said. "It's the small things. It's the time in. It's not the stuff."
When asked about her insecurities growing up and how she overcame them, Obama spoke of how important it is for young children to feel valued--particularly young girls of color who often face additional barriers
"Anybody who has been successful, particularly if you're a woman, and especially if you're a woman of color, you grow up with a lot of doubts in your head.
"You grow up knowing that some people have decided not to like you just because you're brown… It's hard to deal with. You just have to practice ignoring it and pushing through it. You have to practice achieving through people's low expectations of you."
Obama also spoke to the need for more women to enter the public service, particularly politics. "Men aren't bad," she said. "[they] just don't know everything. You need different people, other people in the room also."
When asked how she would encourage young women to make their voices heard, Obama stressed the importance of believing in yourself, even if no one else seems to, "You have to have courage in your convictions and confidence in your experience."
She also emphasized how important it is for women to speak up once they get there. Understanding that you've already proven yourself worthy in order to get there, she said, is half the battle. Once there, don't be shy. Use your voice and speak your mind.
"There are a lot of people who get to the table, and they're too nervous to add that value… they get to the table and they're so concerned with not losing the seat at the table."
And if you do lose your seat for being too loud and pushy?
"Well, maybe that's not a table you need to be at," Obama adds.
Part of the night's conversation focused on mental health, an issue that Women's Fund has supported since 2017 through the Campaign to Change Direction, which seeks to normalize the conversation around mental illness to remove any stigma preventing people from seeking help.
Obama said she became involved with Campaign to Change Direction through the Joining Forces initiative she launched with Dr. Jill Biden in 2011 "calling all Americans to rally around service members, veterans, and their families and support them through wellness, education, and employment opportunities."
Veterans returning from conflict zones and their families are some of the bravest people she's met, says Obama, and these heros often need help. "There's no shame if you suffer as a result of serving your country," she said. Injuries, whether physical or mental, need medical treatment equally.
Jennifer Pope Baker, executive director of Women's Fund, opened the evening by thanking the more than 12,000 ticket holders who filled the Fieldhouse and helped "put $1 million worth of powerful and thought-provoking opportunities for women and girls into the Indianapolis community."
"Michelle Obama and Women's Fund share common interests," said Baker. "We are both invested in improving the lives of women and girls. It is an incredible honor to be able to host this special evening." 
While the majority of attendees had purchased tickets for as much as $250, Women's Fund worked with many local organizations to distribute free event tickets including Coburn Place Safe Haven, Concord Neighborhood Center, Dress for Success, Exodus Refugee Immigration, Girls Inc. of Shelby and Johnson counties, Guidance Life-Skill and Mentoring (G.L.A.M.), Goodwill's Excel Centers and Indianapolis Metropolitan High School. Additional tickets were provided for students attending Indianapolis Public Schools, Ivy Tech, IUPUI and Martin University.