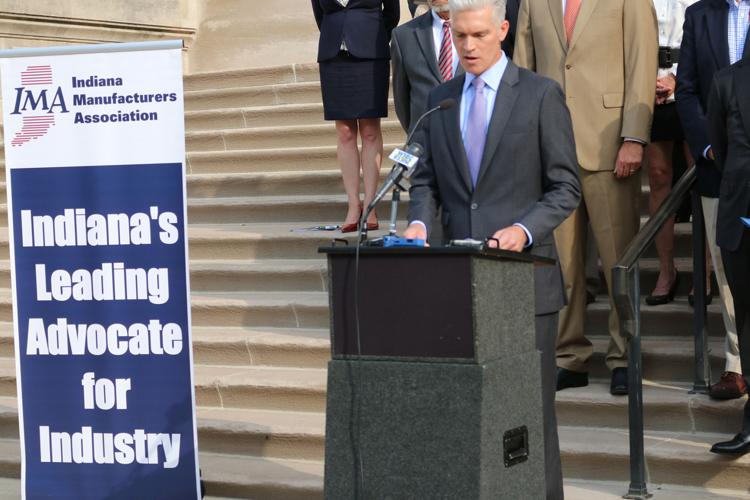 Over the next five to 10 years the state's manufacturing companies are expected to lose between a quarter and half of their workforce, which is why the Indiana Manufacturers Association wants lawmakers to take action now.
Brian Burton, president and CEO of the IMA, joined with representatives of manufacturing companies to draw attention to manufacturing day, which takes place Oct. 6, and the challenges facing the industry.
"Even though manufacturing represents 20 percent of Indiana's labor force, the highest of any sector, only 4 percent of career and technical education enrollments in Indiana high school career centers are in courses aligned with manufacturing," said Burton.
He said members of the Indiana General Assembly are encouraged to visit a manufacturing site, and use the 2018 legislative session to focus on workforce issues. Specifically, the association is pushing lawmakers to consider legislation to boost manufacturing, including proposals like creating relocation incentives for out-of-state workers and developing employer training grant programs.
"For 116 years, our organization has advocated on behalf of Indiana's manufacturers to build a strong business climate in Indiana," said Burton.
A third of Americans would not encourage their kids to enter the manufacturing field and only half believe that manufacturing jobs have competitive pay compared with other companies.
"Manufacturers employ more Hoosiers than any other industry in Indiana, and we pay the highest wages," said Burton. More than half a million Hoosiers work in manufacturing.
Fewer students pursue manufacturing careers because they don't know much about opportunities or they have misconceptions about the kinds of jobs available.
"Education and workforce development policies at the state and national level are not aligned with the real needs of employers," said Burton.
Hillenbrand President and CEO Joe Raver said that by getting lawmakers to visit local manufacturing facilities, they will be able to interact with workers and really get a feel for what needs to be done to allow Indiana's facilities to prosper.
"It's critically important that all of us business, education and government work together to contract, develop and retain a workforce that supports our ability to compete and thrive on a global basis," Raver said.
Makenna Mays is a reporter for TheStatehouseFile.com, a news website powered by Franklin College journalism students.