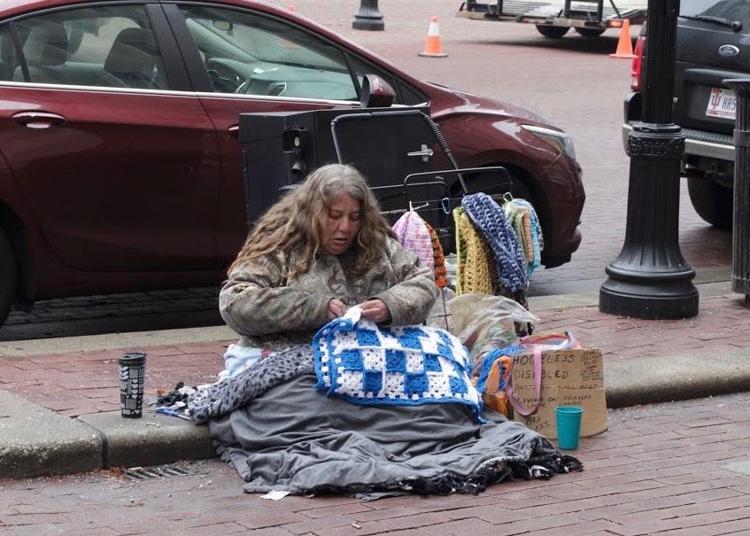 A controversial ordinance before the Indianapolis City-County Council has advocates for those who are experiencing homelessness crying foul.
The "No Sit/No Lie Ordinance" was introduced Sept. 24 by City-County Councilor Mike McQuillen and calls for a prohibition on "the sitting or lying upon the surface of a public right-of-way at certain times within the Downtown Mile Square."
If passed, the ordinance would prohibit any person from sitting or lying on "any surface in a 'public right of way,' or upon a blanket, chair, stool, bedding, or any other object placed upon the surface of a public right of way" between 6 a.m. and midnight.
Scott Armstrong is board chair of the Indianapolis Continuum of Care and executive director of Partners in Housing. He said if the ordinance were to pass it would continue to cost the city money due to civil rights lawsuits that could be better used on actual solutions.
"Instead of spending all that political will and money on that, why don't we just house people?" he said. "You see someone experiencing homelessness, either you feel like it's a problem for them, or you feel like it's a problem for you. And, the people who feel like it's a problem for the person seeing the person experiencing homelessness are in favor of this law."
Thomas "Tag" Griffin, of Hearts in Hand Homeless Outreach, said restaurants and other downtown businesses are in favor of the ordinance because they say it's causing them to lose business.
"They're trying to appease the businesses just because of the way it looks," he said.
But, the future of the ordinance has been thrown into question, at least in its current form.
At its Nov. 20 meeting, the ordinance was sent to the full Council by the Rules and Public Policy Committee with a "Do-Not Pass" recommendation by Councilor Maggie A. Lewis.
With this recommendation, the ordinance was expected to fail when it came before the full Council at its Dec. 3 meeting.
Whatever becomes of the "No Sit/No Lie" Ordinance, the issue of homelessness will continue, as local leaders and advocates look for long-term solutions.
[Editor's note: The Council pulled the ordinance at the meeting before a full vote could be taken.]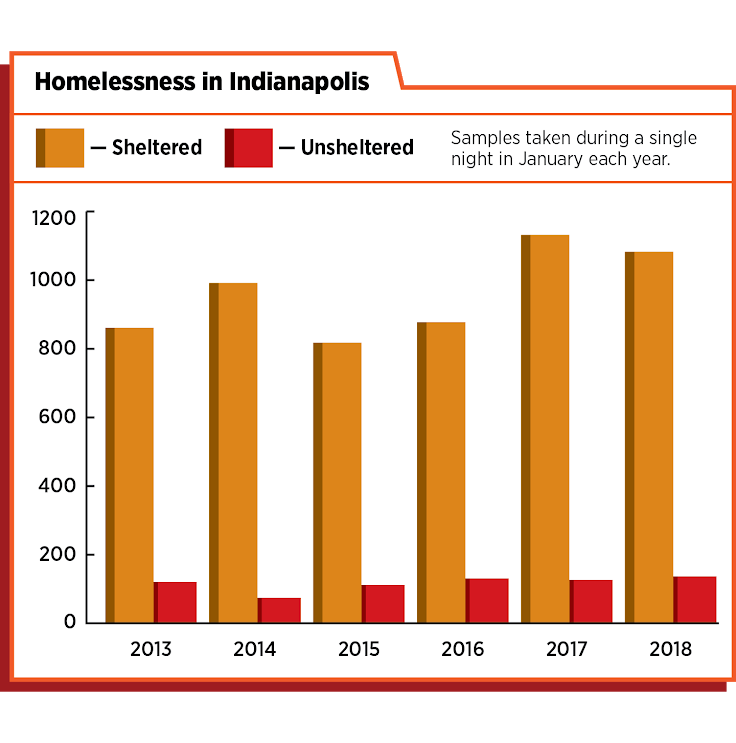 PERMANENT SUPPORTIVE HOUSING
Jeff Bennett, deputy mayor for community development, said the city had intentionally not taken a position on the ordinance itself.
"We have deferred to the council," he said. "Our work has been focused on permanent supportive housing and creating resources to deploy in that regard."
Nov. 20, the same day the ordinance was sent to the full Council, Mayor Joe Hogsett, in coordination with the city's Office of Public Health and Safety, announced $500,000 in new funding will be allocated to increase visibility and police presence in areas experiencing a high occurrence of aggressive panhandling, as well as provide services and outreach for those experiencing homelessness.
Under the proposal, up to $250,000 in new funding would be allocated to partner organizations for permanent housing solutions and direct services for the city's downtown homeless population.
"If you want to talk about true solutions, it is not a difficult model," said Armstrong. "There really doesn't need to be any more research done. You need housing units. You need rental assistance. And, you need services to go along with those units and rental assistance."
With this funding, the Coalition for Homelessness Intervention and Prevention estimates it will be able to house 500 more people each year, according to Emily Koschnick, deputy communications director for the mayor.
Since taking office in 2016, Hogsett has made combatting homelessness and poverty a priority for his administration.
In his 2017 State of the City address, he challenged the community to come together to identify 400 additional permanent supportive housing units for residents in our city experiencing homelessness.
Over the past year, the administration has worked to pinpoint and fill those units, and the 2019 City-County Budget includes an additional $12 million for permanent supportive housing.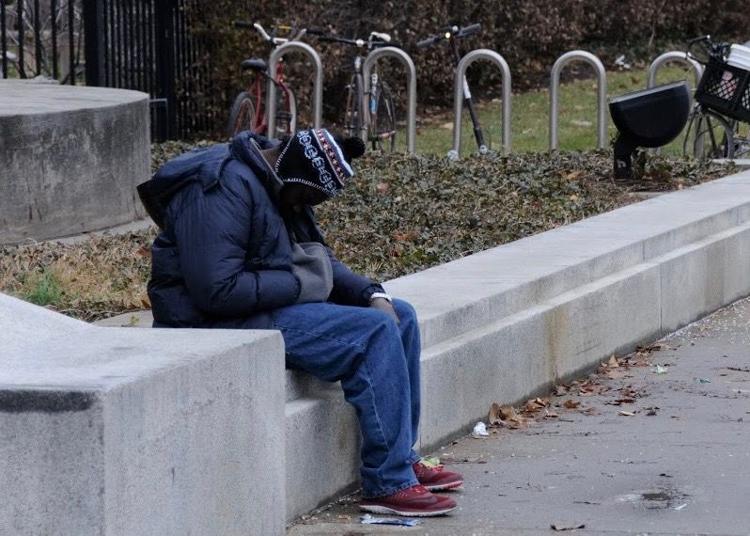 AGGRESSIVE PANHANDLING
The remaining $250,000 in additional funding announced by the city will be directed at heightened law enforcement efforts in areas of downtown that have seen aggressive panhandling.
The increased public safety presence will target high-trafficked areas of downtown and will focus on enforcement of the city's existing aggressive panhandling ordinances.
Bennett said the issue of homelessness and the issue of aggressive panhandling were often spoken about as synonymous when they are "distinctly separate."
"There is an existing ordinance on the city's books that says that aggressive panhandling is illegal and we enforce that ordinance and we would continue to do that," he said. "There's a little bit of overlap. If there was a Venn Diagram of panhandling and homelessness yes there is a subset of people who are panhandlers who are also homeless, but there are also a substantial amount of folks who panhandle who are not homeless."
Bennet said it was important to make that distinction because the methods for providing assistance were different.
"If a person is sleeping outdoors and is homeless, then the interventions should be related to attaching that person to supportive services and to permanent supportive housing," he said. "If a person is panhandling and they're doing it legally, that's constitutionally protected speech. A person who is panhandling who is doing it in violation of city ordinance in an aggressive manner or is making physical contact with people, that is not."
Griffin said he didn't see that separation as the vast majority of panhandlers he had come into contact with were homeless.
"When they ticket the homeless person, how are they gonna pay?" he said.
FIVE YEAR PLAN
Released July 19, the Indianapolis Community Plan to End Homelessness is a five-year plan with specific goals and tasks assigned to the city and various partner agencies.
"That is a collaborative effort from almost everybody in the city who is involved in this at all," said Armstrong, who, like Bennett, served on the Steering and Blueprint Council committees in drafting the plan.
The main goal of the plan states that "by 2023, any individual or family in Indianapolis who become homeless will spend no more than 30 days without a permanent, safe, affordable place to live."
Bennett said this is the third community plan the city has drawn up since 2000 relating to ending homelessness. He said Indianapolis was on the cutting edge when it released its first report, but cities are now federally required to do so.
"It's not new that we have a plan, but what is new about this specific plan...is a real focus on a particular model that's referred to as Housing First," he said.
Housing First, according to the National Alliance to End Homelessness, "is a homeless assistance approach that prioritizes providing permanent housing to people experiencing homelessness."
"It's an approach that says you don't have to go through a series of tests to be housed," said Bennett. "It's actually far more effective and far less expensive to a community to figure out how to get someone housed quickly and keep them housed by providing the types of supports, the wraparound services, mental health, addiction treatment, job training, rental assistance that help someone stay stable rather than having someone live on the street, live in a camp, stay in a shelter for an indefinite period until they hit the lottery and get housed."
Armstrong said one of the main misconceptions about those experiencing homelessness is that they don't want to be housed.
"There are shelters here in the city that have a whole lot of rules," he said. "So, if you're saying to someone, 'Do you want to stay in your tent? Or, do you want to follow this list of rules so that you can stay at Shelter X for two weeks?' then that person is going to say, 'No, I'm just going to stay.' Well, that person doesn't want to be homeless, they just don't want to follow all those rules imposed upon them for two weeks in a shelter stay."
Armstrong said having a permanent place to live would alleviate these temporary barriers which have kept people on the street.
"If you go to that same person and say, 'Here's an apartment that's yours. It's your home, just like anybody else has a home. You come and go as you please. You have guests. You drink alcohol if you're an adult. All these things.' Then, they would say, 'Absolutely, where's the key?' And, I think a lot of people get that misconception. There are people choosing to live outside for some reason. Nobody is really making that choice."